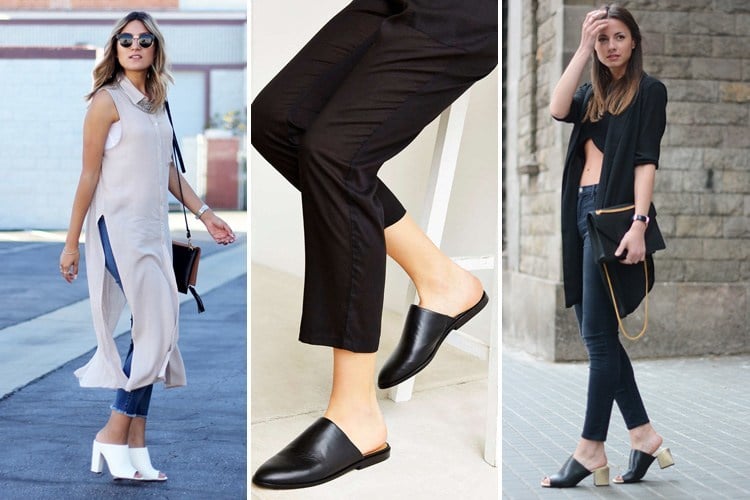 We dreaded wearing them in the 90s, because they were called UGLY. But cut to the new age, and we want them like we never did before. Mule shoes and footwear are laid back for sure, but they provide a sense of freedom along with the ease of wearing them.
[Also Read: 5 Different Ways to Wear Mules]
Fashionable Mules From The 90s Are Back!
Pair the fashionable mules with just about anything, and that would be the answer to how to wear mules.
Most Would Say Cropped Trousers
If you would like to learn how to wear mules, you don't have to stick to the cropped pant pairing only. Most street style fashion lovers would agree on the same, since when it comes to knowing how to wear mules and Fashionable mules that too- use your imagination.
For Example, Mules Can Be Worn With Skirts
Mules Can Be Worn With Mini Or Midi Skirts For Work
Mules Can Be Worn With Sarees And Lehengas Too
Mules Can Be Worn With Denims
Mules Can Be Worn With Hot Pants As Well
Now those were just a few ways on wearing styling mules. Let's take a closer look at the various ways you could wear mules with just about anything and look like a street style or an elegant cocktail diva!
1. Try wearing sporty clothing with minimal embellishments on them and white mules for company
2. A loose top with khaki olive green pants and neutral toned mules with a similar shaded bag looks haute and trendy
3. One of the ways to wear western style mules would be wearing flat mules with a white top and black cropped pants for work
4. You could also be the street style chick wearing dungarees with mules
[Also Read: Ugly Trends That Are Back And With A Fashionable Bang!]
5. An all white fashion statement in white mules with a white cropped top and a pair of white dressed pants
6. A slipped dress with ankled zipped pants can pair up with black mules and a black bag
7. Short skirts and crisp tops paired with chunky mules for the party nights, why not?
8. A long blue dress with mules for the cocktail gatherings after work, is a trendy style statement to make
9. Oversized summer coats and mules are haute elegant statements too
10. Cropped tops , printed harem pants and mules for the summer coffee dates
11. Wear mules to the beach and pool parties, in cropped tops, tiny hot pants and a chic bag for company.
12. Printed tie and dye tops with khaki ciggy pants and neutral toned mules for the summer heat to beat, why not?
13. Bobby knotted tops and a flowing mermaid midi long skirt with mules for work, can make a haute Friday dressing statement.
[sc:mediad]
14. Printed pants and a self colored sleeveless top for the summer fun
15. Purple mules, red pants and a checked top- perfect color blocking fashion to flaunt
16. Flowy skirts and styling mules are the best companions to wear for a summer movie night out
17. Stockholm street style fashion sense shows us mules paired with office wear
18. Yellow mules with a yellow coat and black polka dotted onesies help us look vibrant and radiant all through summers
19. Crisp white formal tunics can be paired up with red mules for the pop of color on a boring day to come through.
20. Street style and very comfortable once again, pairing up bobby knotted denim tops with white skirts and white mules would be a trendy statement to flaunt.
Here were thus twenty ways on how to wear and flaunt your mules because as you know the answer to are mules back in style is a YES. Go right ahead and wear those fashion mule shoes now; to work, to play, to a date or just about anywhere you wish too. Have fun!