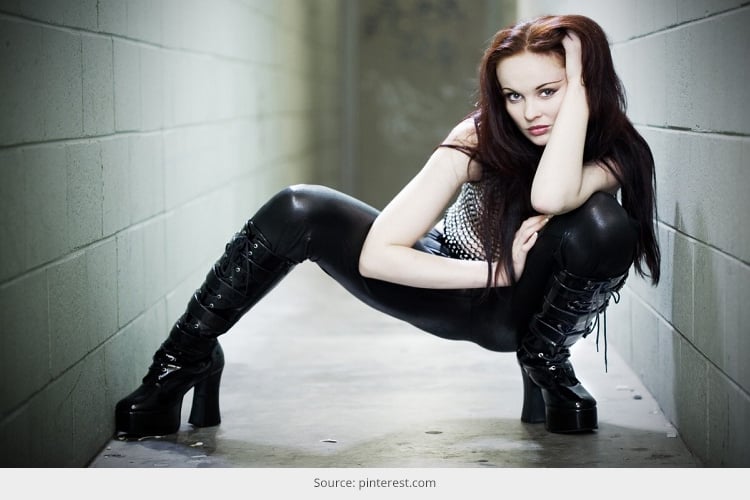 Remember the swinging eighties when Madonna was the ultimate style icon with her dark eyebrows, brightly colored pout, funky and bushy, colored hairdos, chunky accessories, sequined outfits and tight leather pants? Punk was definitely in and yuppie culture was all over the place. Leather was definitely in vogue over the eighties!
Leather pants were associated with rebellion, attitude and punk. After all, haven't we watched many flicks where the bad-ass biker gangs and heavy metal rockers are always in tight, shiny leather pants, metallic rings and grunge locks?
Today, leather pants have made a grand comeback which is limited not only to the Kardashian sisters wardrobe and their incredibly popular style statement. On the global fashion scenario, fashion designers are experiment with this unique fabric and models have been sashaying down the ramp in fitted and glossy leather pants. . These pants are heavily in vogue and can be worn with elan for a music concert or for a glamorous party.
This winter, perk up your wardrobe with stylish leather pants which will give you a sleek, modern and fashionable look. Leather pants do not spell body-squeezing, no-space-for-breathing fitting but can be worn comfortably and stylishly to accentuate your curves in the right way. It will keep you warm and snug from the cold winters, add glamor quotient to your wardrobe and make you a stunner.
Casual, Formal & Fun Look In Leather
Leather pants can be paired with high heels and a cashmere sweater for a casual look. Since you are encasing the lower body in form fitted leather pants, its best to wear a sobered down, flowy and understated top or shirt. Wear a floral top with its collar peeking underneath the chunky knit and a stylish cut blazer to look good in leather pants.
You can also give a novel twist to the old concept of wearing black opaque leggings with tunics and dresses. Put on stylish, fitted leather leggings in combination with your pretty tunics & dresses.
For a slightly formal look, opt for leather pants, blazers in monotones and boots.
Gone are the days of plain black leather pants – leather pants are now available in printed style or in vibrant shades to jazz up the outfit.  Now that the extent of leather pants fashion has stretched considerably, there are several options to choose from: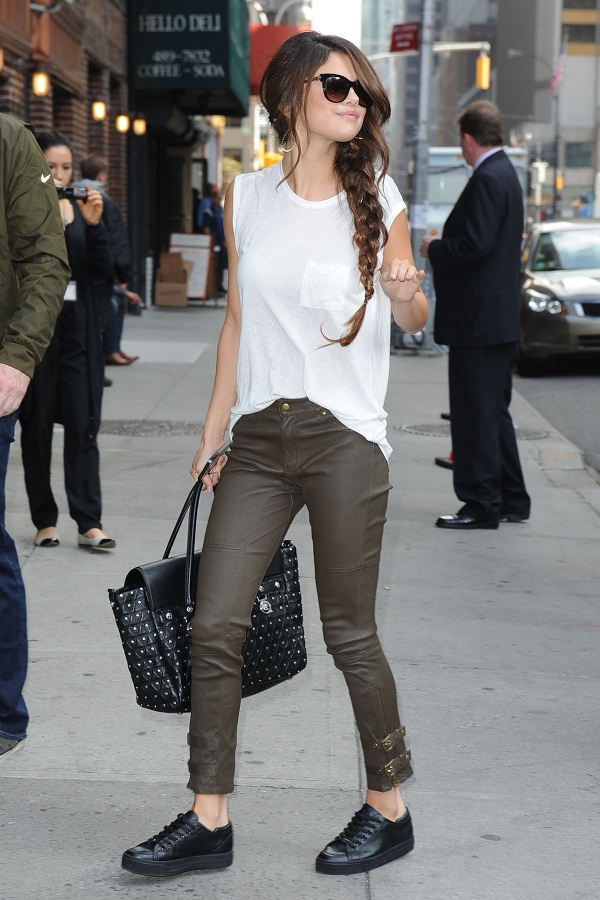 Leather Leggings
You have worn jeggings and lycra leggings – But, hey, what are leather leggings? My dear fashionistas, these leggings give you the perfect, fitted look and bring out all the curves n full glory. If you want to show off those killer, long legs, pair up with a blousy top or a stylish, roomy sweater. Put on high heels or experiment with boots and give your outfit a fashionable edge.
Be careful while wearing these leggings with plunging necklines and low-cut blouses or tops- It is because these form-fitted leggings enhance the body structure and celebrate the curves.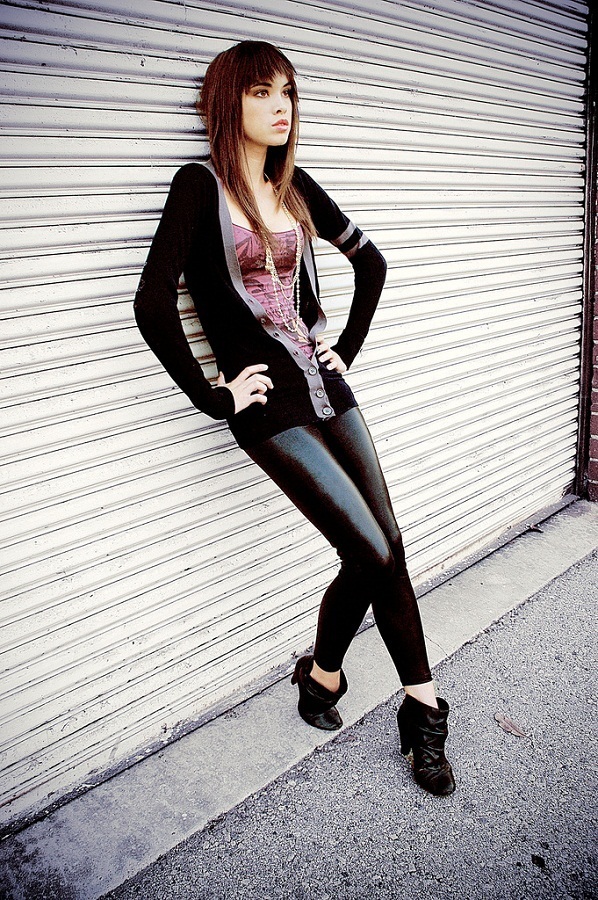 Leather Skinny Pants
How about trying out the latest trend of the season in leather – Skinny Pants? These are in rage thanks to their way of giving a taller, thinner appearance to the wearer. These are available in numerous colors, varieties and cuts. They look best when paired with long tops, boots, chunky belts and stylish sweaters.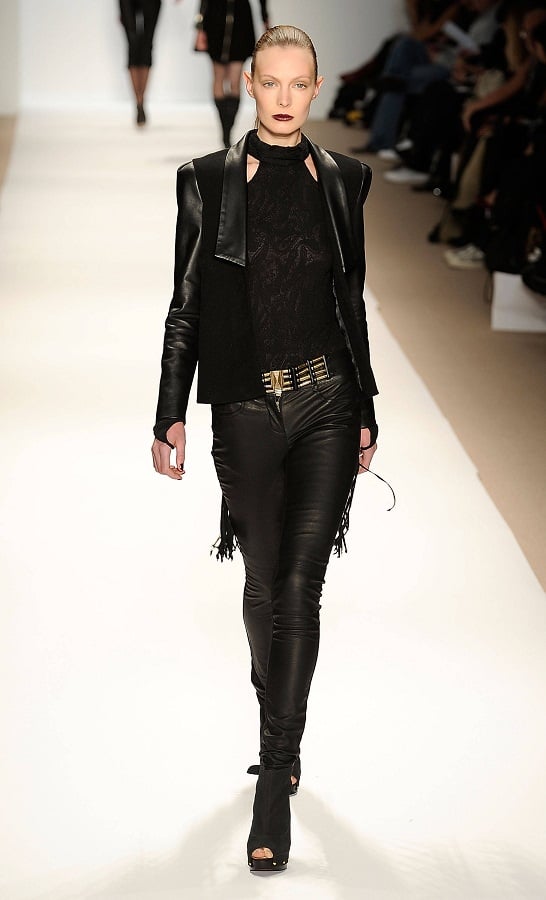 Wide Legged Leather Pants
There is a slow shift in the trend: From squeezing into tight skinny denims to relazing in wide legged leather pants. These wide legged leather pants have a hem which skin the ground and reveal just the tips of the shows. You can pair it up with a linen fabric tee or a pretty blouse and blazer. The high-waisted look works well with this style of leather pants.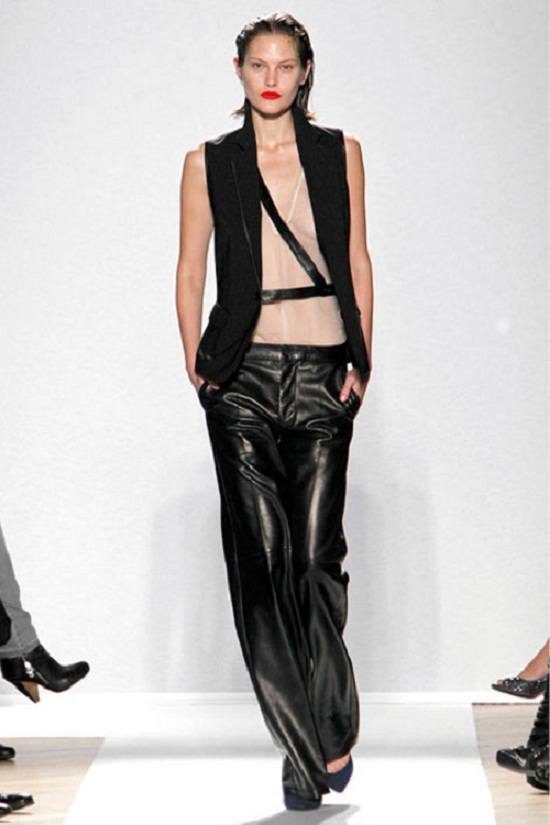 You can even try the retro flare or boot cut in wide legged leather pants. This is the best way to relax, let your body breathe and enjoy a fun evening.
With leather having made a huge comeback, ladies, upgrade your wardrobe! Get stylish leather pants and rock the trendy look this winter.
Images Source: pinterest.com