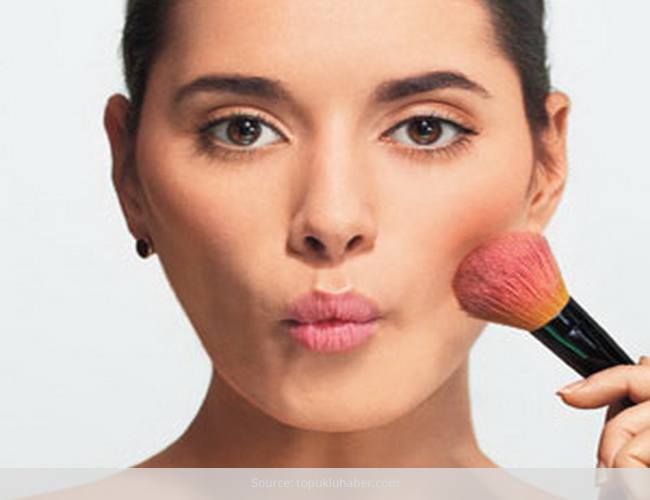 Knowing how exactly to use your makeup can go a long way in helping you enhance your good features and hide your bad features. From dark circles to acne marks and discoloration, pretty much everything can be expertly concealed to create a flawless look. You can even use some nifty makeup tricks to contour and sculpt your face to create the illusion of high cheekbones, a pointy nose, narrow forehead and so on. In this article, we're going to discuss how you can use makeup to make your chubby cheeks look slimmer.
"Chubby cheeks, dimple chin, rosy lips…" goes the rhyme. But while a chubby cheek is adorable when you're a kid, it does not always look good on grownups. Even if you're body is slim, having chubby cheeks will make you look plump and overweight. But there are some makeup fixes you can use to give your face more definition and create an illusion of slim cheeks.
Contour Your Cheeks
Use your face as a canvas to create the effect you want. You're going to need three different shades of foundation for this technique. Alternatively, you can also use your matt eye-shadows or cluch to achieve this effect. So let me first explain how contouring works. The basic idea is to shadow all the areas that you want to appear narrow or want to seem hollow. So if you have chubby cheeks then you will want to use a foundation two shades darker than your skin tone to create a chiseled look.
[Also Read: How To Get Chubby Cheeks]
First, apply the foundation that matches your skin all over your face and blend it in. Next, touch your cheek to find out where your cheek bone is. Directly under your cheekbone apply a streak of the darker foundation going from the middle of your cheeks all the way to your ears. Blend this using a brush or a makeup sponge. Blend it in well, we don't want it to look patchy or have any streaks. Once you have blended it, take the lighter foundation and dot it across your cheekbones and blend it well.
Once you have blended it all in, you will notice that the darker foundation and the lighter foundation work together to create an illusion of high cheekbones that are well defined.
Here's a picture of Kim Kardashian without makeup.
And here's a picture of her with her contouring and highlighting streaks and after she blends it all in to create a sculpted look.
[Also Read: How To Reduce Face Fat]
Choose the Right Blush
If you have chubby cheeks then you should stay away from bright blushes. Opt for bronze or silver toned blushes that will give you high cheekbones. Go in for powder blushes rather than cream ones as cream blushes are a little difficult to blend and may end up making you look even chubbier.
[sc:mediad]
Invest in Some Tools
Invest in some good quality brushes and makeup sponges to help you blend. Blending is the key to this whole technique of contouring. Makeup should not look made up. It should look like it's all your natural skin and nothing more.
A final word of advice: Don't get heavy handed. The idea is to create subtle planes and hollows to create our desired look. Don't ruin it by using too much of the contour or highlighting foundation or you'll just end up looking patchy. Make sure all your different foundations blend well together to create a smooth look.