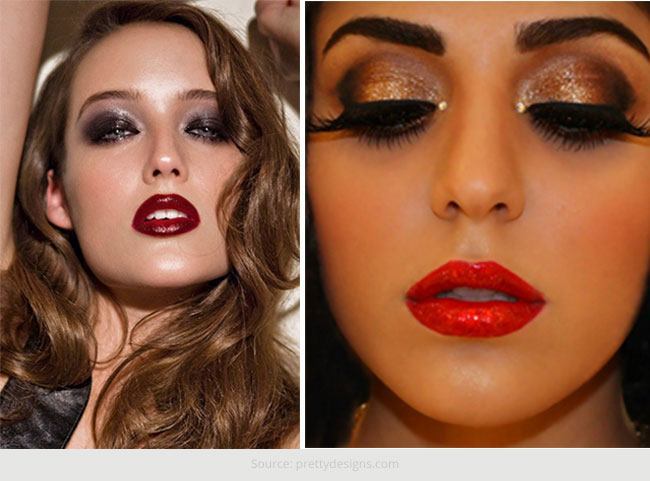 New Year bells are ringing in the ear. So also is the sound of happiness, ecstasy, and merriment. Besides the delicious turkey and raisins, what else would make you go mad with joy on receiving the party invitations? Well, there is bound to be a bevy of winter leggings, stockings, dropping diamonds, cashmere silk, boots and mufflers. But there can be nothing more charming and ecstatic than having bronze on the cheeks and metallic on the upper eyelids. Yes, it is the Make-Up and Cosmetic Ideas for the New Year that we are referring to. Time to pay attention to some of the trendy makeup looks for the New Year. Happy looking Gorgeous!
Winter 2014 Trends in MakeUp
1. Foundation
Powder foundation is best for concealing uneven skin tone. Skin-soothing ingredients found in Chanel Les Beiges Healthy Glow Sheer Colour SPF 15 help minimize skin irritation and conceal redness.
For girls with oily skin, a matte foundation in the form of Tarte Amazonian Clay Full Airbrush Powder Foundation is best. Mineral make up is becoming popular amongst those troubled with acne. Buxom Show Some Skin Weightless Foundation is a good bet. Bobbi Brown Luminous Moisturizing Treatment Foundation is the best bet when it comes to dry skin texture.
2. Metallic Eyeshadows
A touch of bright shimmer and glitter is currently the in-thing that can't be ignored. Sport the metallic shades as eye shadow, over the eyelashes and lipstick and know how to shine on.
If you want your eyes to shimmer all night, then dab a bit of COVERGIRL's Bombshell Shine Shadow that's available in 6 different shades.
Dior is simply irresistible in products and brand personality. Experience the rich colours in Dior's 5-Colour Eyeshadow palettes that have been truly inspired by CD's trips to Brazil and Latin America. Coming to product, the vibrant 'Marsala' red in this colour concoction makes a superb colour perspective.
However, if you want to go berserk, then go ahead with Urban Decay Vice3 Eyeshadow Palette that has 20 matte, shimmer and satin shades. Not to miss is Sonic, the shimmery wine-colored eyeshadow that comes close to the Pantone's Color of the Year look
3. Lashing Lovely
Creating definition is the key to looking stunning. Put on the Spider lashes to look a hot fashion vampire no matter the freezing temperature.
4. Fancy Brows
Pastel eyebrows are emerging as best compliments to winter clothing. When swiped across eyebrows, they are all set to give you a soft and edgy look.
[sc:mediad]
5. Flawless Complexion
In order to make your face gleam out, cover skin with the lightweight foundation Neutrogena's Healthy Skin Liquid Makeup Broad Spectrum SPF 20. The best part about it is that it won't make your face look heavy with makeup.
6. Luminizing Impact
Never mind the cold wave, give your face a sun-kissed look when you brush a bit of Burberry's Gold Glow Fragranced Luminizing Powder. Perfect glow is what you get with that irresistible scent that will pull everybody like a magnet.
7. Stenciled Tattoos
Want to surprise your date with that awesome unseen of look? Sport some stenciled tattoos on your cheeks, arms, to be in the instant spotlight.
8. Glitter
It is the heartthrob of designers and models alike. Go get some glitter around the eyes. Such is the craze that one artist went and used three glitter dots on each eye. A small dot was rested on the inside crease of the eye and larger dots dotted the center of the eye, above the upper lashes and below the lower lashes.
9. Lip Talk
It is the season of dark lip and matt. Glaze on a rich 'Marsala' shade (the Pantone international colour of the year 2015) from none other than L'Oreal Infallible Le Rouge, a lipstick that looks earthier with brown undertones rather than the typical reds.
Accentuate the marshal-stained lips with a coordinating lip liner such as the dual-ended product from Vincent Longo. In Wine/Rosewood, it turns out to be perfecto for Pantone-colored lip colors. The Wine shade however gels with burgundy and deep plum shades.
Rules of Perfect MakeUp
Bold or neutral, the choice of makeup for the New Year has a lot to do with your dress code. It is in fact your dress that will help determine the colour palette of your makeup. If you are eager on putting on bright and colourful outfits, then pastel makeup should be good. However, if you want to go plain, bright and daring makeup should look good on you. The formula is simple – choose products that will not only match your attire, but your complexion as well.
Also between eyes and lips, emphasize on one part of your face rather than going gaga over both. The art of looking fabulous comes one at a time, after all.