Are you in the lineup for your friends Sangeet party? This is the most awaited and fun-filled pre-wedding party among the many in an Indian ceremony. It goes for hours and there is a lot of dancing, mingling and running errands within the party. However, this is not the issue because immersing yourself in this celebration is easy when you have the right outfit. Do you already have an idea of what to wear to ace this celebration? There are many ethnic and fusion outfits that are awesome for such an occasion to enjoy it to the hilt. As long as it is fashionable, stylish and comfortable to help you move around with ease on that day. Here are some ideas you can use to ace your friends Sangeet and will also help you nail the event.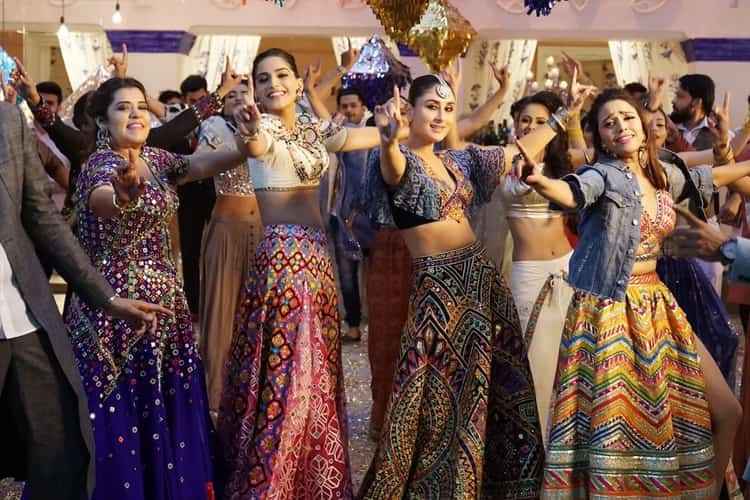 The Trendy Fashion:
As you look for your girly glam look. A chic, in-vogue and modern outfit is one way to go or you can opt to try ethnic wear shopping at stylecaret. Since ethnic wear is now getting trendier by the day too. Ensure you stick to the theme and consider the hype involved from the youngsters, the dancing and the music. Capes and crop top lehengas blends, Lehenga sarees, poncho style cover-ups are some great ideas to achieve a trendy fashion. If you must wear a fusion blend, ensure the appeal it gives is very ethnic and is accessorized just right. The other trendy fashion piece is one that is youthful and feminine which makes you look fashion-forward and electric. After all, it's the Sangeet, you need to look flattery and ravishing at the same time. Adorn to a Lehenga with cold shoulder sleeve in off-beat hues add some smattering glitter and a dupatta to the outfit you choose.
The Relaxed Silhouettes:
These are great outfit ideas for a Sangeet for they allow you to dance and move around with ease. The fluid silhouettes keep you on your toes no matter what comes your way. Since at a friend's party one minute you are helping with some home activities. Next, you are on stage either performing or supporting your friend as part of the lineup. One of the best fluid silhouettes is the Anarkali suits that are frock style avoid the floor-length ones for they will swamp your moves. Churidar suits, ankle-length palazzos are way better for they do not tangle in your feet as you groove around. Similarly, Lehengas with too many embellishments and are floor lengths are not for this occasion for they will weigh you down.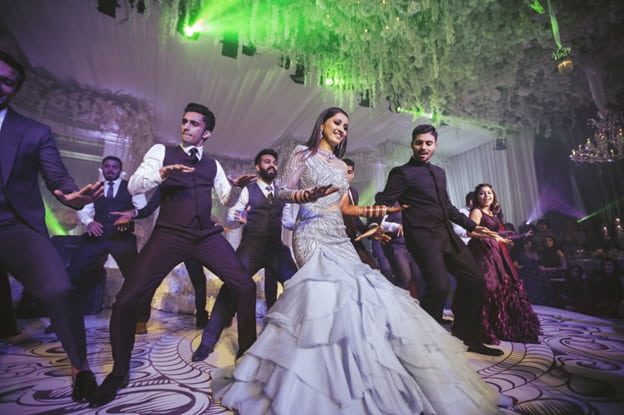 Indo-western Suits:
The beauty of indo-western outfits is they are cool and stylish and they are a great choice on many Indian occasions. Also, fusion wear is convenient to wear to a Sangeet ceremony and manage as well. Simple indo-western Anarkali silhouettes are modish and are a head-turner once you hit the dance floor. There are other party wear indo-western suits that you can use to create new ensembles with them. When you favor fusion wear avoid the normal crop top lehengas, saree gowns and pair separates to achieve that stylish indo-western look.
Charm With Color:
Consult with your friend if you can pick a vibrant and vivacious color hue for her Sangeet. This is because most Sangeet parties have a theme and you might wear an overpowering color and draw all the attention. As much as there are usual colors for a Sangeet like, red and orange choose your unique color that will gain your compliments at the party. Some beautiful color choices are neon's, yellow, navy blue, purple and if they are deep colors pair them with something brighter. Color choice is sensitive to Indian pre-wedding occasions and also depending on the relations you have with the couple. As a friend know how to use it to charm those around you or if unsure stick to staples for it is not your ceremony but your friends.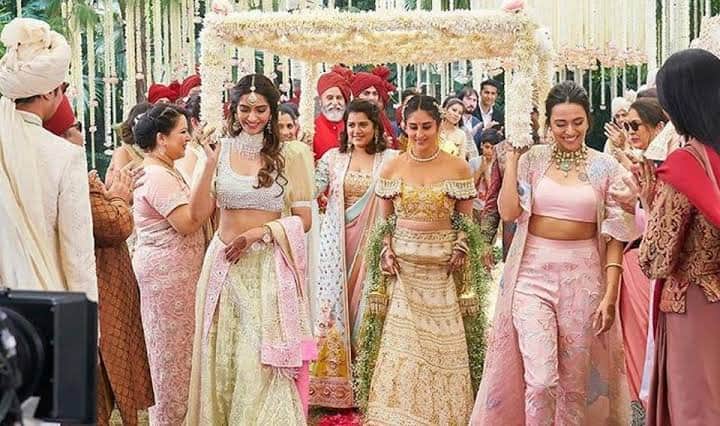 Tap In Embellishments:
Finally, your friends Sangeet is here and it is time to wear your perfectly embellished outfit. Although they are not a bad pick for an outfit for the party. It is important to go easy on the embellishments and choose them carefully. This is because something heavy with a lot of embroidery and embellishments are best for the wedding ceremony. Yet, it is the Sangeet pre-wedding party that you do not have to look overly done and uncomfortable. A perfect choice if you require embellishments is a salwar suit with sequins, slight mirror work or tone-on-tone embroidery. To ace, the look, have these on the blouse alone or spread over the outfit.
Prints And Patterns:
Prints are pretty and practical for a Sangeet party. They are easy to adorn to and they make you look glamorous as you help out with errands around your friends Sangeet. Since they are embellishment free and light this is a total win to ace the Sangeet party. Enjoy how comfortable and easy to carry they are whether it is an ethnic Banarasi weave or floral prints. Another way to wear them is in a minimalistic way if you do not favor more of it. For instance, a plain Lehenga with a patterned designer choli will still maintain the opulent look you aim to achieve.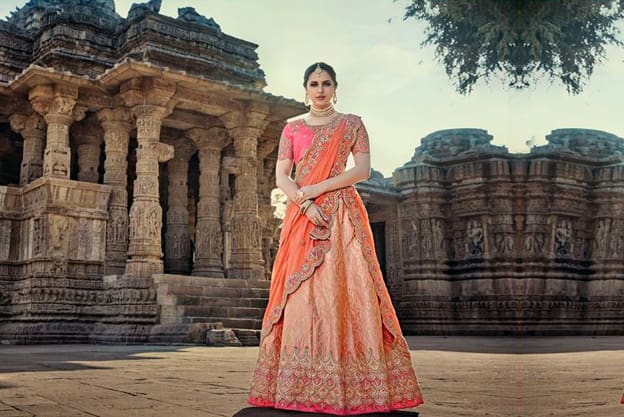 Neutrals And Metallic:
Do you want to have a classy and radiant glow at our friends Sangeet? You can choose metallic hues and neutrals for the outfit you choose. For a party perfect look, combine gold, silver or copper metallic hues with neutral bases like cream and beige. This will make you look classy and stylish. This can work for a dress or a Lehenga for these accents are versatile and you can pair them with ease as with any embellishments or trends. However, if you want to achieve a gorge look with simple tastes. Add a light color to the neutrals and metallic accents and you will still ace the outfit.