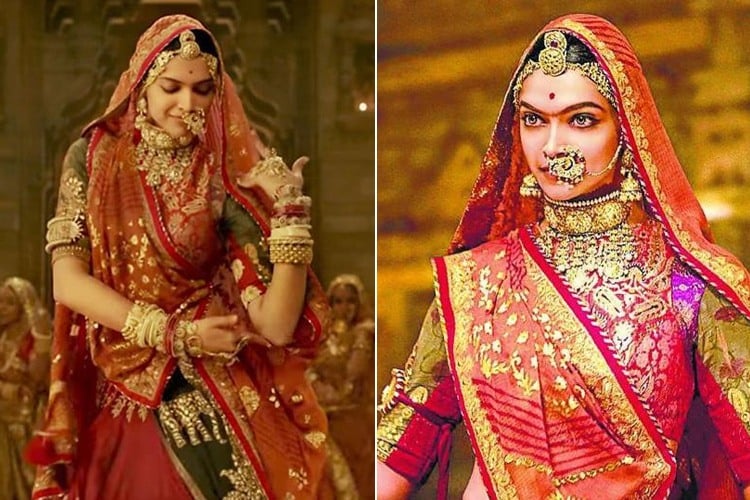 It's a magnum opus on several scores – starting from the film which surpasses extravaganza in every possible way. It's a period-drama which stands out for the brilliant piece of art it is, showmanship, opulent costumes and the majestic Rajput brides images. The "Ghoomar" song in this film has been presented never-so-beautifully and the leading lady who makes you go weak in the knees with her scintillating performance –as sparkling as the jewels she puts on that depict her ethereal beauty, valor, and courage.
Have I not dropped enough cues for you to guess that I am talking about Deepika Padukone's costumes in the recently released film Padmaavat? And I must say this controversial film left everyone in the audience unanimously spellbound with the stunning Deepika Padukone in her Rajput bridal look but more importantly Ghoomar song outfits inspired for weddings.
Undoubtedly, the most awaited film of the year Padmaavat shows Deepika in Indian wear – not just as a heroine but an inspiration for a lot of brides-to-be when it comes to opting for a royal Rajput bridal look at their wedding.
The release of the movie's first song titled 'Ghoomar' has given a good number of reasons to the girls – well I would say, single and married both – to revisit the regal era and don everything royal this wedding season.
Come, let us decode Deepika Padukone in her bridal look and Deepika Padukone's costumes in the song Ghoomar.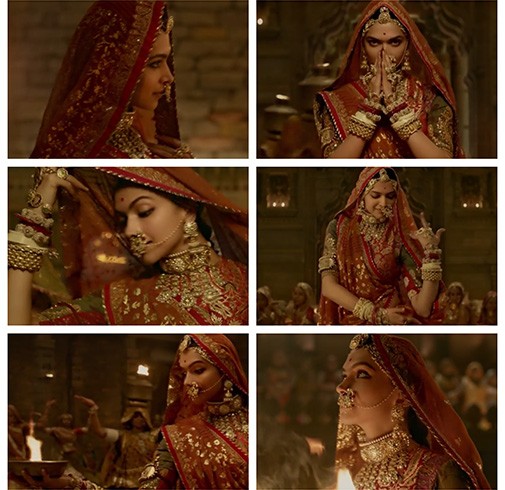 Know what Ghoomar is? The answer is well-depicted below.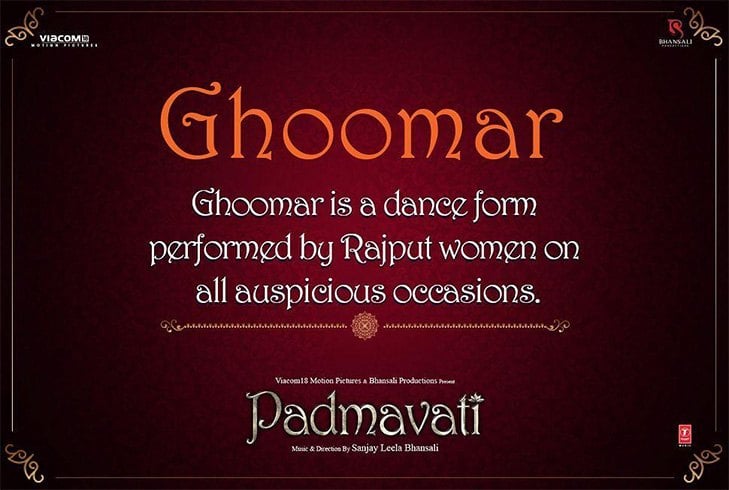 The Outfit Sensation-Duo
Who are the creative minds behind the royal costume worn by Deepika Padukone in Padmaavat? Two renowned designers, Rimple and Harpreet Narula.
Here are the unique features of the Ghoomar song outfit of Deepika Padukone which is a true delight to the eyes.
1. What defined the royal costumes of the 13th century? Layers after layers – in fact, multiple layers that were highlighted by deep rich jewel tones and color blocks. Now, Deepika Padukone's costumes, especially in the song Ghoomar, has all of that – color tones and features of the historical era.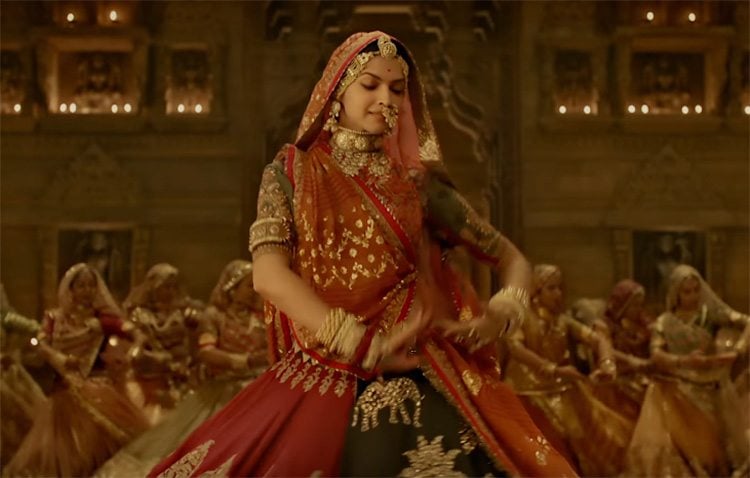 2. What makes the ghagra worn by Padmaavati so special? The ghagra motifs are inspired by old Pichwai textiles plus other vintage paintings that blended well with gota patti work and metallic embroidery.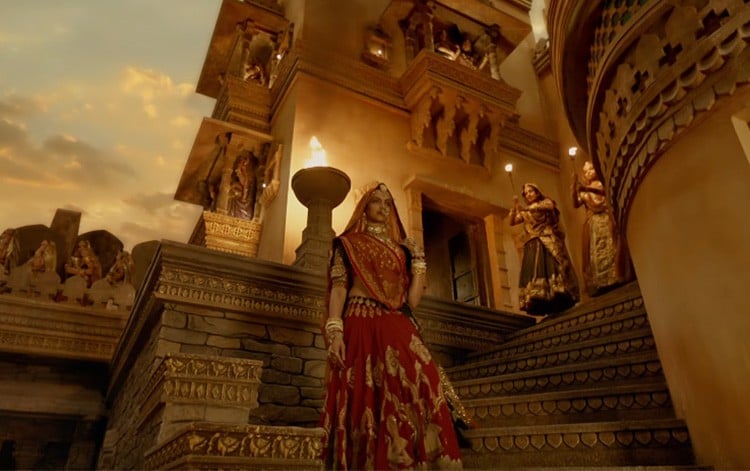 3. Further on the costume "motifs" – they have a deep historical connection with the Rajputana culture. For instance, traditional motifs like a lady with a parrot, the tree of life, the sun and the moon, the lion and the lotus have been amply used. Seems both the film director Bhansali and the costume designers Rimple and Harpreet Narula have done their fact-finding deep as the well.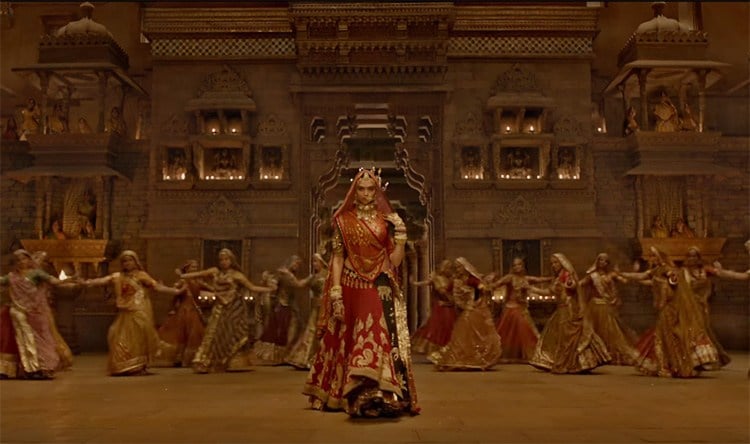 4. Now, what's special about the odhni worn by Deepika in Indian wear in the film? It's got leheriya print with metal foil work and raato embroidery.
What's raato embroidery?
It is an embroidery style which uses gold metal flat wire with silk floss thread.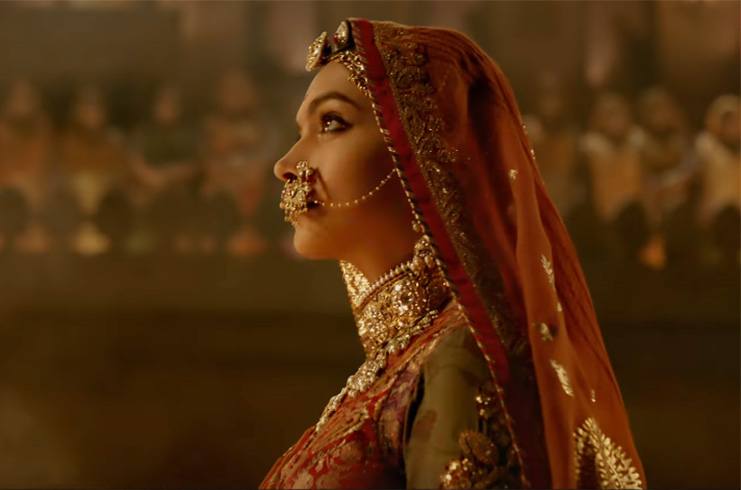 5. Guess the one place where all the costumes and embroideries were done? Apno Rajasthan! Gold and metal threads were used. Apart from this, "blue thread" embroidery was also done to create a vintage effect.
The designer duo Rimple and Harpreet Narula posted this on their official account on Instagram "The garments – ghagras, kanchalis, and odhnas – were aged and treated with various concoctions and materials such as natural dyes, indigo, pomegranate, rose, etc to achieve the natural colors that were prevalent at that time. A lot of pieces underwent tea-staining to give them an earthy, muted and organic feel. Our teams got special prints developed from Sanganer and Bagru for the textiles that were used. Some prints have up to 12 different colors in one motif."
6. Without floral patterns, Indian wear is incomplete. Deepika in Indian wear in the film Padmaavat had a lot of booti designs on her ghagra. The draping technique of odhnas easily took one back to the Rajput era. All goes to show how the influence of the old Rajasthani royals has not ended but is timeless in its appeal.
Hope you got a perspective of the Ghoomar song outfits inspired for weddings.
Now over to the jewelry section.
Jewelry – All About Regality
Leading jewelry brand Tanishq has designed the jewelry that you see in the movie Padmaavat. Each piece is regal in its elegant and grandiose appeal to the hilt and symbolizes the charm of the royals.
Jewelry is very much a part of Deepika Padukone's costumes in the film. Here is what she wears for the Ghoomar song:
7. A bold choker and a matching pair of jhumkis which have the richness of gold, polka, and pearls.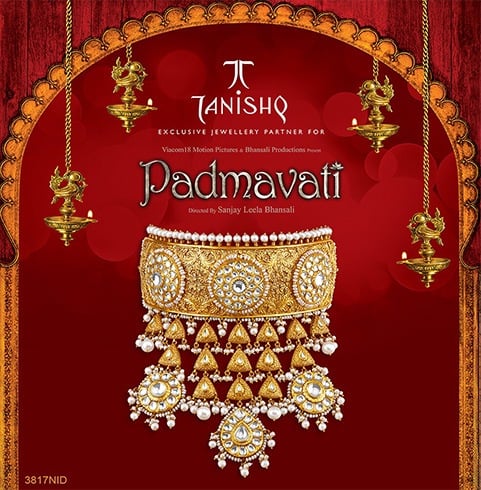 [sc:mediad]
8. A heavy nath with a sleek chain.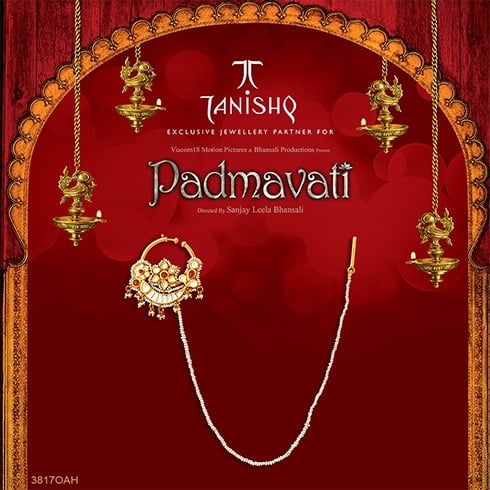 9. A Borla which represents a true Rajasthani bride.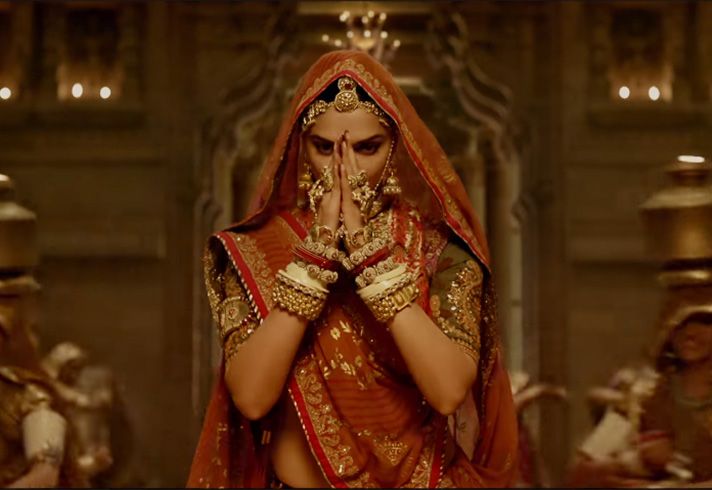 10. Heavy haath-phool which is not alone! It is teamed up equally well with heavy bangles and bracelets.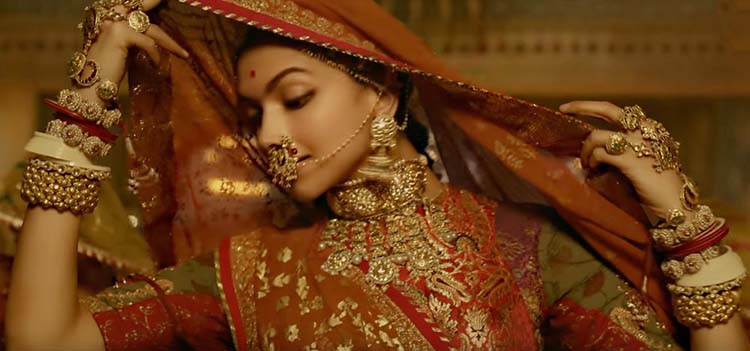 11. Matha pattis can never get old – and Deepika Padukone in her elegant bridal look stands testimony to it.
All these are perfect examples of Rajput bride's images and Ghoomar song outfits inspired for weddings. They are also a hint that it is high time we ladies started collecting statement gold jewelry. Not just to wear it for occasions but treasure it as heirlooms.
But with Deepika Padukone in bridal look so queenly and elegant in the Rajput-avatar, was her wedding-inspired makeup equally heavy?
On the contrary, Padmaavat went low-key on makeup. Her plain bindi and lipstick look was enough to portray Deepika Padukone in a show-stopping and classic bridal look. In any case, Rani Padmaavati glammed up the film with her heavy bridal outfit and jewelry that nothing more was needed.
Now that we know how to rock a royal Rajput look at your wedding, here are some more glorious facts about Ghoomar:

To sum it up, all thanks to Deepika Padukone's costumes and Deepika Padukone in bridal look, we are going to see a lot of floral gotta patti and beautiful polka jewelry this wedding season.
Have a look at the Ghoomar song:
How did you find this fashion piece on Ghoomar song outfits as shown in the Padmaavat film? Will you be joining the royal bandwagon in terms of the fashion inspiration? Are modern-day fashion/couture/jewelry designers listening? Do write your comments, please.
Images Source: shaadiwish.com, swirlster.ndtv.com