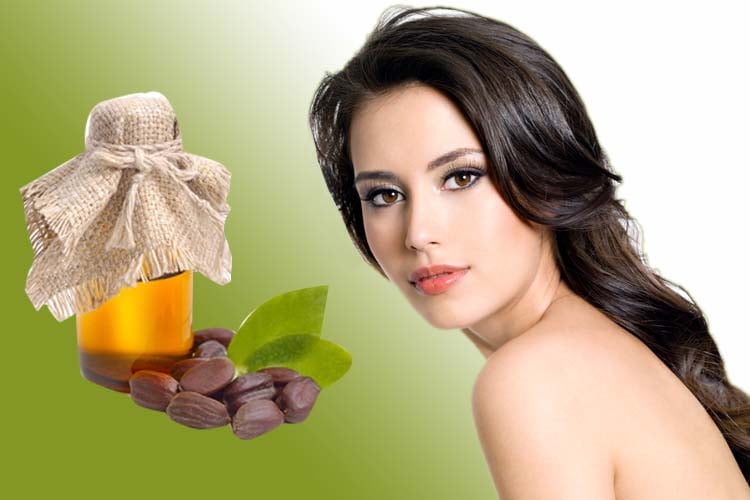 For all the beauty conscious damsels out there, here comes a product to wipe out unmanageable hair, and dry, cracked and irritated skin. Jojoba Oil gives your hair more shine and strength than you can ever imagine! For all that your hair and skin goes through, what it requires is something natural.
So, if you are looking for healthier and manageable hair, then count on Jojoba Oil, which has proved itself for decades. It pampers your hair and scalp with plenty of moisture, strength and manageability (leaving not an iota of grease). It is beneficial for all types of hair. It enriches skin (leaving it radiant); soothes and protects dry, chapped or chafed skin and lips as a result of winters or frequent hand washing.
Let us know more about the scientific background of Jojoba Oil:
Know About Jojoba Oil
Pronounced ho-ho-ba, Jojoba is the liquid which comes from the seed of the jojoba plant.
Some Interesting Facts: Did you know that Native Americans extracted the oil from none other than jojoba seeds? They used it to treat wounds and sores. Also earlier, machine guns were lubricated using jojoba.
Appearance: The 'unrefined' jojoba oil comes across as a clear golden liquid, with a bit nutty odor. Whereas 'refined' jojoba oil is colorless and odorless. Noticed the difference?
When you talk about its shelf-life, jojoba oil is more shelf-stable as compared to safflower oil, canola oil, almond oil or squalene, but less than coconut oil and castor oil.
Talking of physical properties, Jojoba plant (seeds) have about 40–50% of seed dry weight oil. That's more than the amount produced by other oilseed crops such as soybeans and rapeseed. So, JO comes up across as a promising energy source, which can be used separately or in mixtures.
Scientific Name: Simmondsia chinensis
Native: To southern Arizona, southern California and northwestern Mexico
Let us now find out the benefits this oil holds for us:
Amazing Benefits Of Jojoba Oil
If your aim is to strengthen your skin and hair, then JO (meaning Jojoba Oil) is your go-to product. Whether, it is acne, sunburn, chapped skin (cracked feet and dry hands), eczema or psoriasis; the problem of hair balding and dandruff; or more such skin and hair problems, Jojoba is an essential oil which has proved its ability to effectively treat such ailments/diseases.
Benefits Of Jojoba Oil For Skin
Jojoba oil, is a beneficial ingredient, which comes with a plethora of benefits for your skin.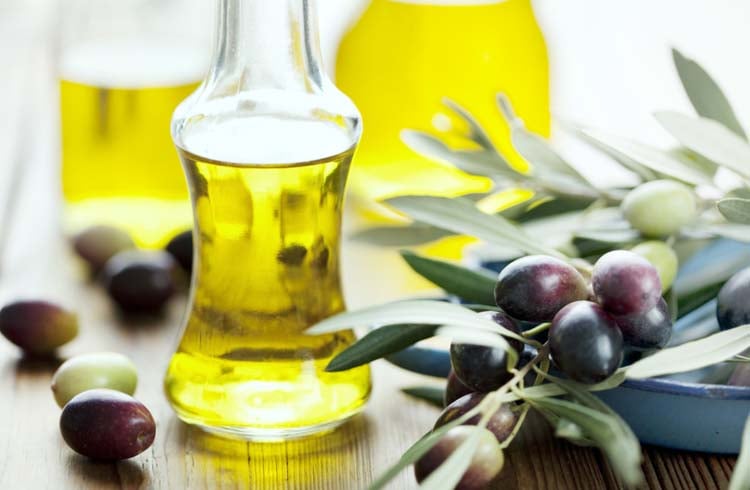 1. Face Moisturizer:
To get the real time benefit of JO, apply 4-6 drops of jojoba oil on your face and skin in the morning. And yes, at nighttime also, before going to bed.
2. Remove Wrinkles:
Nobody likes wrinkles. The safest way to escape this is to apply 1-3 drops of jojoba oil on the wrinkled areas. Keep massaging it in circular motions for faster absorption.
3. Treats Skin Disorders:
Jojoba oil has antibacterial properties which keep bacterial growth in check. Being an anti-inflammatory agent, JO soothes irritated skin. Vitamins A and E present in the oil also have a role to play.
4. Makeup Removal:
Busy ladies (working or nonworking) need makeup to show a brighter side of them, isn't it? What to do for makeup removal? Any new thing which doesn't contain harmful chemicals? Yes, there is in jojoba oil – just put 3-4 drops of it on a cotton ball, and wipe off makeup. It will moisturize your skin – not make it dry (like you get when you use conventional face cleansers). And the best thing is that you can use it to clean eye makeup too!
5. Anti-aging Oil:
Did you know Jojoba Oil is one of the top anti-ageing essential oils? It is one of the most hydrating oils in the world which offer anti-ageing properties. Helps reduce fine lines, age spots and visible signs of ageing.
6. Cracked Lips:
Changing season affects the lips – making it dry and chapped. Overcome this by applying 1-2 drops of jojoba oil (whenever you feel the dryness coming back).
7. Soft Heels:
Want soft and kissable feet? Go for jojoba oil. Soak your feet in warm water for 5-10minutes, then dry them with a towel, before you apply JO. It forms a thin waxy layer which locks the moisture, and gives a smooth, really smooth feel to the skin.
8. Fight Infections:
One to two drops of jojoba oil are to be applied to the infected/irritated area on skin to get a relief. But do it twice daily.
9. Fight Against Oily Skin:
Yeah, oily skin might depress your skin. But thanks to jojoba oil, your skin can enjoy this extremely light and talented oil, which stops the production of its own oils.
10. Fight Against dry Skin:
Suffering from dry, flaky skin? Jojoba oil is there as an excellent moisturizer, which helps fights dry and flaky skin, with perfection and conviction!
11. Works for Acne:
JO is the most important oil used in treatment of acne. You will wonder how come "oil" treats acne? Actually, Jojoba oil is not an oil, but a 'wax ester' – which cuts off sebum production. Hence, it works for acne.
12. Dead Skin:
Jojoba oil happily scrubs off dead skin cells and skin impurities, giving you a 'neat and clean' skin.
13. Cleanser:
When it comes to the cleansing routine (including around eyes) jojoba oil fits the bill. JO never irritates dry areas on skin, b'cos it is hypoallergenic in nature.
14. Razor Burns:
The "waxy" texture of Jojoba oil helps deal with the threats of cuts and razor burns. Normal shaving creams have chemicals that clog skin pores, whereas JO is 100% natural and promotes healthy skin. Before you shave, apply jojoba oil on your face. It will create a smooth surface for shaving. Once you are through with shaving, apply JO once again to moisturize your skin, and heal cuts on skin in a quicker way.
15. Stretch Marks:
JO restores the skin elasticity. So, it is a good oil to use – especially for pregnant women when the need is to avoid stretch marks. It is not late to use when stretch marks have cropped up. When Jojoba oil is massaged in the later stages of pregnancy, it still helps in fading away stretch marks.
16. Skin lightening:
When it comes to lightening age spots such as dark spots or sun spots, jojoba oil comes handy. It also brightens up skin complexion.
17. Under eye concealer:
Fighting under eye circles? It's a major setback to a beautiful face. Fight this problem by massaging jojoba oil. It's a good way to avoid under eye creases.
18. Dandruff:
Jojoba oil is pretty similar to the natural oils which are secreted by our scalp. Since it helps in dissolving the sebum, it's great help in reducing irritating dandruff.
19. Body Oil:
Well, JO mimics the natural oils found in human body, so in a way it reduces the overproduction of sebum. It is a natural body oil to us!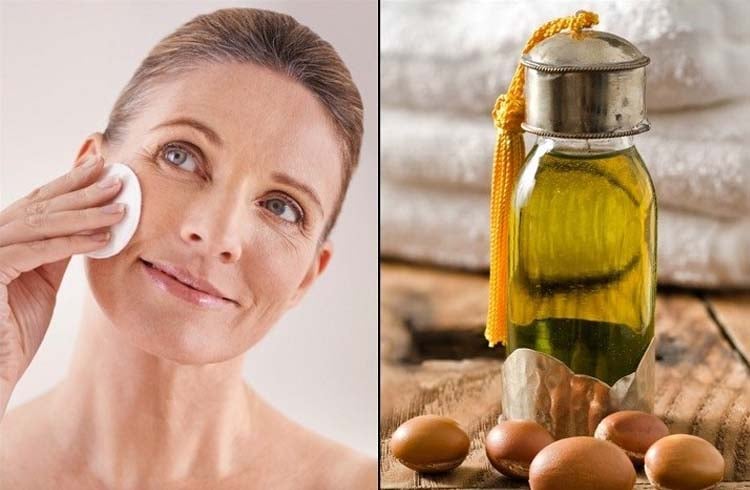 How To Use Jojoba Oil For Acne
Jojoba oil effectively treats acne and all-sorts-of-blemishes on the skin. Which is why, it is a must in skin care regime.
Ingredients required: Jojoba oil, Tea tree oil, Bowl.
Step 1: Mix 1 tsp of jojoba oil with 5 drops of tea tree oil.
Step 2: Transfer the oil in a glass container, and put it in the refrigerator (after sealing it).
Step 3: When you feel the need to get respite from acne, take out the "made solution" from the refrigerator.
Step 4: Dip a cotton swab in it.
Step 5: Then, apply the oil to the acne spots.
Step 6: Repeat this 2-3 times a day to get the desired results.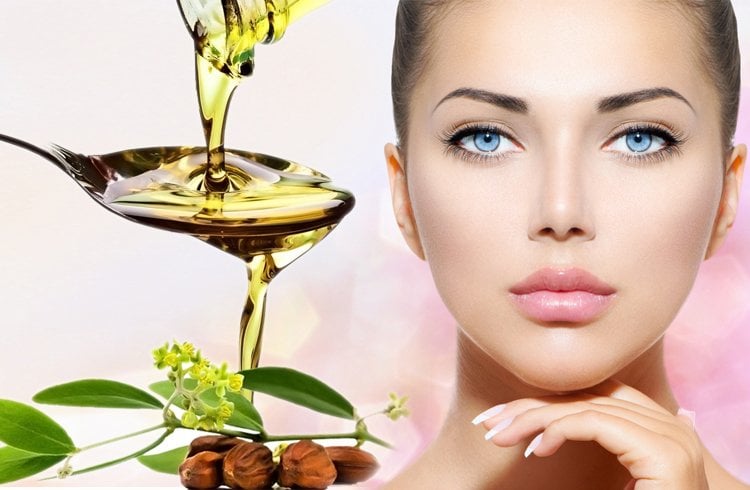 Having covered skin, let me now take you through jojoba's oil contribution to the hair:
Benefits Of Jojoba Oil For Hair:
20. Hair Growth:
Jojoba oil helps hair cells to grow and reproduce at a rapid rate. So no worrying over hair loss any more, when nature has gifted you the best healing alternative.
21. Cleanses Scalp:
When you mix Jojoba oil with a shampoo or a conditioner, that is when action begins – it removes the sebum from the scalp, thereby boosting hair growth.
22. Conditions Hair:
Since Jojoba oil has an inherent ability to get rid of hair residues and provide a cooling effect, it can very well be used as a hair conditioner.
23. Oily Scalp:
When you apply a few drops of Jojoba oil to your scalp, it does its bit in reducing the oil production from the oil glands. In short, Jojoba oil never gives you a 'greasy' feel, which you get as compared to conventional oils.
24. Dry Scalp:
Just like skin, even scalp can go dry. This can cause dandruff and even hair loss. That is where the role of jojoba oil comes into action – it moisturizes dry scalp, thereby positioning itself as the skin saviour.
25. Maintaining Hair Color:
Jojoba oil is a great solution – when it comes to keeping the hair shiny – and retaining its natural colour.
Now that we have looked at the 'hair' part, how about finding the steps to use Jojoba oil for hair?
Here we go:
How To Use Jojoba Oil For Hair
As you know by now, Jojoba oil is a very good moisturizing agent for dry and damaged hair. So, it is worth using it and incorporating it in your cosmetic items. Here are a few steps that will help you in getting the hair nourishment you were always looking for:
Step 1: Depending on whether you have short or long tresses, take a few drops of Jojoba oil in a small bowl.
Step 2: Put the bowl in a microwave. The purpose is to heat up the oil, not to extreme, but to mild extent.
Step 3: Now dip your fingers into the 'heated' oil and start applying it to your hair. The oil application should be done directly on the scalp, as it can lead to clogging of pores.
Step 4: It's time to cover up your oiled hair with a plastic cap so that no oil oozing or trickling happens.
Step 5: Give it a rest time of 10-15 minutes.
Step 6: Now it's time to shampoo and condition your hair.
Step 7: Allow your hair to dry out on their own, rather than using hair dryers.
How about checking out the steps one needs to take in order to do away with acne.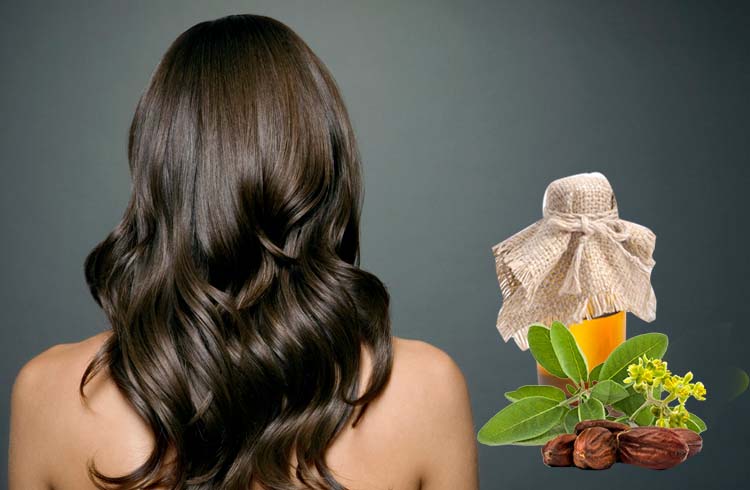 Jojoba Oil Side Effects
Thankfully, Jojoba oil is not known to produce any side effects. But it is always advisable to do a patch test. The side effects aren't scary. Depending on the sensitivity of the skin, you can develop rashes or allergy.
Which is why, it makes sense to do a skin test before you apply it extensively.
I hope you liked reading all that is there about Jojoba oil. If you are already a user of it, then write in your experiences below!
Images Source: pinterest
Recommended Articles
Moringa Oil Benefits For Health, Hair, Skin And Nails
Fish Oil for Hair, Skin & Health Benefits
Castor Oil Benefits For Hair, Skin, Eye And Health
Olive Oil Benefits For Hair, Skin, Face And Health
Benefits Of Flaxseed Oil For Skin, Hair And Health
Benefits And Uses Of Avocado Oil
Refined Coconut Oil vs Unrefined Coconut Oil
Benefits And Uses Of Peppermint Oil