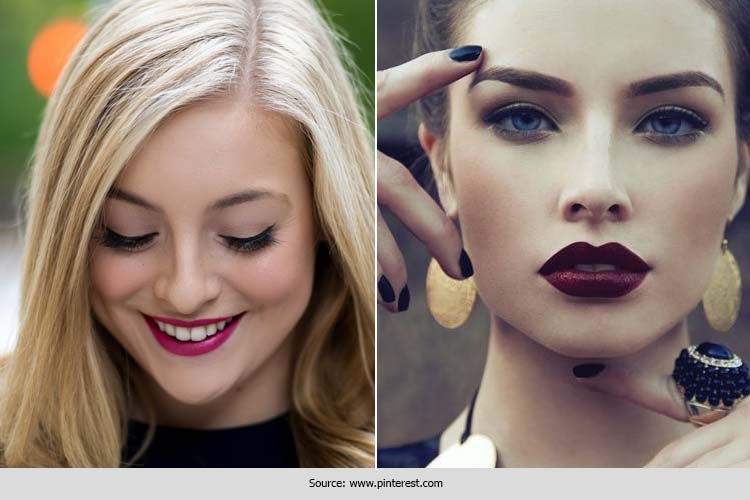 It is the season of plums and peaches, not just in food but in fashion and makeup too. These fashion savvy colours look fantastic and give you a rich glam look. As for the haute colours for the lips, plum lipstick shades not only seem sexy and astonishing when worn with lighter colour fabrics, they very much complement your glam look.
[Also Read: 8 Plum Lipstick Trends For The Lips That Speak Festive Season]
Of all the dark lipsticks, plum lipstick shades look daring and exciting and perfect for both day and night. In fact, Dolce and Gabbana have used variations of plum in their Spring-Summer 2015 shows.
Jennifer Lopez wore smoky look by using plum for the Golden Globe awards. Such is the power and impact of plum that even beauty bloggers have gone nuts over plum lipstick shades.
Now Let Us Take a Look At Brands Selling Plum Lipsticks With Names Of Different Plum Lipsticks And Price Of Each.
Of all the dark lipsticks, plum lipstick shades look daring and exciting and perfect for both day and night. In fact, Dolce and Gabbana have used variations of plum in their Spring-Summer 2015 shows. Below mentioned are brands selling plum lipsticks.
[Also Read: Everyday Lipstick Brands]
1. Chanel Rouge Hydrabase Creme Lipstick 154 Fantastic Plum
Price: INR 2,468
The combination of Vitamin E and chamomile and long lasting finish in the Chanel Rouge Fantastic Plum lipstick gives you a soft, creamy formula that doesn't fade or smudge.
2. Burberry Beauty – Burberry Kisses – Bright Plum No.101
Price: $ 48.72
Gel-based lipstick with luminous finish 'Kisses', the Burberry Beauty gives you the benefit of multiple looks with only one shade. All you need to do is apply the 'Bright Plum' lipstick once and get prepared for daytime sheen. The magnetic packaging makes Burberry Beauty ideal to slip into your clutch.
3. L'Oreal Color Riche Extraordinaire Lipcolor Plum Quartet
Price: INR 950
This gorgeous plum shade colour is extremely lip flattering. The doe foot brush that gives a 3-D effect makes your lips stand out. A 3-in-1 lip colour it is which gives you the benefit of lip balm, shiny gloss and highly pigmented lipstick.
4. Lakme Absolute Gloss Addict Lipstick Perfect Plum
Price: INR 600
Light, glossy, smooth, this Kareena Kapoor signature collection boasts of amazing hi-shine of a liquid lip gloss. It's gunmetal twist up body and a transparent cap makes it easier for you to apply Lakme Perfect Plum with just one stroke application.
[Also Read: What Do Your Lipstick Shapes Say About Your Personality]
5. Chambor Flowing Lipstick Stay On Color in Plum Rose
Price: INR 550
The metallic steel packaging is as attractive as the transparent center through which you can make out the lipstick colour. Jojoba oil keeps your lips moisturised the whole day, while Shea butter nourishes your lips well. Silky in texture, the Chambor Plum Rose lipstick suits the Indian skin tone well.
6. Clinique Long Last Soft Matte Lipstick
Price: $ 17.00
Experience gorgeous vibrant violet plum on your lips with Clinique Long Last Soft Matte Lipstick. The lipstick not only stays for hours together, it doesn't stain or dry either. These lipsticks come in silver bullets and shiny and matte ribbed design.
[sc:mediad]
7. Revlon ColorBurst Lipstick – 01 Plum
Price: $5.12 + $2.98 shipping
Innovative pigments greet your lips whereas moisturisers and antioxidants in Revlon Plum Lipstick improve your lip texture. Natural-fragrance and paraben-free, the film-forming polymers in Revlon Plum ensure longer stay of colour.
8. Maybelline Color Sensational Lip Color 4.2 g – Plum Perfect – 435
Price: INR 335
Rich pigmented colour and nourished with honey nectar, everything about Maybelline Plum Perfect Color is muah! Just one swipe and you get crisper plum colour cover your lips. There is no room for waxy feel, but pure bliss on your lips.
9. Elle 18 Color Pops Passion Plum Lipstick
Price: INR 120
Deep pink and mild muave tones make this plum shade from Elle 18 make your lips smooth, creamy and moisturising.
[Also Read: How To Wear Dark Lipstick Shades]
Now get ready to embrace rich shades of deep plums on your lip for a dark, edgy lip makeup. Let us know which of the shades shown above are close to your heart.