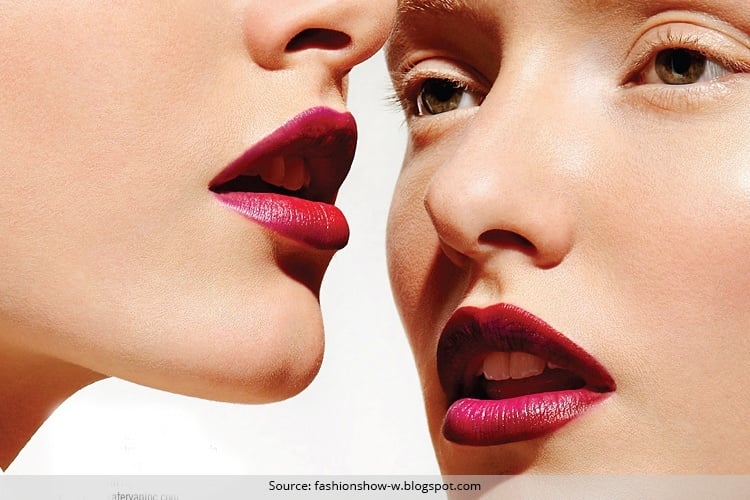 Spring left us with an array of lip shades to play with, summers screamed neutral, but when it comes to Fall and Winters, let's make magic happen with all things mystical and dark.
Let's see how to sport the dark lipstick looks
From haute clothing to makeup trends, learn how to wear dark lipstick, which would make heads turn at every wedding, fashion event and social gathering you attend.
[Also Read: Permanent Lipstick]
Why stain those lips in dark?
It's pretty simple PYTs; while staining doesn't smudge or fall off, the lip colour you choose in dark tones makes the lips look yummier for sure, but wouldn't melt no matter what the climes be! Lip stains are for ever, they are waterproof too and even if you jump into the pool with them on, your face wouldn't be smeared with unholy touches!
Choose The Right Lip Primer
But what if you do not find the right lip colour or stain? Use a lip primer of repute, and thankfully they work wonders too. The little upper lip sweat beads won't ruin the look at all.
[Also Read: What Your Lipstick Says About You]
Striking A Balance
The day look or the night, whatever be the reason for you wanting to sport dark and luscious lovely lips, your lips would certainly do the talking when you know how to strike the right chord and balance. Know what colour to wear for the occasion or the event, and you'd be flaunting an 'adventurous' carefree look for sure!
[sc:mediad]
Dark Lip Liners
Always think of the dark lip liners as a messiah that holds fort when you have to paint those lips. Top it with a little lip balm and then apply your lip liner, should you hate the gooey feel. To get an opaque look, get the lip completely filled with the liner and dab a little lip balm on top to hydrate the lip. The matte look would be long lasting when this is done!
[Also Read: How To Get Pouty Lips With Lip Liner]
Paint Within The Lines
It is a no-brainer that the lip liner is your guide to paint within and not outside the lines, but the clownish effect comes through with most Indian women who never care to follow the rule. A Q-Tip helps rim the lips well, and with the help of translucent powder, the darkest of lip shades stays for a longer period of time!
Match The Dark Lips With Generously Applied Mascara
To complete the look of dark lips, pout the effect with generous amounts of invisible mascara with the help of your ring finger on the lips. You do not want the lips to shine too much, and yet not become an invisible entity too, which is why using mascara with dark shades of lipstick would be perfect.
For Darker Skin Tones Go Super Dark
While most Indian dusky to dark skinned girls and women opt for reds, experimenting with super dark lip shades would be great. Burgundy for example or plums, caramel reds to chocolates and even the regal cocoa touch, why not? You could also think of plums in all dark shades for that matter. Wine lips or maybe very deep blood red for that sexy sensual vamp look for a cocktail evening too. You would be anything but UGLY BETTY at the occasion wearing dark lipstick shades, and believe us when we say that!
Final Word
When trying dark lipsticks, lip stains or lip shades for the first time, do not try to emulate the celebrities out there. Remember, they have their own professional teams to help them achieve a look, which is why they flaunt a fabulous stance. What we would encourage you to do is to spend a little time experimenting with shades and hues, to the ensembles you have in your cupboard.
Be your own judge and learn about dark lipstick looks. Check online and watch tutorials too. Who knows, you may be the next MUA who would teach us a thing or two!
Hope this article on how to wear dark lipstick is helpful to you. Tell us if you think we have missed some tips in this post.