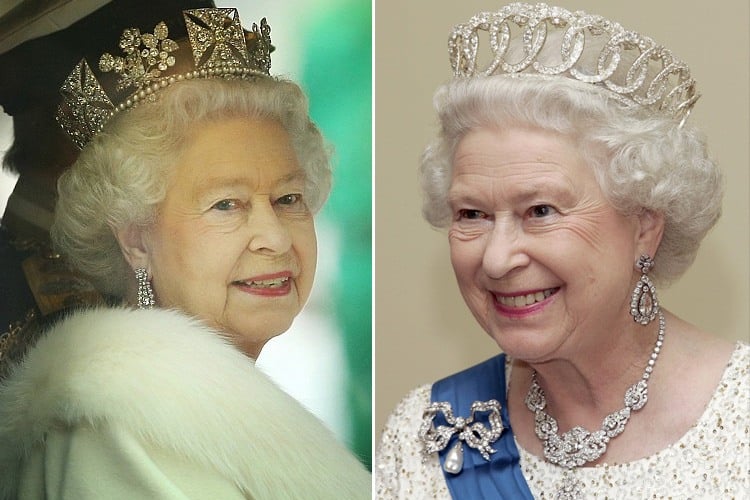 What can you expect out of Royalty? Dripping diamonds, custom-made costumes, lavish accessories is an expected answer. But when you come across Queen Elizabeth jewellery, the next question that might come across your mind is How much is the queen's jewelry worth.
When you see the stunning Queen Elizabeth II jewellery collection and the British royal family jewels collected over the years, you will see specks of treasured moments in the royals' history, starting from engagements and weddings to coronations.
[Also Read: Queen Elizabeth II Umbrella Styles]
Want to know what was the wedding present of Queen Elizabeth? It was a necklace which had a chain of 38 diamonds in addition to a centre piece that had 13 emerald-cut diamonds. This was given to the Queen by the Nizam of Hyderabad who had asked her to pick anything from the Cartier collection.
Elizabeth II's Jewels – All You Need To Know
Elizabeth II's jewels are some of the world's most exquisite gems, which include her coronation necklace and the imperial state crown.
Starting with the Coronation Necklace, this Queen Elizabeth II jewellery collection has a chain of 25 diamonds with the last one having 22.48 carat stone known as the Lahore Diamond which is found hanging from the end. Queen Elizabeth has worn it at the coronation ceremony of almost every queen since the time of Queen Alexandra in 1902.
The Imperial State Crown was first made in the 15th century. The one worn by Queen Elizabeth is a remake of the original since the gems were too heavy. It so happened that the Queen wore the State Crown in 1937. Since then, she has worn it at each State Opening of Parliament.
The Crown in Elizabeth II's jewels has over 3,000 gems and several famous gemstones such as the Second Star of Africa diamond (the second largest stone cut from the celebrated Cullinan Diamond), the Black Prince's Ruby, the Stuart Sapphire, St Edward's Sapphire and Queen Elizabeth's Pearls.
At UK State Opening of Parliament, the 90-year old Queen dressed in white had donned close to 3000 diamonds along with her Imperial State Crown.
Talk of the most prized item in Queen Elizabeth jewellery and it has to be the Brazilian Aquamarine Tiara. While the President of Brazil gifted the Queen the necklace and earrings over 62 years ago, it was in 1957 that she got the matching tiara which she continued to wear throughout her reign. All she did was that she kept on adding more diamonds and aquamarines to this exquisite piece of Elizabeth II's jewels.
[Also Read: Royal Baubles Of The Duchess: Kate Middleton Jewels]
Talk of tiaras, and the Queen has few favourite pieces – the Girls of Great Britain and Ireland tiara. They were purchased by a committee of girls from Great Britain and Ireland in 1893 for the then future-Queen Mary. The jewelled crown was handed over to Queen Elizabeth from her mother as a wedding gift.
Queen Elizabeth II still wears something from her wedding day in 1947 and that is a diamond fringe tiara. Did you know that on the day of her wedding, the tiara broke only to be repaired in the nick of time?
As Princess Elizabeth, the Queen wore a diamond-encrusted maple brooch for her first trip to Canada in 1951, and recently in 2010.
Not always is the Queen wearing crowns upon crowns. Whenever Queen Elizabeth is not wearing the crown, she chooses to wear George IV State Diadem.
[sc:mediad]
Elizabeth II's jewels also include a heart-shaped Cullinan V. Brooch which weighs 19 carats. It is surrounded by a web of platinum that ends in pave' diamond border.
This flower basket brooch had diamonds, rubies and sapphire flowers which was gifted to Queen Elizabeth by her parents upon the birth of Prince Charles in November 1948.
I hope by now you would have got smitten over by Queen Elizabeth jewellery. Tell us which of Elizabeth II's jewels bowled you a million times over.