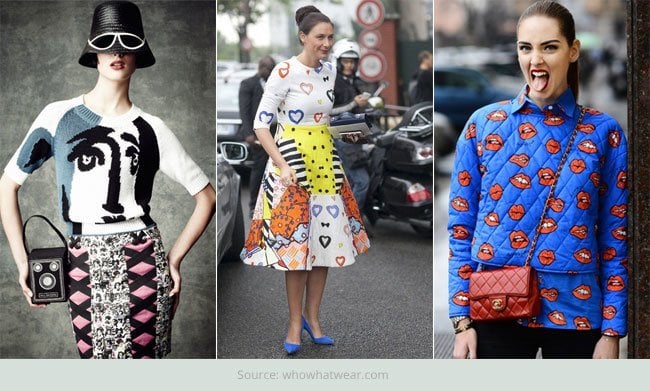 Fashion is never straight. It's eccentric and quirky at times. In fact, quirky styles are the budding flavour in fashion that makes you stop and stare, perhaps even smile and take notice. The examples of quirky prints are dime a dozen. Imagine lipsticks featuring on dresses, palm trees featured on scarves, spectacles on saris, elephants on t-shirts, flowers on pants. There're so many adorable graphics, mini prints and floral prints all over. The list might be endless but come what may, quirky prints look so very contemporary, entertaining and 'mod'!
[Also Read: Wearing White Tee in Different Ways]
Yes, bold and mixed messages have been big trends on many a runway, but what makes the quirky prints look elegant and out-of-the-box is that they still look ladylike and feminine! Check out how.
Rabbit Prints
Animal prints are not leopard or zebra all the time. Pick rabbit prints for a quirky look that is adorable. The bunny symbol in women's clothing gives a child-like look and innocent appeal.
Eye Prints
Let your eyes feast upon this eye-themed look. The eye is also associated as a symbol of enlightenment. From a fashion perspective, the eye prints aren't just spooky dark but they come in cheerful, vibrant colours and look quirky in designs too.
Lip Prints
Lip prints can be fun and unique. Having them on any piece in your outfit can make it look like someone just showered you with kisses. This print style can be so sexy yet so whimsical at the same time. Try to match the lip colour on your lip printed top with your lipstick colour.
Moustache Print
Moustache has been a popular icon that is found not only printed on clothes and accessories but many a thing. Ever heard of moustache earrings, rings or a necklace? The moustache print is undeniably one of the most popular quirky prints you can get your hands on. Don't worry as it looks one of the cutest, too!
Newspaper Print
Newspapers are meant for reading, sometimes for throwing trash too but ever thought of wearing them? Well, those who wish to make bold statements with their outfits, have reasons to fall for this quirky print. Wearing newspaper printed clothing items or even accessories may seem weird but it has been the craze in fashion at one point. That is why, some of the budding fashionistas still love rocking it today!
[sc:mediad]
Smiley Face Print
Emoticon prints are the best to cheer you up on a gloomy day. Wear a smiley face print in the form of clothing or accessories and you're sure to smile whenever you see yourself in the mirror. Okay, they may not be the sexiest, fiercest, boldest print to put up on your sleeve but they're definitely adorable and amusingly silly.
Moon Print
Let's get our fashion taste buds mush up on some moon-inspired outfits. Nothing beats the sight of a full moon in October when Halloween's just around the corner. Diwali or the festival of lights, interestingly coincides with the darkest new moon night of the Hindu Lunisolar month Kartika. So why not let the moon on you impress the fashion police.
[Also Read: print on print fashion]
Cartoon Print
However grown up and mature we might be, cartoons are something that are always adorable to most of us. Cartoon printed garments look super fun and irresistible and can look great if you wear them with a laidback attitude.
With so much wackiness that we have seen above, never dismiss the power of quirky fun summer prints. It will help give your wardrobe a quick boost of transformation.