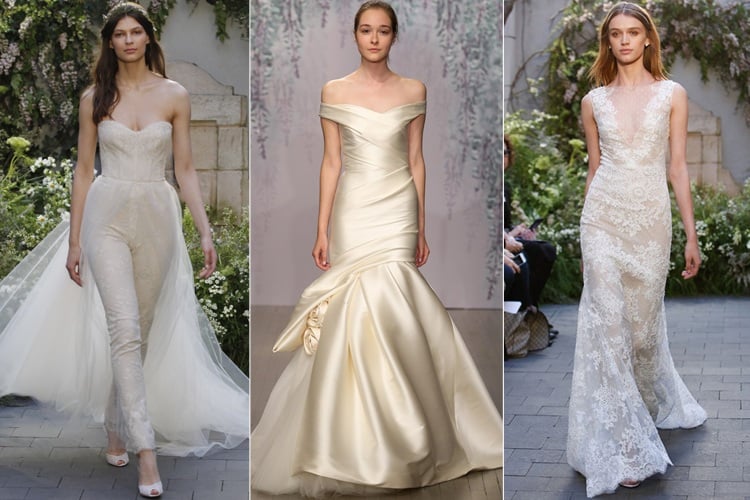 What are people saying about the "Monique Lhuillier 2017 wedding dress collection report"? We must take a look and read about them, but all under one umbrella. This is why, whilst you were busy checking out the runways for latest fashion trends, we here sat and grazed around to bring to you the best of Monique Lhuillier wedding dresses reports.
[Also Read: Best Wedding Dresses]
Have a read and understand the charisma behind the creations by the designer, which every word in various Monique lhuillier wedding dresses reports around speak about.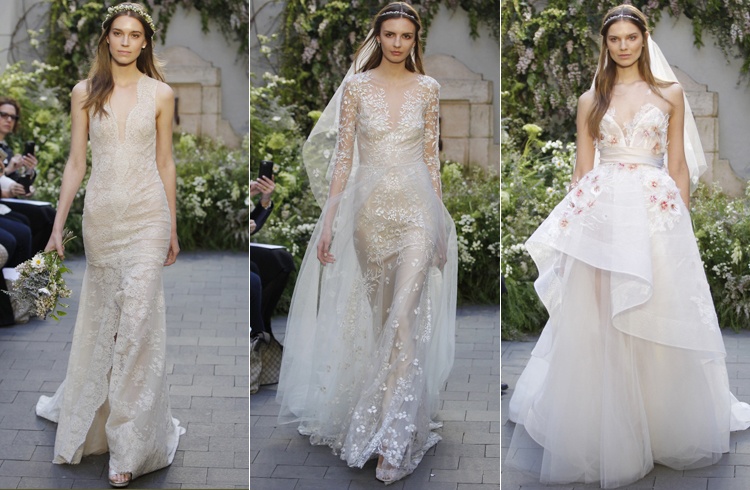 Pardon Us For Fangirling But We Cannot Help It
Now here's why we are starstruck by what we have read at various Monique Lhuillier wedding dresses reports. Simply because, she can never do anything WRONG! Have you seen her collection of bridal couture, bridesmaid gowns, chic accessories and jewellery, and her fine pieces with thin paper, such masterpieces we say as showcased in the esteemed Spring 2017 Bridal collection? It comes as no exception that the bridal wear is one of a kind, which is why we are talking about all things pretty by Monique here.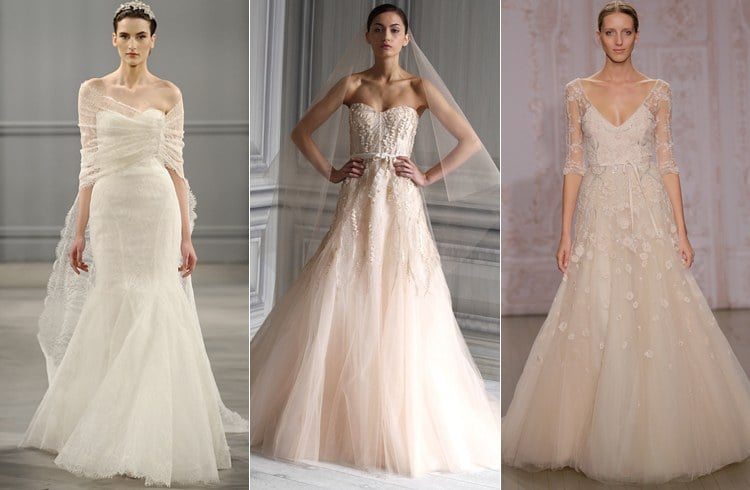 With regard to Monique Lhuillier wedding dresses, the audience was treated to a world of romance and that of fantasy quite ethereal and charming. She has come up with wedding dresses that we dream about, which we want to wear and that which we can never stop fangirling about.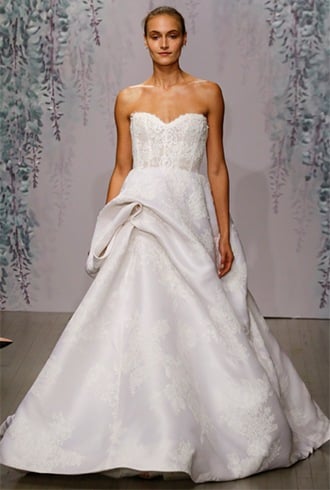 From opulent gardens to feminine touches, elaborate to chic and more, with beaded intricacies all over and tulle layers so beautifully embodied on each piece, Monique stole our hearts. And we love the play of volume with strapless separates and silhouettes so sensual, necklines so pretty and low backs that bring the sexy back, back!
[sc:mediad]
She Played With Dreams
In a positive way, Monique has played with dreams of dressing up the bride. She did a fabulous job in manifesting a princess fairy tale story, and one that works wonders for the big day ahead. Imagine a gown with floral rule touches such as this one for your big day, which is one of the best wedding dresses by the ace bridal maestro queen designer herself, and Monique once again wows us all.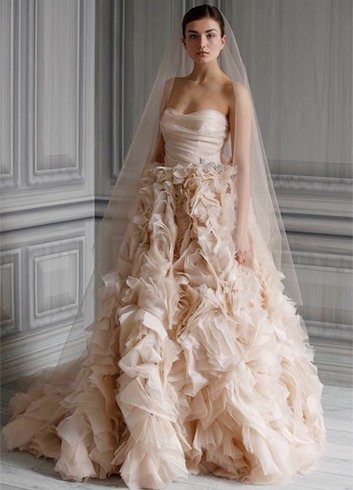 With Pink And Silks
A perfect combo that every girl dreams off, but hardly seen as experimented upon for a wedding, Monique has played with pinks and silks this time to oomph up the ante for the modern woman that wants a twist at her wedding. Pink soft tones on plenty of silk, layered with lovely lace and net fabrics, which is exactly what the bride would want to shine and glow in at her wedding; a perfect transport to a fairy realm of pink silk and iridescent embellishment, as seen in 2015.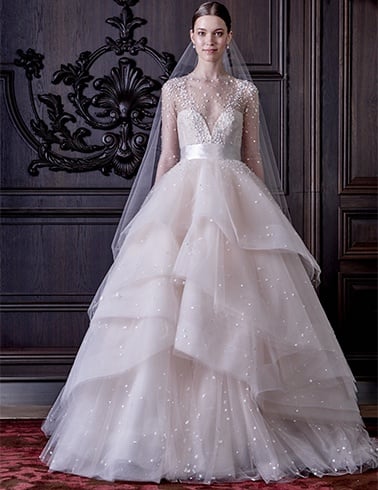 2017 Bridal Glamour
From long flowing cocktail bridal wear to mermaid reception gowns, Monique has spun magic around. Bridesmagazine.co.uk reports on what Monique says
'I wanted to capture the feeling of being madly in love and someone who feels pure bliss,' says Lhullier. 'My Spring 2017 bridal collection is inspired by a woman running through a garden.' Models wearing whimsical floral or crystal crowns floated down the catwalk in gowns with Lhullier'ssignature deep necklines and fairytale-like embellishment. But for Spring Lhullier has exercised a more delicate touch."
[Also Read: This Is What the Bridal Fashion Week Spring 2016 Gave Us!]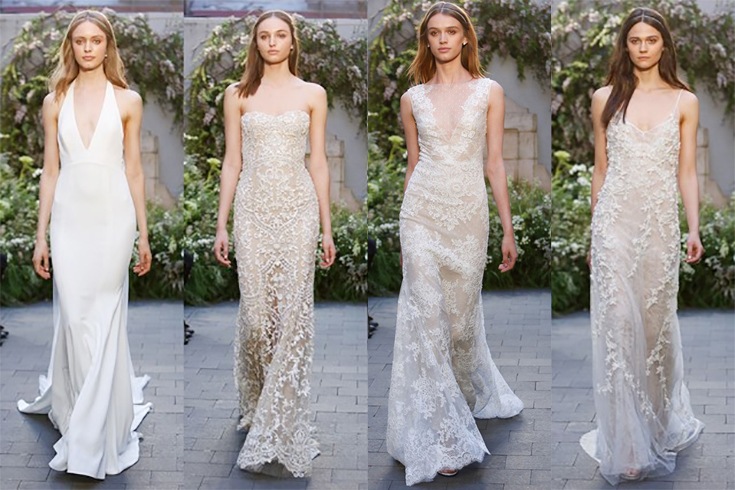 The famous HuffingtonPost fashion editors say "Lhuillier has a particular knack for capturing that quintessential feminine allure in her wedding dresses. Simultaneously elegant and sensual, her Fall 2016 line updates timeless silhouettes with modern accents like strapless separates, plunging necklines, detachable skirts and sheer sleeves with intricate details. Organza, fluid silk and embroidered lace gowns display a soft, dreamy color palette of blush, sage, ivory, pale gray and latte."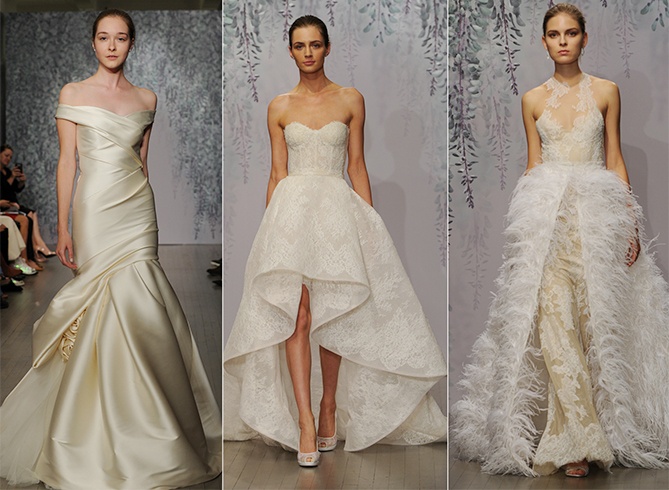 Do let us know what your Monique Lhuillier wedding dresses reviews would be like. Drop in a line after reading the various other Monique Lhuillier bridal collections reviews and share your thoughts with us.
Images Source: pinterest.com, stylemepretty.com