Dressing for formal event can often be a tricky affair. You want to be dressed to match the occasion but you also don't want to compromise on looking stylish and chic. Enter the perfect solution – formal dresses. They are polished, presentable yet super trendy and always in vogue. Choose from a wide variety of comfortable yet classy dresses that are bound to be a great pick for any kind of formal event.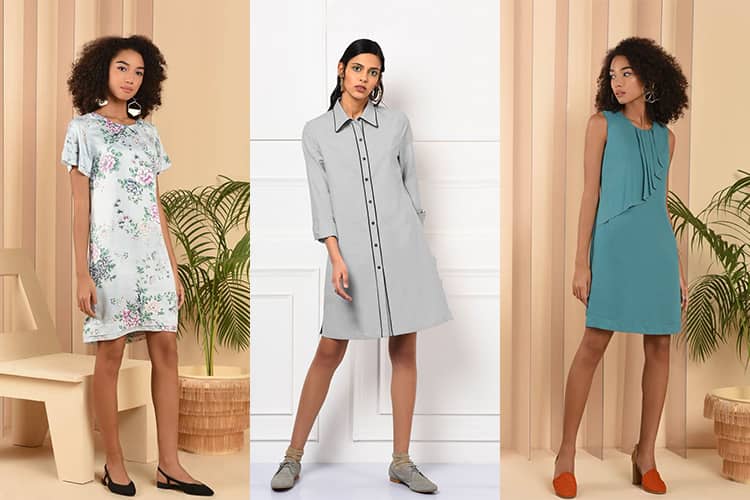 Best 5 Formal Outfits:
From rooftop brunches to office cocktails, these 5 stunning formal dresses from PostFold are a definite must have. Read on to know why:
1. Teal Pleat Dress:
This pleated work dress in teal is one of our favourite work-wear picks this season. With its comfortable yet smart appeal, it's ideal for office or any other formal occasions. It'll look great in a board meeting just as it would at a semi-formal office party. The striking yet subtle colour will help you make a statement in a crowd, without being too loud about it. The dress is made using polyester fabric with a cotton lining to ensure an easy-to-wear, comfortable fit. Pair it with contrasting rust coloured block heels and subtle earrings to complete the look.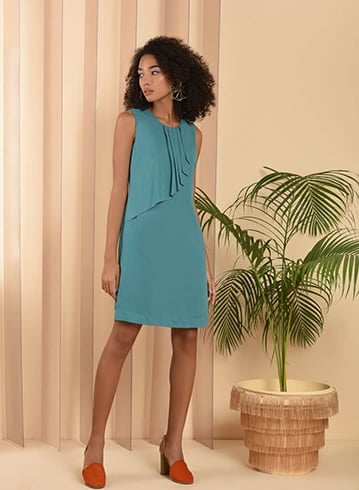 2. The Executive Dress:
Fashioned in beautiful navy blue colour contrasted with white panels, the Executive Dress by PostFold is the perfect blend of form and function. No matter whether you're looking to pick a dress for work or for a smart evening out with your colleagues, this piece will give you perfect company throughout. It is a smart choice for the woman of today – smart, young, bold and unstoppable. The pockets make it a convenient and smart choice. You can finish the look with black stilettoes or contrasting footwear for a more fun vibe.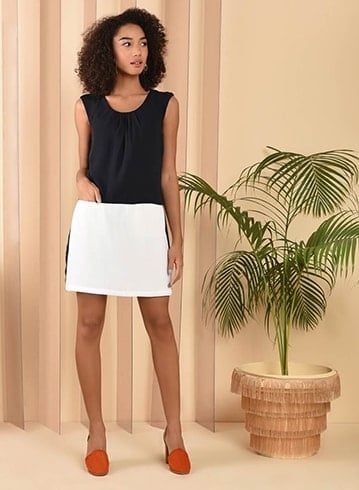 3. Dusk Grey Shirt Dress:
When considering buying am pm dresses online or offline we're always on the lookout for something exciting but just as comfortable. Standard 9 to 5 outfits get a much-loved upgrade with this dusk grey Shirt-Dress. With subtle piping details at the collar and placket, the dress is both classy and playful. It's super airy to ensure an easy to wear, comfortable experience. You can pair it with a statement sling and strappy heels to complete the look.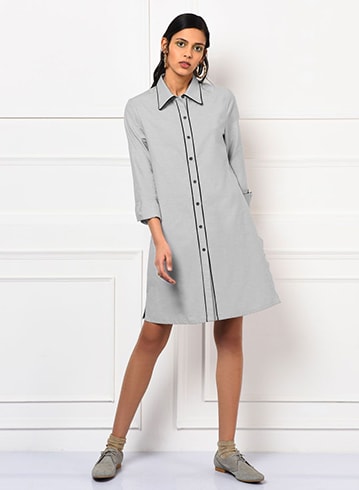 [sc:mediad]
4. The Santa Maria Floral Dress:
Floral patterns can never go out of style. Keep up with the pastel floral trend and add some colour to your day with the Santa Maria Floral Dress. Featuring subtle details and tiered sleeves, this is a great way to elevate your regular work wear routine. The pastel colours are soothing to the eye and go brilliantly with dainty earrings and flat ballerinas.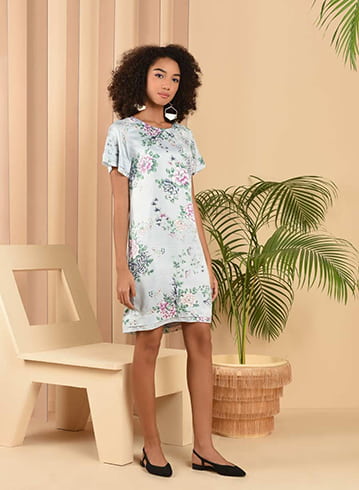 5. Flower Power Dress:
Another stunning floral pick, the Flower Power dress is the perfect kind of throwback to spring – fresh blue colour, pastel detailing and a soothing feel. The contrasting collar and cuff give the dress a formal appeal, creating a structured silhouette with inverted box pleating – in the lower and front panel. Team it with ankle strap flats for a winning look.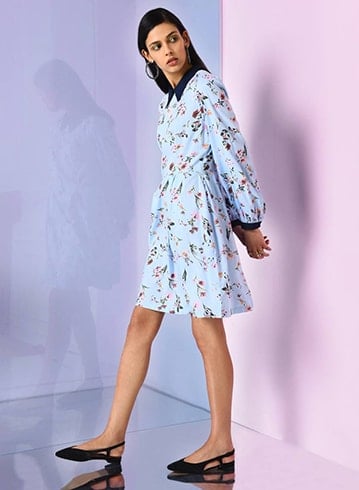 Getting ready for a formal occasion should never come in the way of looking stylish and making an impressive statement. When online shopping for women, always be ready to dress it up with fantastic formal picks such as these, guaranteed to go well for a wide variety of occasions.