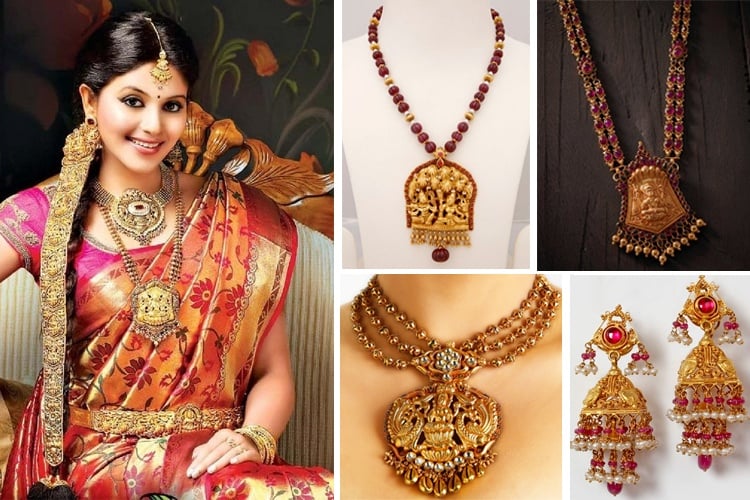 We all have our idols in place – in temples and in our heart. But what symbolises true perfection in idol worship is temple jewelry.
The south Indian temple jewellery is the jewelry used to adorn the idols of Gods and Goddesses.
Travel back to the historical era from the 9th century till the 16th century in South India when Chola Dynasty, the Pandya Dynasty and the Krishnadevaraya ruled and you will find temple jewellery designs was the chosen form of jewelery.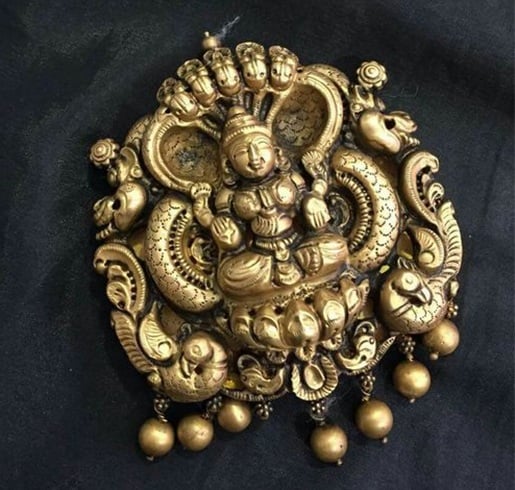 Since the designs are traditional, temple jewelry has a lot of similarities with temple art and sculpture patterns. Another interesting thing about it is that classical Bharatanatyam dancers wear this very type of jewelry. With Goddess Laxmi sitting on a lotus, you can well imagine the religious sentiments of this traditional temple jewellery.
Ever since, the time-honored tradition of temple jewelry has stayed fresh in the lives and minds of South Indians in particular. Such is its importance that South Indian women think of wearing temple ornaments on auspicious occasions and important festivals as a symbol of good luck.
[Also Read: Temple Jewellery Designs For Gold Admirers]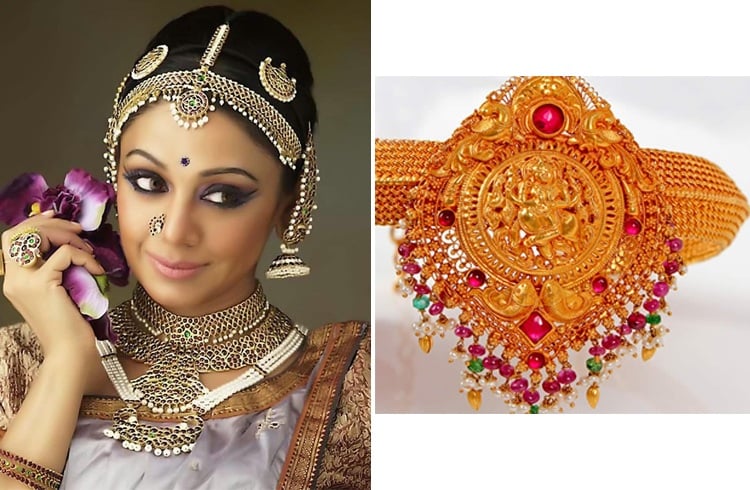 With Begum of Pataudi Kareena Kapoor wearing Gold Ruby temple necklace, you can well imagine the weight and impact of traditional temple jewellery in new age fashion circles.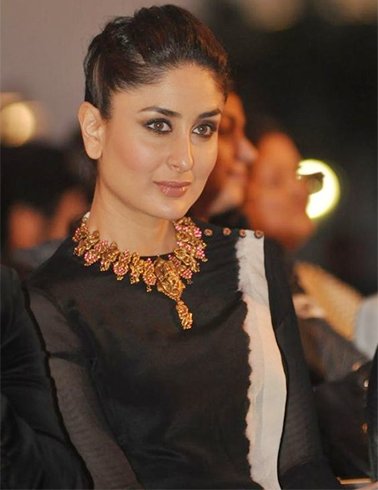 Jaw-Dropping Range Of Temple Jewelry
What makes temple jewelry the subject of attention, pride and awe? Well, the traditional temple jewellery comprises of temple jewellery sets, temple jewellery bangles, temple design earrings, temple jewellery jhumka designs, temple jewellery necklace, temple jewellery pendants and temple set jewellery wedding.
[sc:mediad]
There is also vadaamalar temple jewellery, sukra jewellery temple jewellery, silver temple jewellery, bharatanatyam temple jewellery and temple design gold jewellery. If you see the temple jewellery collection is a goldsmith's art.
L. Balu, who is the Assistant Director, Handicrafts, Office of the Development Commissioner (Handicrafts) in Nagercoil says "Temple jewellery is unique to Vadasery. It is the only place in the country where this is made. There are 52 families engaged in the craft in this village, 300 craftsmen in all."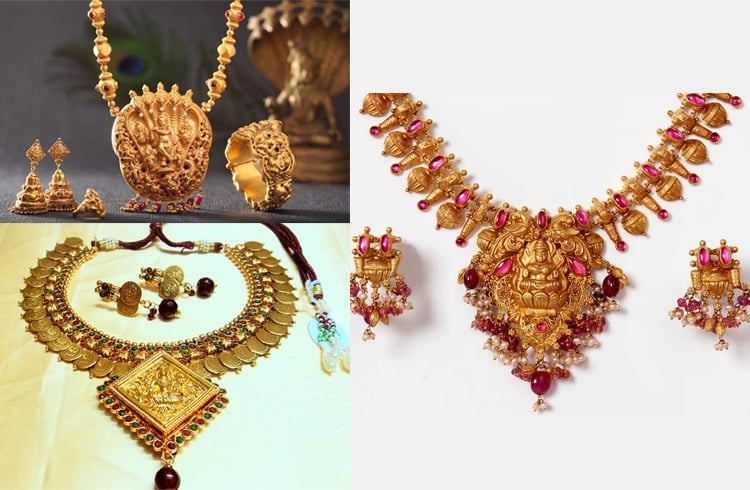 The Makings Of Temple Jewelry
The original Temple Jewelry was made of gold and studded gemstones such as rubies and emeralds. Later on, it was gold-plated on silver and set with red and green stones and pearls.
For more than 100 years, the artisans located in the Nagarcoil district of Tamil Nadu have been mastering this art.
With the passage of time, cheaper metals such as colored gold studded with red and green stones and fake pearls have come into use.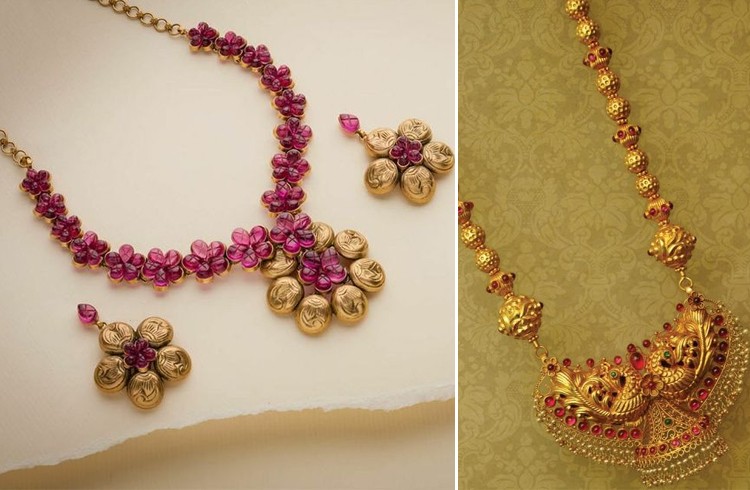 Temple Jewelry Ornaments – A Look See
Jhumkas
Temple bell design goes iconic with this gold earring that has studded jhumkas.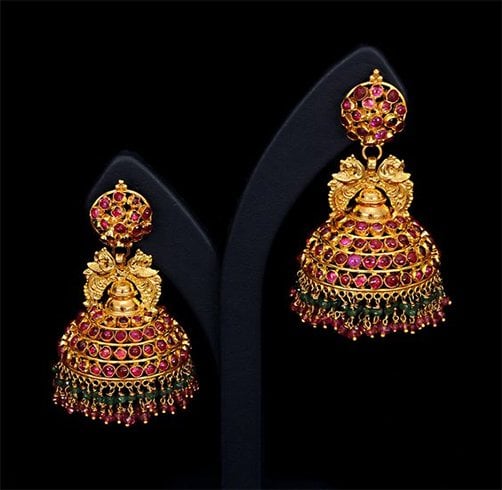 Earrings
Let Goddess Lakshmi sit pretty on your ear lobes with temple design earrings in the form of coin earrings.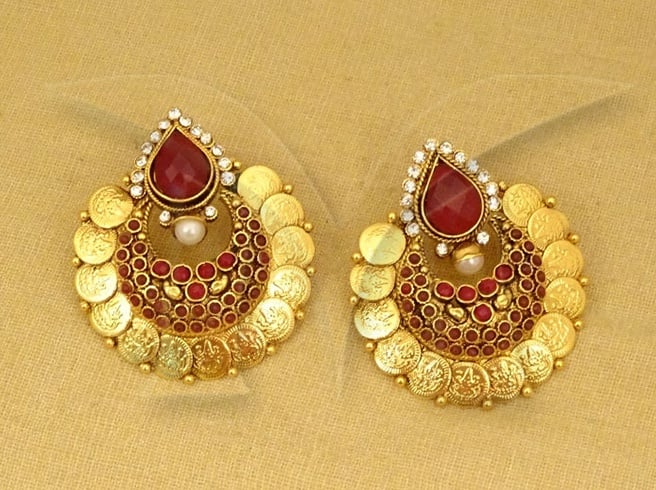 Necklace
This temple jewellery necklace of antique finish and mango patterns is studded with rubies and emeralds. The attached pendant featuring Goddess Lakshmi is paired with Lakshmi earrings.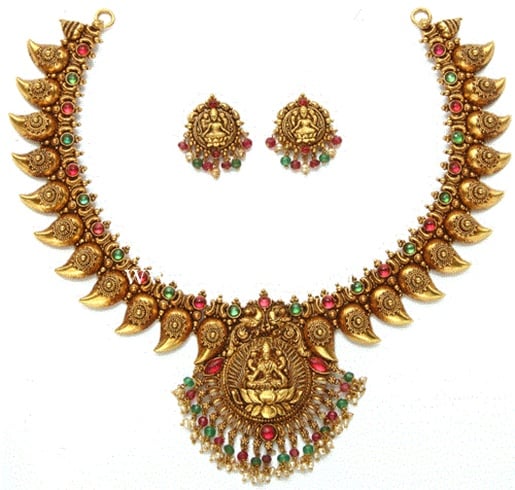 Pendant
Check out this temple jewellery pendants carved in Traditional Nagas 92.5 silver metal oxidised finish and handmade.
[Also Read: Traditional Jewellery Essentials For Hands And Arms Of Indian Bride]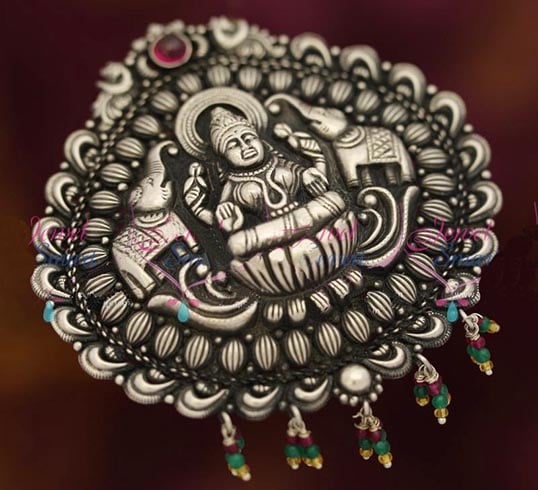 Bangles
The temple jewellery bangles are not only considered auspicious, they are priceless too, given the level of man hours that goes into their making.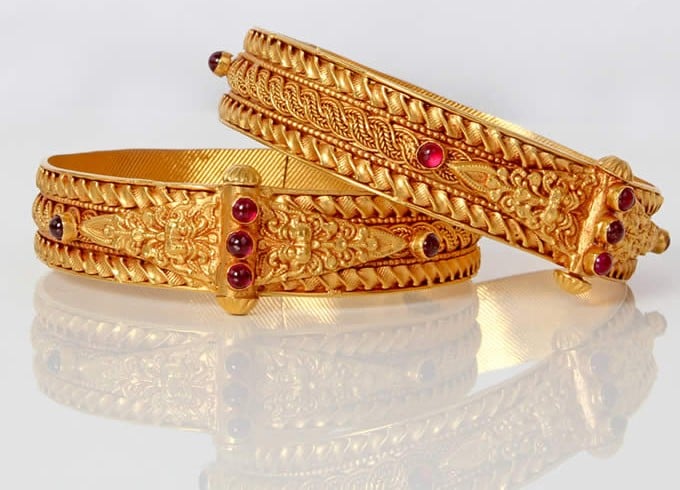 Now that you have been transported into the world of south indian temple jewellery, make sure you buy this absolute stunning traditional temple jewellery this Diwali. How else would you pass on this antique heirloom to your future generation?
Images Source: pinterest.com, pngadgiljewellers.com