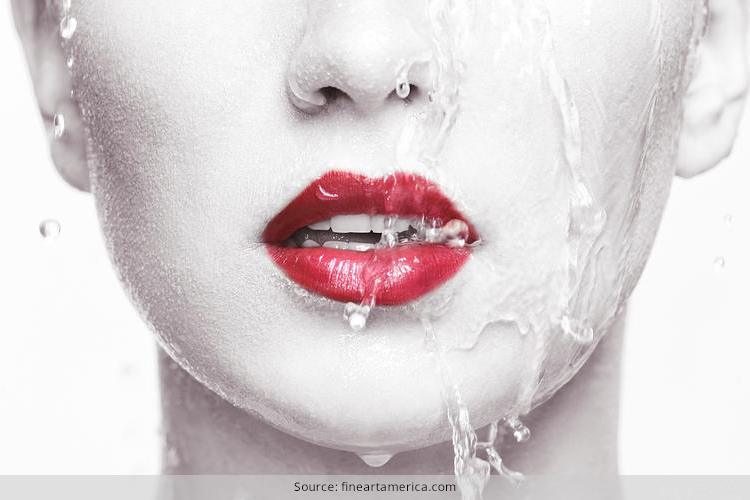 All hail to thee Oh rain Gods that don't allow us PYTs to doll up the way we want. But guess what dear heavenly forces, we shall have a merry time flaunting out lovely lucky luscious lips and with aplomb while there are buckets poured over us all *wink*, our greatest weapon, waterproof lipstick colours to flaunt! HA!
WATERPROOF LIPSTICK COLOURS
Doll Up This Monsoon in a Very Fashionable Way
The mood is somber and gloomy, and the sun plays peek-a-boo, so it is left up to us PYTs to bring back a pop of color to the boring ambience around, and what better way to do that than to paint our lips with various shades of waterproof lipstick colours!
Keep it Bold and Sassy
That is how it should be this monsoon, bold, sassy and playful or adventurous. Ready of not, here are five trendy waterproof lipstick colours for your lovely lips to doll up in. Take a look, buy them one or buy them all, you'd be earning more compliments than the usual!
1. New Eve Trendy 2 in 1 Match it BURGUNDY Lipstick and Lip Gloss 15ml Cosmetic Duo Makeup
Price as shown – £3.99
[Also Read: Different Waterproof Makeup Brands]
Add a little plump and colour, bring back the joys of the monsoons sans the gloomy grey effects around and brighten those lovely lips with a touch of burgundy by New Eve. You could use the lip gloss to shine and shimmer those lips, and without much matte to bother about. Rich colors to its name, plenty of vitamins and moisture in the lips to keep the skin hydrated too, you also have a free lip gloss tube in neutral tones along with this package to style up with. From dark cranberry touches to burgundies and wines, your love-hate relationship with monsoons begins here. For a matte touch, use a little powder in the middle of the lips to bring on the look!
2. Stila Stay All Day Liquid Lipstick
Price as shown – INR 2690
Enriched with vitamins and plenty of high-quality pigments, the liquid lipstick is waterproof by nature, and allows the skin to hydrate itself all day long- yes, your lips can dehydrate during monsoons too. Plenty of moisture in it, the look is long-lasting and the color stays in place for more than eight hours. You wouldn't feel a thing on the lips, since the texture is light and no bleeding when transfer happens. Choose shimmer or shine, you still would love this waterproof lipstick for dark skin.
3. Colorbar Full Finish Long Wear Lipstick
Price as shown – INR 825
Love the touch of all things smooth, well we do to and this time with a waterproof lipstick for Indian skin tones, a smooth and very soft texture for the lips to enjoy, should be your must-have. One swipe is more than enough for this precious beauty to doll up those lips, with an opaque touch and for an intense shade, do it thrice! A mix of satin and matte, this particular lipstick doesn't fade or smudge for five hours and more!
[Also Read: How to Wear Dark Lipstick]
4. Lancôme's L'absolu Rouge
Price as shown – $30.50
Au French Madame, if you should be buying waterproof lipsticks and lip stains, may we also bring to your notice the luxe touches of Lancôme's L'absolu Rouge, one of the best waterproof lipstick brands, which wouldn't only shine your lovely lips, but would with its SPF formulas keep the lip skin protected from the harmful effects of the sun.
[sc:mediad]
5. Bold Matte by Color Sensational Lip Color
Price as shown – INR 425
For the monsoons and one more choice for the lips to colour in would be the uber-sexy and long lasting Bold Matte by Color Sensational Lip Color, for the lightweight sexy feel and a very sensual pair of lips to flaunt! Try this baby out, you won't regret!
[Also Read: Monsoon Fashion Tips]
6. Make Up For Ever Aqua Rogue Waterproof Liquid Lip Color
Price as shown – $24
This is one of the best waterproof lipstick which comes in a double-ended package. This waterproof lipstick is long-lasting and quiet stable. Its applicator helps you in painting your lips precisely and has an opaque texture with a matt finish. You will get a lacquer finish because of the transparent texture of the top coat.
7. CoverGirl Outlast Longwear + Moisture Lipstick
Price as shown – $9
This waterproof lipstick brand is well-known for the beautiful shades it has in its collection. This lipstick feels more like a balm when you apply it and has a rich and opaque formula. Its sharp angle helps in effectively pressing the pigments on your lips. You would definitely love this long-lasting lipstick as it not only moisturizes your lips but also leaves you with a creamy sheen throughout the day. Though it has a lot of shades, you should try out their waterproof red lipstick.
8. NYX Full Throttle Lipstick
Price as shown – $7
If you are looking for a waterproof matte lipstick, then the BYX Full Throttle lipstick range is your answer. Available in 12 different shades, it features a unique beveled edge which helps you in lining and filling in your lips perfectly. It is a super-saturated lipstick.
9. MAC So Chaud Lipstick
Price as shown – INR 990
MAC lipsticks are on the wish list of every girl and you need to make some space for the MAC So Chaud lipstick if you want a waterproof lipstick. This lipstick has a creamy texture with matte finish. It has a versatile shade which suits every skin tone.
10. Lakme 9 To 5 Lipstick
Price as shown – INR 400
A post on waterproof lipsticks would be incomplete without mentioning the Lakme waterproof lipsticks. Their Lakme 9 to 5 range has loads of shades to choose from. These lipsticks are enriched with vitamin E and wheat germ oil which condition and soften your lips. It has a smooth texture with matte finish.
So here were the best ten Waterproof Makeup Products, namely lipsticks we bring to you for this wet-wet season! Go ahead and wear them all, and make those heads turn too!