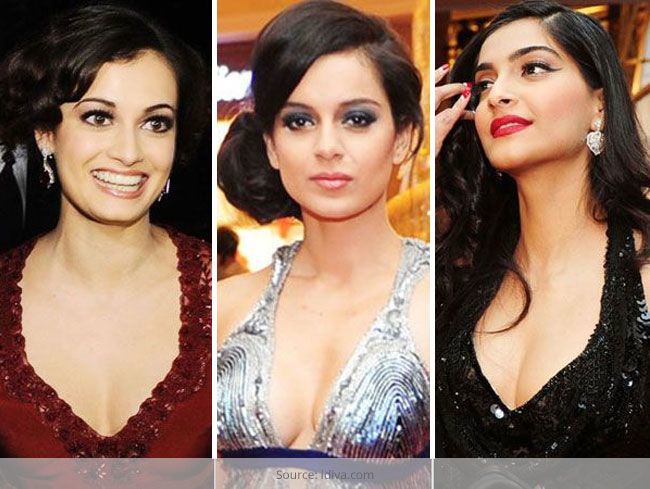 It sure draws an eye to the body – a plunging neckline as many fashionistas and designers opine is 'the' most classic trend of every season. The appeal this time would be more than just with plunging dresses, get ready for the casual air and tailored chic styles to burn the ramps.
To open the rules on how to best dress in plunging wear; the first rule – plunging necklines suit only a handful, not everyone! It's all about individual tastes and styles, getting out of the comfy zone, being one with the body you are born with, and most importantly – comfort and being at ease flaunting a little more skin than usual.
Unadulterated and brimming
Talking of plunging necklines, the look has to be pure sex-appeal; no questions asked. In addition to that, it brings an approachable tone even during the bright days sans the vulgar note. The statement cut is a definitive sensual quality to behold – effortless and very wearable; clean and pure styling, minimalistic for sure and a promise of getting it right every time you decide to wear it low.
How to wear the plunging neckline
Now that you've decided to take a plunge and wear the plunging neckline this spring and summers; remember, there is a difference between being daring and subtle.
For the well-endowed lass, the top of the dress should be roomy enough to accommodate the breasts
Pushing out too much skin or flattening the look can make you low inapt and awkward
A subtle plunging neckline; choose dark colours for the same, should be chosen – it wouldn't expose too much of the assets
Can I wear a V Neck?
V Necks are flattering for many who have an elongated torso and those who have modest chest shapes or more. For women with such body types, sporting the daring infinite plunge is okay
Flaunting one body part at any given point of time is the rule here – subdue the rest of the outfit, if the cleavage has to do the talking!
No heels please- a pair of sexy flats for the occasion would add an oomph to the whole look – wouldn't make you look 'overdone'
To avoid mishaps and wardrobe malfunctions – double-stick tape should be used
Utterly soft and feminine
Delicate hues can help sport the plunging neckline with soft, delicate and very feminine touches. The fabric should be lightweight and choose ethereal silhouettes, namely;
Dresses that are long and flowy
Sheer layering
Psychedelic prints
Delicate pastels
Almost bare makeup
Minimal heels
Undone or messy hair!
A little boyish
For a very sexy and dramatic look, indulge in the masculine touch and tailoring – cool, sophisticated and hits bulls eye too.
Bold colours and luxe fabrics, vests and tailored blazers with low necks
Minimalistic styling, and
Motifs (if used) that speak of bold patterns
[sc:mediad]
Structure me up
If you still want to stay all feminine with the touch and look, structured dresses are for you – ditch the blazer then. When wearing this look, remember to;
Have longer hemlines with the lower plunging neckline
Minimal embellishments around the neckline for a sexy sassy touch
Slight tailoring and a look that accentuates an effortless touch
Sleek and subdued makeup
Sandals or flats
Loosening up my buttons
A draped boyfriend shirt or an unbuttoned one – nothing speaks sexy more than this. A variation of sorts; build up the look for day and the night in black and white shades.
Wear them with short skirts
Wide-leg pants
Tailored shorts
Jumpsuits
No accessories or minimal and
Heels please!
Seduce the night
Plunging necklines go best with shirt dresses for the night, but wear a wide belt and flat sandals to make a mark
Cocktail parties and you can opt for prints and blocks or even hems to the knee, or long-flowing saris and silhouettes that hug the body
Ensure to dab a little shimmer and shine on the cleavage – use a liquid foundation for light coverage where needed – accolades would pour in the right way for sure
It's what beneath that counts
Sans bra in this country, very daring! However, for ease and comfort and if you need more sophistication with plunging necklines – here are a few tips;
Soft triangle bras made from mesh, lace or sheer
A bandeau for casual evenings
Sequinned tops over the plunging neckline
Transparent shawls or stoles for winters
Dare to bare?
Revealing a little too much can be quite a dare in a country like India, however, when done right – sophistication would be your crown to wear. An amalgamation of the feminine with the masculine sleekness; tailoring wise, the right styling and oomph loads of attitude to go with it – plunging necklines when worn the best way would morph into a mystical fashionable weapon, no one would dare point a finger at!
Hope this article on plunging necklines and its tips and tricks help you.