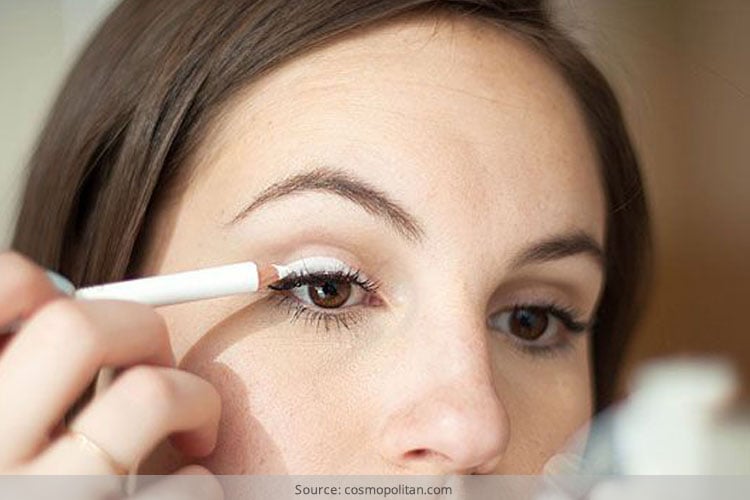 White eye pencil is magic. Don't believe us? Well, you ought to read this article to find out why!
We all love multi-purpose and nifty beauty products. From cheek stains that double up as lip stains and to eyebrow pencils which look gorgeous as eyeliner- we now bring you the nifty white pencil which has umpteen numbers of uses. Let's get started!
[Also Read: How To Apply White Kajal Like A Pro]
Here are some amazing ways you can use the white eye liner makeup:
Use It To Make Your Eyes Look Bigger And BRIGHTER!
The number one among white eye pencil uses, this trick is used by so many beauty bloggers and fashionistas. So if you are running with baggy and sleepy eyes, get your eye makeup with white eyeliner.
White Eye pencil can make your eyes look brighter. Once you have white pencil over your eyes, they will appear larger, more open, and more awake. Make sure you use the white eye pencil directly onto the inside of your lower lash line. Also, remember, only creamy textures work best for this method. If you want to use the liner before using mascara, you have to be very careful since white flecks which dot your bottom eye line don't translate into a great look.

Use White Eye Pencil To highlight Your Brow Bone:
Are you out of highlighter? Would you want to make your eyebrows pop out, well you have just the right thing for you- a white eye pencil! A well-placed white eye pencil acts as an illuminator and can impart a very natural-looking highlight. Just use the white pencil and shade underneath your natural brow. Try and the natural shape of your brow until you reach the tail. If you want an even more natural look, smudge out the line until there are no harsh edges. The key is to blend well.
This is how you can get the perfect brow with the white eye pencil:
Create A Bold Cat Eye With The White Eye Pencil
Aren't we all bored with the regular old cat eye? If you are daring enough, you can even use white eye pencil to create a dramatic white eye. All it needs is a little white flick and you are good to go!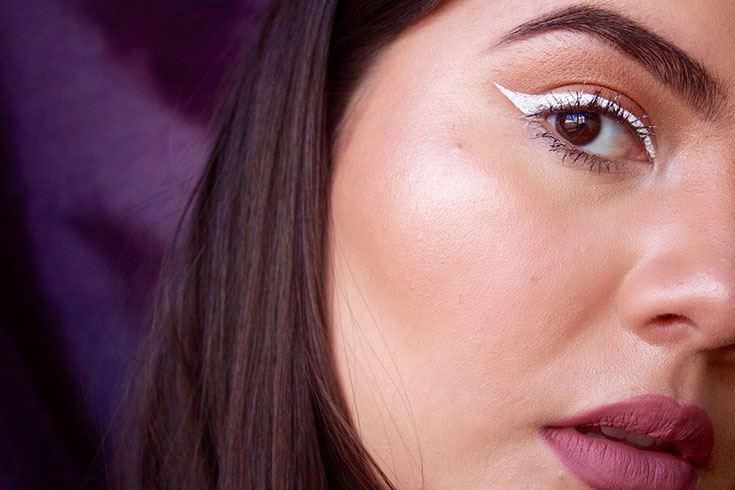 [sc:mediad]
Make A white Eye Shadow Which Is Less Pigmented
Love eye shadow but not bold enough to try a fancy one? You can use your white pencil to create a less pigmented eye-shadow look. You can also use it to create a wonderful base. Your eye shadow will last much longer when you have a good base on.
[Also Read: White Eyeliner Is The New Trend That Is Glamming Celebrities]
Make Your Close-set Eyes Look Further Away
Those of you who lament that you have close set eyes, this genius white pencil trick can make it look like your eyes are further away. Just use the white eye pencil on the inner corners of your eye and blend it in so that it doesn't look that harsh. Genius and simple trick!
Brighten Your Skin!
Yes, that's one trick even we found pretty hard to believe-using your white eye pencil as a matte highlighter. Most of the white eye pencils have a subtle hint of sparkle so when you use it as a highlighter it imparts a really heavenly glow. Use the pencil to highlight a few strokes on your nose, your eyebrow bone and under your nose- Quick and easy highlighter in a jiffy! The key is to blend it in very well. Remember not to leave those lines out. You can either use a beauty blender or a brush to blend all the eye pencil in.
Here Are The Places You Should Use The Eyeliner
So, there you go- some amazing tricks and beauty hacks that you can use your white eye pencil for. So next time you are out shopping for a white eye pencil, keep in mind these wonderful tips and tricks!