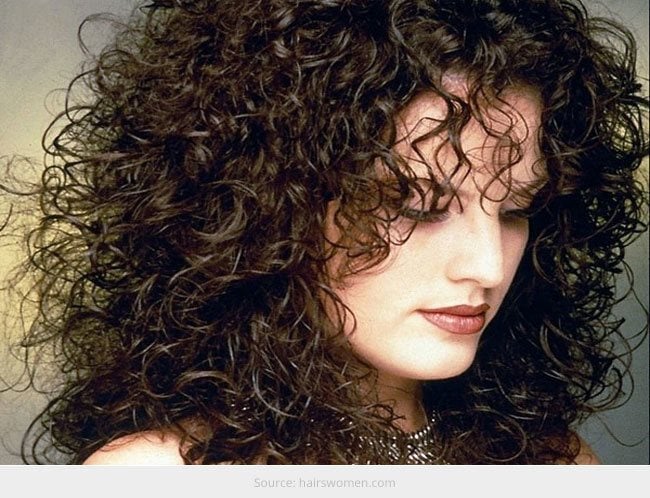 In my previous post we had shared spiral hairstyles for short hair and now we are back to share some more ideas on types of spiral hairstyles.
Gone are the days when curls were totally in and everyone wanted to adopt Madonna's locks and then came the era of strengtheners, when everyone wanted to mimic Naomi Campbell's hairstyle. However, fashion fades with time and whatever goes around comes around. The same goes for hairstyle, and having said that, spiral perm hairstyles are back with a bang.
If you are among those women who admire curls but skeptical whether it would suit your face type, these spiral curly hairstyles will clear your doubt and give you some cues for your new haircut.
Spiral perm
Spiral perms are flirty and can flatter your look. This spiral hair style pattern is obtained by using long perm rods which enable tight and cascading spirals/ringlets. And when released the locks look like corkscrews.
If you want to tighten your curls more then you need to choose the size of perm rod accordingly. You can also ask your stylist to show you some of their works so that you can help them pick your desired spiral hairstyle.
Wave perms
Unlike spiral perm, body perms add volume to your hair. These curls are loose and wavy, adding volume and freshness to your hair. This spiral hairstyle is ideal for those with shoulder length hair and with square faces. Spiral curl hair styles will need some additional care and special shampoos. So invest in good shampoos for your hair.
Plain and curl spirals
Plain curl perms, like once flaunted by Rihanna, can add drama to your look. In this type of spiral hairstyle pattern, only the ends or from the midsection the hair gets curled. Depending upon the size of your perm rod, you can either obtain loose or tight curls. The end results are natural and flattering. Spiral hairstyles ideas are a plenty. make sure you do your research before just getting the permanent perms done.
[sc:mediad]
Multi-textured spirals
If you do not want to give a uniform look to your hair then this multi-textured spiral hairstyle can be your best bait. This fabulous hairstyle is created by using two curling iron rods of different sizes. These rods will give you spirals of different sizes thereby making your hair look more wavy and defined. This hairstyle is not for those with short hair.
Afro spirals
Afro haircuts had gone out of fashion only to come back again this season and of course with a boom. Hairstyles for short hair and long hair had ruled the 60's, especially in American and African nations. This spiral hairstyle is ideal for those with natural locks. Just cut them short to your neck and let them go loose and wild to get you the Afro spirals.
When we talk about spiral hairstyles for short hair, we must remember that the curls will add a lot of volume to the hair. Also, make sure that if you have a round face with fuller cheek bones, you avoid spiral hairstyles
Here are the different types of perm rods required for spiral hairstyles –
Small rods that are available as red rods (the smallest rods offering the tightest curls), blue rods (slighter larger offering slightly larger curls) and pink rods (regular rods offering the large curls).
Medium and large rods are available in gray, white and purple shades offering curls in different sizes and textures.
So those were the top picks on types of spiral hair styles that you can check out and consider adopting. Hope this article on spiral hairstyles helps!