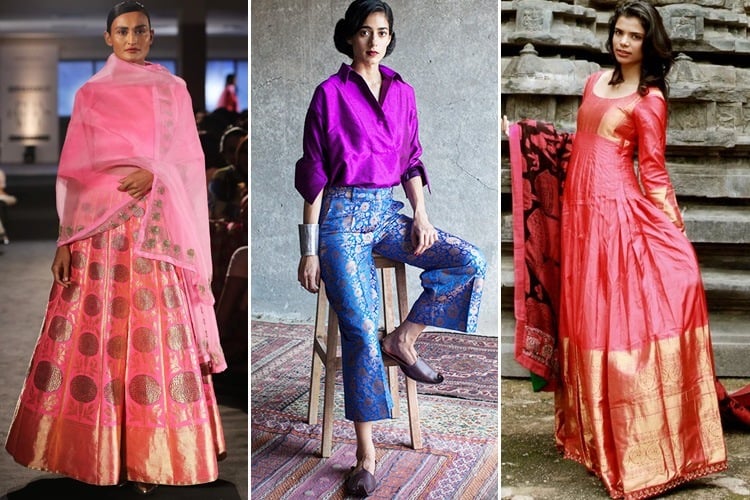 Old sarees, salwars, lehengas, chunnis or odhnis, what do you do with them? Donate? Good thought, but if not donate what can you do with such ensemble items made from Indian handlooms? Upscale and reuse them as home décor or fashionable haute wear! Well, that is exactly what we are going to talk about today, so please read on and be well-informed of the same.
[Also Read: The Shimmering Effect Of Mysore Silk Sarees]
1. Cocktail Wear From Indian Handlooms
Now that the summer months are hitting hard and there are plenty of invitations for the evening parties to attend, what you would need is something comfortable, chic and trendy to wear. You don't have to spend a bomb on the same, not when with the help of your local tailor you could transform an old saree made from Indian handloom into a gorgeous evening wear skirt or formal frock.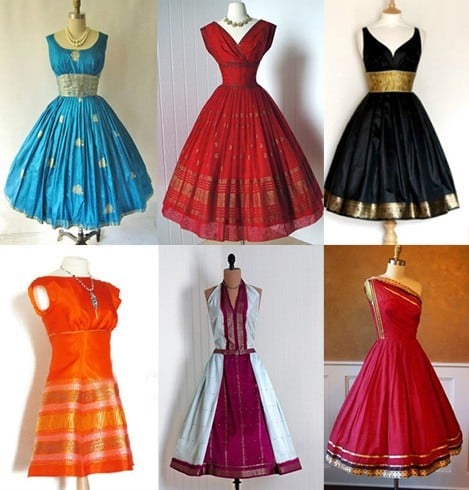 2. Midi Skirts From Silk Sarees
A little more fun and fashion for Friday dressing is a must, and for that we shall once again look at the old silk sarees mom used to wear and convert them into chic office statements. Try converting your old silk saree into a lovely midi skirt, and balance the look with a powdered or matte toned top!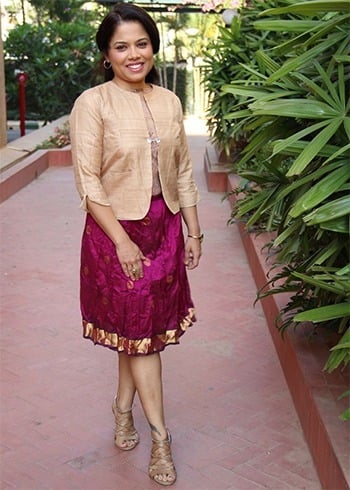 3. Nehru Jackets From Kanjeevaram Fabric
If you would like to add more zing to your ethnic style at work, wearing kanjeevaram Nehru coats over a crisp light colored kurta would be the ideal way to make a fashion statement.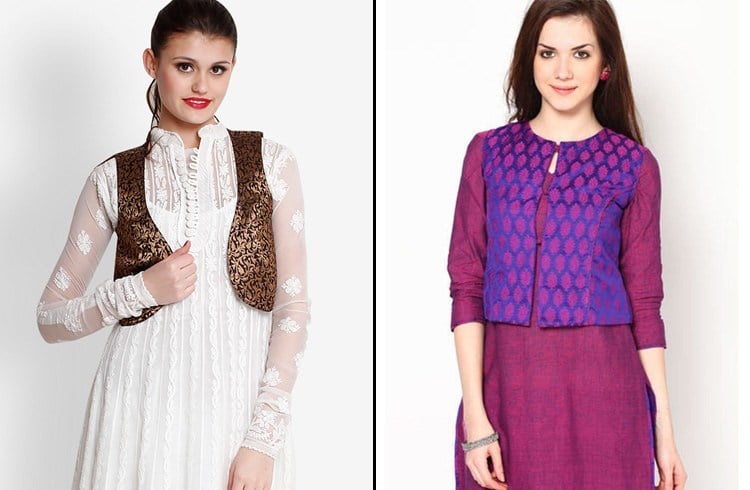 4. Long Skirts From Ageless Sarees
There are some sarees at home that you just wouldn't want to give away, no matter what. In that case, you could go ahead and convert those lovely pieces into chic long skirts, pairing them with nude toned and self-colored tops.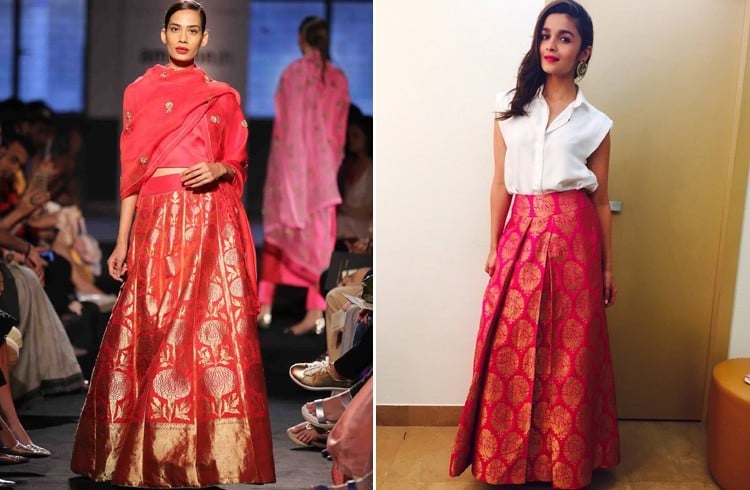 5. Bohemian Silk Dresses
A girls night out this weekend and don't have a thing to wear? There's nothing to worry about, when an old silk saree can be converted into a pretty silk dress.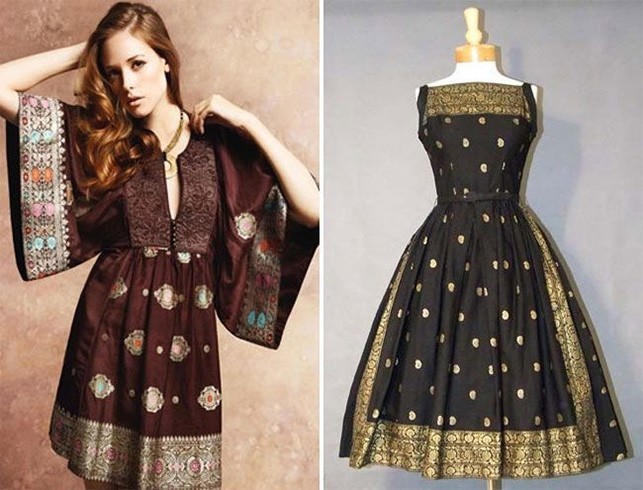 6. Jute Skirts For Summers
For college or for work, jute skirts are soft on the skin and can manage the climes very well. Convert an old jute fabric into a chic long skirt, balancing the look with self-colored but bold tops.
[Also Read: Meryl Streep Fashion]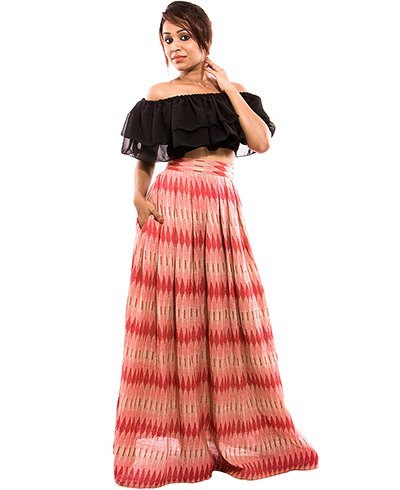 7. Fashion On The Windows
Fashion isn't for the body alone, it can be for home décor too, which is why we advise reusing and upscaling the old gorgeous silk and cotton sarees to dress the windows with. Play with the drapes and follow the color wheel to know which are the complementary colors that would work like magic.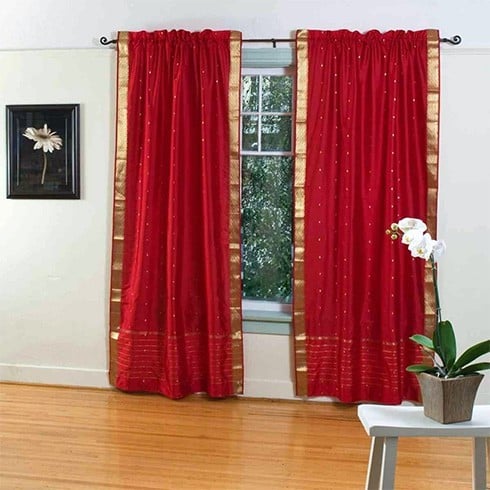 [sc:mediad]
8. Handloom Handbags
An old saree made from Indian handlooms can be given a fresh lease of life. This time though you could with the help of a tailor convert one part of the saree into a chic and very trendy yet desi handbag. The rest of the fabric can be converted into clutches and hand purses too.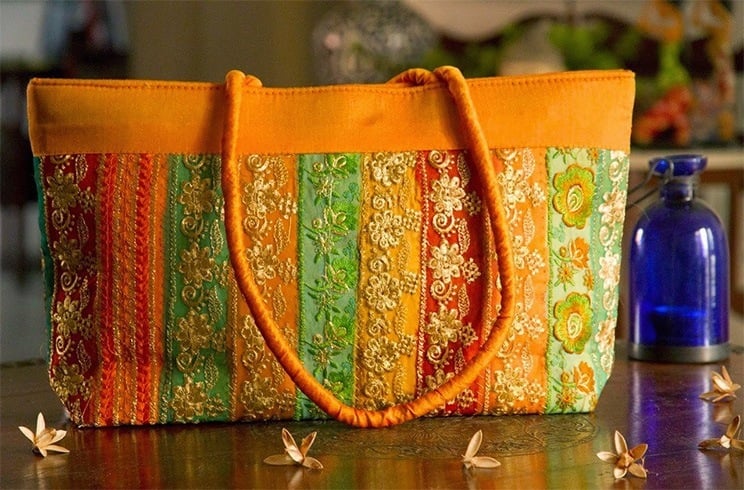 9. Khadi For Cushion Covers
There are famous designers that promote khadi and indigo handlooms across the nation, exactly why you should learn how to reuse khadi and make it fashionable while decorating the home. This time though, you could go ahead and convert khadi fabrics and haute wear into fashionable cushion covers.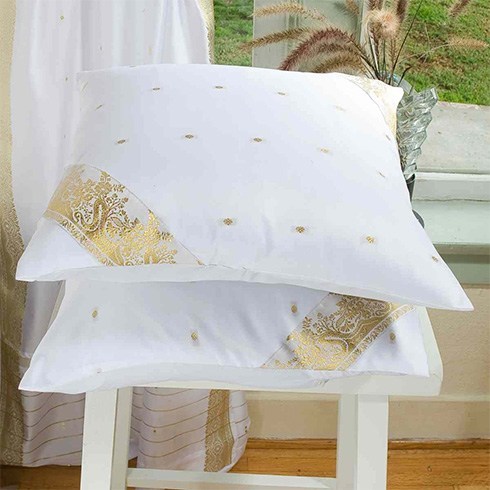 [Also Read: How To Maintain Silk Sarees]
10. Table Covers From Cotton Sarees
Need more zing to your dining zone? This time though you can think of reusing and rejuvenating the good old saree into something nice and trendy, for the dining table. Get a tailor to border the fall of the saree pretty and nice, and use the fabric of nine yards as a table cover!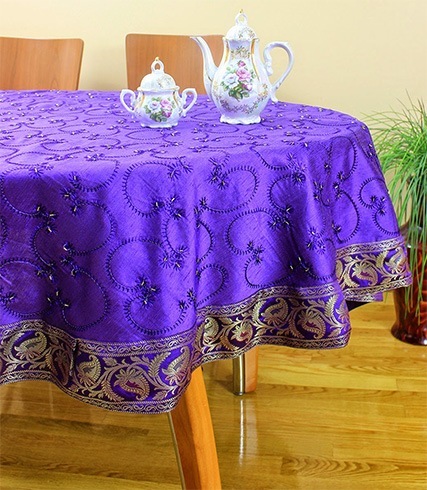 11. Anarkalis From Kanjeevaram Silk Saris
Say hello to gorgeous silk anarkalis made from the old silk saris, saving up on a budget, yet keeping the fashion intact. Kanjeevaram Silks can be re-recycled for plenty reasons due to their rich quality and design. The shiny outlook gives an oomph to the newly made anarkalis from these old saris.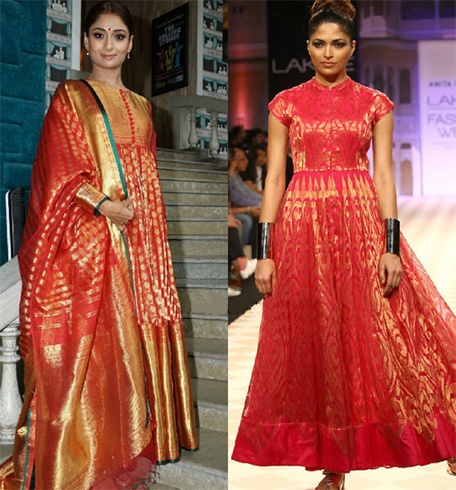 12. Palazzos From Silk Zari
Palazzos are the much in-trend outfit for most woman today, be it casual or formal, there are various types that have embraced us. The silk saris that are on the verge of not being a part of the wardrobe anymore deserve to be remodelled into palazzos and back in the closet! Saris with an elaborate and huge border can make great palazzo pants, and plain coloured saris can be made into palazzos to team with a colour block top.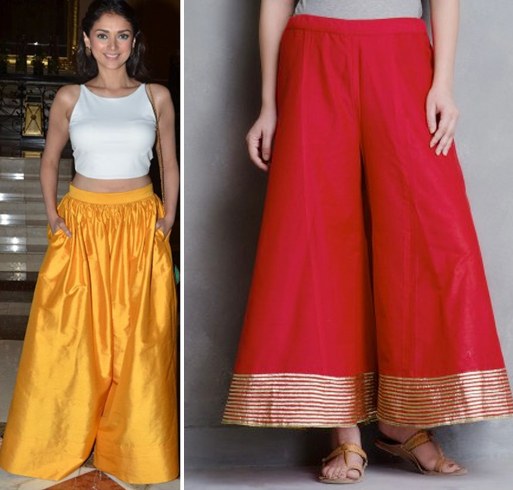 13. Kurtis from Silk Saris
What better benefit than to remodel your saris into silk kurtis for special occasions? Avoiding the hassle of going all the way to choose a special kurti for an event. Turn your old favourite silk sari into the most special kurti.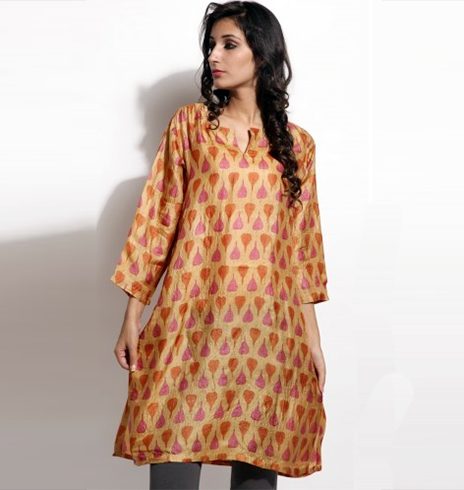 14. Half Sari/Lehenga/Dupatta
A popular tradition in the southern states is the half sari. You can create a complete makeover of your silk sari into this half sari, making it look all the more gorgeous. Designer Lehengas are what we drool over, little do we know that they use the same cloth for silk lehengas, save your bank balance. And while the skirt and top are being made from the silk sari, why not the dupatta? Extra sari cloth calls for a dupatta too, completing the entire outfit. Mix and match the saris to create contrasting skirts and dupattas.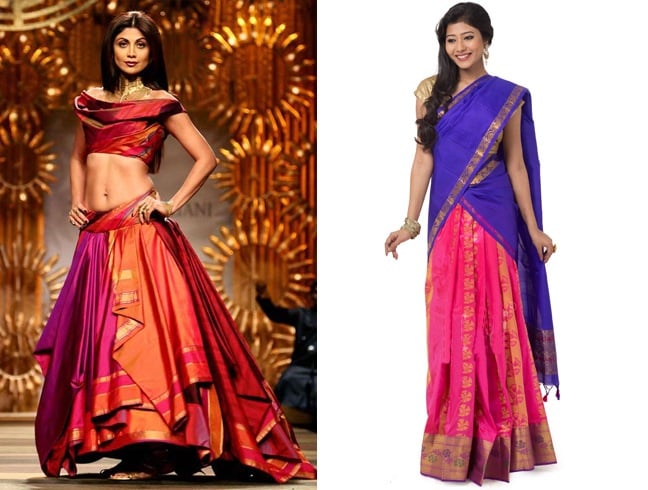 15. Kids Clothing
For small kids, they look super cute in anything and everything and imagine spending barely anything on their clothing too. Convert your stylish saris into fashionable small frocks and skirts and whatnot, for the little tot in the house. You're bound to break the bank once they're grown, so remodel these saris into stylish outfits for the little ones.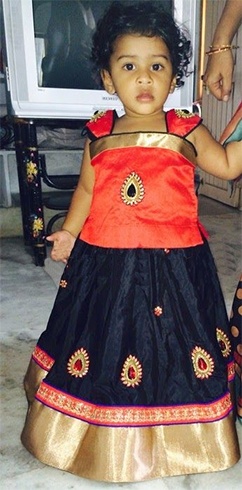 16. Potlis from Simple Silks
These small bags are all over the place, at weddings, functions as return gifts, used as purses and mobile holders. These ever so elegant potlis are all set to brighten your day, use your old silk sari and recreate them into potlis of different designs.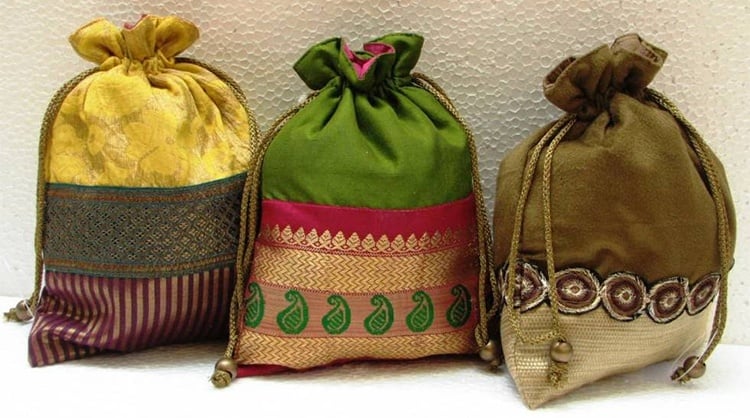 17. Decorative Jewellery
Go for a unique look by wrapping your jewellery, mainly bangles in pieces of silk. These bangles draped in silk can be teamed with all colours irrespective of the style.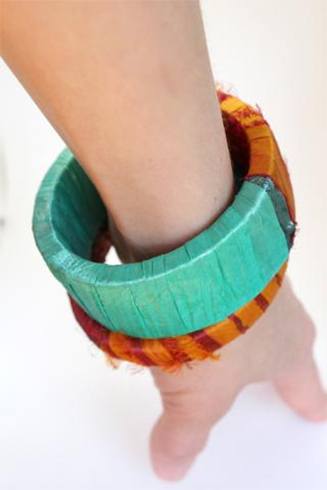 18. Laptop and Mobile Cases
Make super chic cases for laptops in bright colours that'll make you want to use the case over and over again. Same goes with mobile pouches, colourful and embellished saris can make a great cover.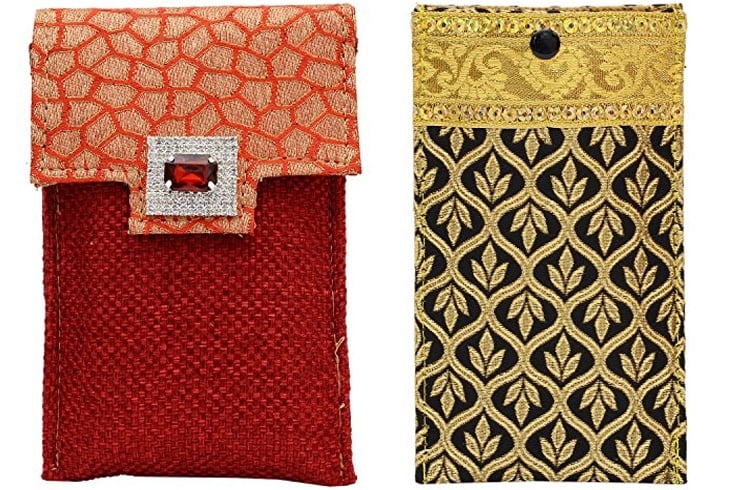 There are many more ways for you to go ahead and use Indian handloom fashion in quirky ways that would dress your home up well. Do let us know your thoughts on the same, and if you have any ideas too, which we would obviously be willing to share with the world!
Images Source: pinterest