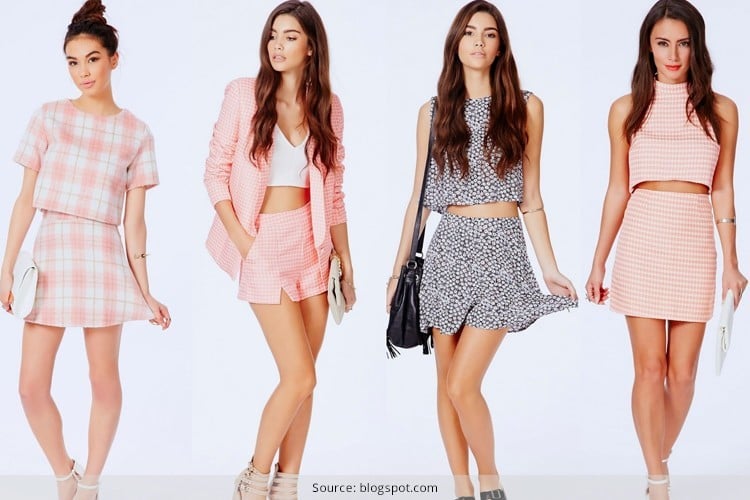 Remember when you were a kid, your mom used to doll you up in the printed matchy-matchy set. Well, well, well, the Co-ords or Co-ordinates are back and they are trending in a big way this season.
The matching set saves time and eases up your life, as there is no need to mix and match separates, and the best part about it is – you look twice as nice. You would have probably spotted many celebrities, bloggers and fashion divas donning the matchy-matchy set, have you tried it yet? If not, get your hands on this fashion killer outfit.
Variety in Co-Ords
You will be spoilt for choice when it comes to co-ords. The ensemble can comprise of bustier and fitted skirt, crop top and shorts, blazer and trouser and so on. You also have a wide variety to choose from in terms of prints and textures. So, keep your personal style in mind and flaunt this hot ensemble with full confidence.
Here are few points to keep in mind so as to look great in co-ords:
1. Mind the Gap
There should be a minimal midriff showing up, to look elegantly stylish. The wide baring looks shoddy and can actually drive all attention from co-ords to your belly.
2. Waist it Simple
Keep the waistline simple! A simple co-ordinate, itself is chic enough. Avoid adding unnecessary detailing such as belts, pleats, frills etc. Also, keep away from overstated structured silhouettes. Instead, look out for chic prints, high quality fabrics and textures.
[sc:mediad]
3. Fitting Matters
Absolutely! It is important to consider silhouette and fitting. An unfitted pair of coordinates can take down the whole look. Make sure that both counterparts are well fitted and flatter your body. A pencil skirt looks great, but with an ill sized top, it looks inevitably shabby and cheap.
4. Colour Check
Wear the colour that flatters your skin tone. Also, avoid excessively shocking colours. Imagine, you wearing head to toe outfit in bright pink hue. Ouch! It can hurt eyes. A uniform colour look with harmonizing prints works well for the co-ordinates. If you want to opt for different colours, sync it with complementing prints or embroidery. The top and bottom outfit should have a common theme for the perfectly 'co-ordinated' look.
5. Top it Correct
As already mentioned, you have a wide variety to choose from, for co-ords. So if you getting your hands on a fitted crop top, a bustier or a bralette, make sure you have well toned athletic body to carry it.
6. Flat belly
Flat belly is a must to carry co-ords well. A 'muffin' top can spoil the entire look of the ensemble. The only co-ords that is not significantly affected by your belly is – a pair of matching blazer and trouser. If you don't have a flat belly, just avoid crop or shorter tops co-ords.
[Also Read: How To Get Flat Abs]
Mismatch the Matching Set
Be a little creative and add your own personal spin. If you feel the ensemble is too much coordinated and you are not convinced to carry the trend, then here's a solution – Mismatch the co-ords for the relaxed look. For instance, why not team a printed pencil skirt with a top in a hue picked from the print. This way you can play safe and avoid it looking busy. Remember, there should be a common string between the ensemble otherwise the essence of the co-ords will be lost.
Accessorize it Right!
Pair it up with accessories that can spice up the entire look of the co-ords, be it flowing capes, bags or minimalistic jewelry. Remember, to keep it simple and not over exaggerate the entire look.
Check Out Celebrities in Co-Ords
There are many celebrities who rocked the co-ordinates trend such as Demi Lovato, Gwen Stefani, Beyonce, Rita Ora, Selena Gomez and so on.
1. Demi Lovato
Demi Lovato spotted wearing tropical printed blue and white co-ord, a perfect toast to the season.
2. Beyonce
Beyonce looks incredibly amazing wearing neon bright set! Her bold combo is truly eye-catchy.
3. Taylor Swift
Taylor Swift greeted the summer season with her cool baby blue combination, simply making her look fabulous.
[Also Read: Taylor Swift Style]
Bollywood too!
Bollywood fashion divas such as Sonam Kapoor, Deepika Padukone, Alia Bhatt are few among the lot who did experiment this popular fashion trend.
So, what are you waiting for? Get the chic-iest pair of co-ords for yourself and flaunt them with panache.