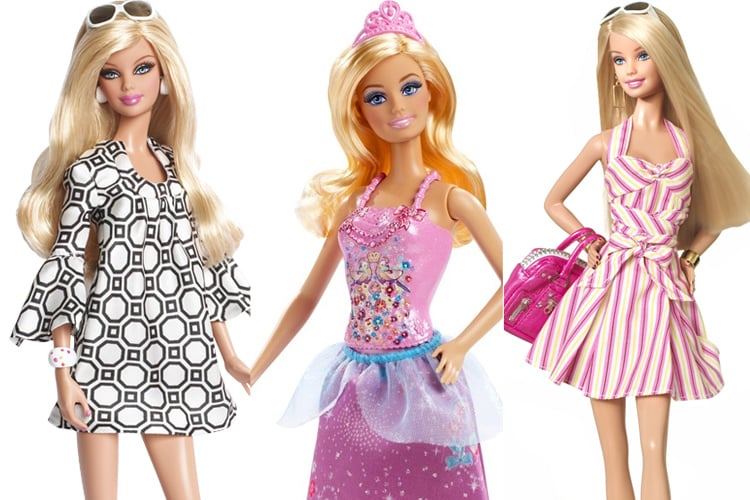 When we were young, all our memories of playing consisted of parks, swings, sports, Barbie dolls, teddy bears , toys , clay and so much more. It was a simpler time when toys were toys and they were for our playing time. We seem to have come a long way in that respect because now no more are Barbie dolls just dolls, they have become a collectible. People have completely changed the way we looked at them a few decades ago, which were seen just toys and now they are costly and aren't just for kids.
Here I have a list of those plastic-made human figurines that are the most expensive that it can get. Widen your eyes cause I'm sure you won't believe the numbers like I did, but I assure you they are what you see, they are real and the prices that they are sold for are real too. So, feast your eyes.
1. Stefano Canturi Barbie
Price: $300,000
Australian jewellery designer Stefano Canturi with the famous Barbie toy manufacturer Mattel created the World's Most Expensive Barbie Doll. The doll had the looks of a fashionista; she had blonde hair with fringes up till her eye brows, 11.5 inches in height and wearing a black strapless dress. She is made even more regal with the white baguette and carre cut diamond necklace adorning her. The dazzling Canturi necklace is fashioned out of 3.00 carats of white diamonds circumambient a 1.00ct square emerald cut pink diamond. She also wears a scintillating pink diamond finger ring on her right hand.
It was specially made to raise money for Breast Cancer Research foundation and was sold to an anonymous buyer for an exorbitant amount.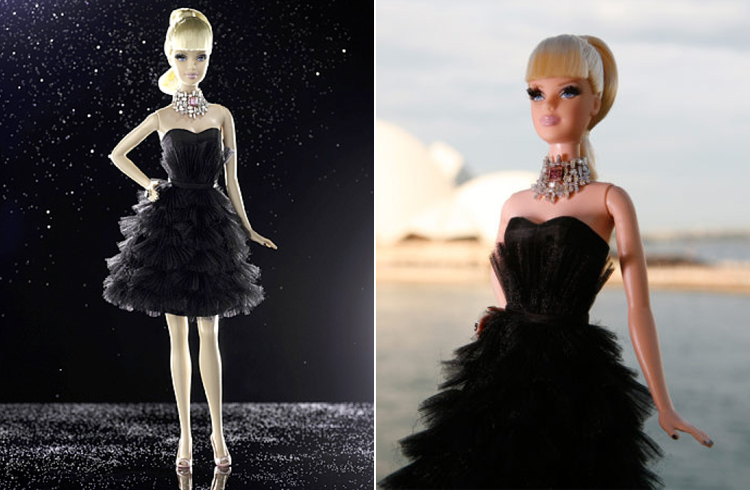 2. Barbie and the Diamond Castle
Price: $94,800
This Barbie was a promotional doll for the release of the new Barbie movie, Barbie and the Diamond Castle. The beautiful doll wore a pink princess-gown with 318 diamonds all over it. This doll was also re-created to fit the budgets with plastic diamonds on the dress and a tiara. The diamonds on the dress weighed 20.66 carats. The gown had only 44 of those gems, the rest of them were the accessories that adorned the Barbie figure.diamonds on the dress weighed 20.66 carats. The gown had only 44 of those gems, the rest of them were the accessories that adorned the Barbie figure.
3. De Beers 40th Anniversary Barbie
Price: $85,000
To celebrate the 40th anniversary of the Barbie doll, De Beers designed and created one of the most expensive dolls. A very well known name in diamond jewellery, De Beers created this special edition doll in the year 1999. This doll was unlike the usual Barbie, I had raven-hair, was skimpily clad but had jewellery that we could kill for. The Barbie was wearing a belt that was encrusted with 160 diamonds. Other than that, the Barbie also wore white diamonds worth 18k. The doll was plastic but her value was $85,000.
4. Pink Diamond Barbie
Price: $ 15,000
This one-of-a-kind Barbie was designed by Phillipe and David Blond of The Blonds . The stunning Barbie looks ravishing in the fuchsia colour cocktail strapless dress that in decorated all over with beautiful pink diamonds. The hand encrusted diamond pumps and the jewellery is an added frost to the Barbie figurine. The Barbie looks absolute chic with a faux fur coat that is stylishly draped over her and her shiny blonde locks. The Barbie was auctioned to raise money for the MAC AIDS Fund Organisation.
5. Barbie No. 1
Price: $8000
The first ever Barbie was released in 1959 by Mattel Toys. In a monochrome striped bathing suit, this Barbie was the rage of the times then. It had blonde hair, sometimes brunette. She wears a pair of earrings, some blue eye shadow and red lips. The first from the Barbie family went out to be sold for a bidding $8000.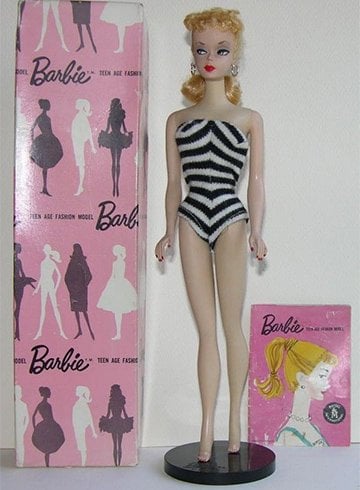 While these are just collectables, let's look at some Barbie's that you could buy online. Some may still be expensive, while some affordable.
[sc:mediad]
Barbie Mermaid Doll


Barbie Sparkle Sweet Fashions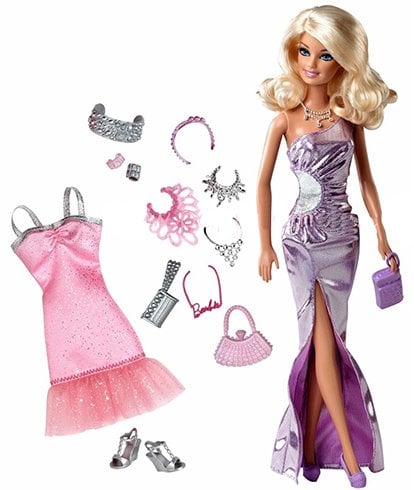 Barbie Princess Doll


Barbie Spa Doll

Indian Bride Barbie


Katrina Kaif Barbie Doll

Images Source: pinterest