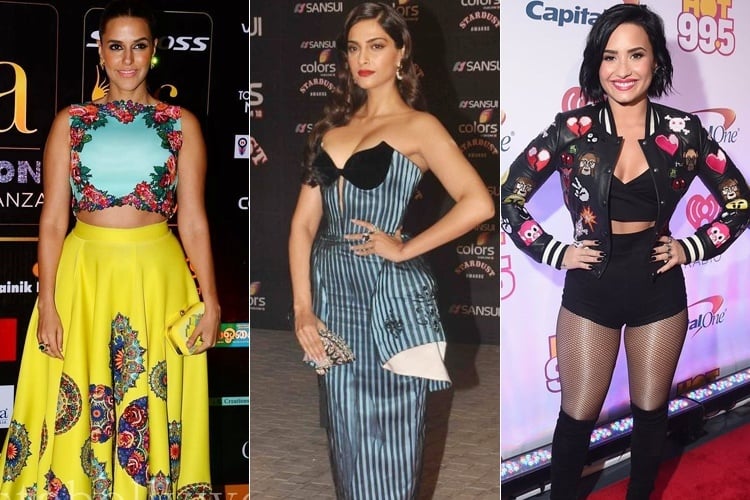 If you guys think the entertainment industry is all about style and fashionistas, whatever they do is epic, and look up to them for styling yourself – you may as well want to think again? Because in the pretense of high fashion, the Bollywood and even the Hollywood divas commit fashion crimes. Don't believe me? Okay then, let me replay some of the style disasters of the year 2015.
[Also Read: Worst Bollywood Fashion Disasters]
Vidya Balan
Only Vidya Balan can wear a Sabhyasachi and still look like an Air India hostess. We all are aware how much Mrs. Roy Kapoor tries to emulate Rekha in those heavy sarees and heavier jewelries, but then the charisma of the ageless beauty Rekha was born with her, we can't blame Vidya here . And we are somehow used to the talented actress's fashion disasters by now, so I guess it's okay.
Sonam Kapoor
She said in Koffee With Karan that no star in Bollywood has a style sense. And she proved that she is indeed a part of Bollywood when she showed up like that at the Stardust Awards in 2015. Being the fashionista Sonam is, we just expect so much of perfection from her. Wearing this stripe dress with that odd bra detailing, she did disappoint us a lot.
Neha Dhupia
That is Neha Dhupia, and she is wearing a rainbow. No, I am kidding, these are Neha Agarwal separates. But that is obviously not how you wear colors. Just so much was going on in that one look, the eyes of the onlookers literally hurt. No clue what the guests at IIFA Awards 2015 in Malaysia suffered.
Genelia Deshmukh
The bubbly new mommy typically gets us captivated. But this time we assume things went a little haywire at the green carpet of IIFA's. Accompanied by husband Ritesh Deshmukh, she walked in, in an ivory gown designed by Raghavendra Rathore. Though Rathore is generally known for his men's collections, this womenswear gown only bought out his worst. Genelia's red lips or soft curls didn't help a bit. Her entire get up made us wonder if she was planning a white wedding with hubby Ritesh Dekhmukh this year.
Divya Khosla
Dressed in this terrible Gauri & Nainika's printed bell-sleeved gown, the Kumar Bahu failed to impress us. The gown was straight out of the ramp and just proved that everything that looks good on the hanger might not fly well when worn. This printed gown with a hideous train, as Divya should know by now, was not the best choice for this event. Divya paired her designer ensemble with Amrapali jewels and metallic minaudere. The hairdo could have been a little interesting to take our focus away from the dress. The outfit clashed badly with the busy setting and props during the photo shoot too.
[sc:mediad]
Katy Perry
My heart breaks when I have to criticize Katy Perry. But I cannot lie here. The 'Dark Horse' singer left her fans thoroughly turned off when she walked to the Coachella 2015 like this. Okay, lady, you look dark and gothic. The detailed bra makes the look very tacky. Perhaps a tube bra instead could have saved the disaster.
[Also Read: 10 Ugliest Outfits Ever Worn by Celebrities]
Miley Cyrus
I would tell you what is wrong with this outfit, IF, I could figure out the outfit. Seriously? Can I even call it a look? Where are the clothes, I just see pasties in the upper half of her body, and what I see at the lower half, well I was better off without having seen it. Miley, girl, please put some clothes on, we don't want you to catch cold.
Demi Lovato
Do you see that chunky jacket Demi Lovato is wearing? For situations like these, we would rather place the singer in a safe zone and put the blame on her secret twin –Poot Lovato. Yes people, that's right. Poot is out of the basement again and this time she headed straight for the iHeartRadio Jingle Ball and boy, and as is obvious, Poot couldn't impress none. I guess the look might have worked better with the crop top and shorts if the jacket was left out.
[Also Read: Celebrity Hair Disasters ]
See, I told you, not everything they do or wear is worth an emulation. And you certainly don't want to decimate your personal style sense by copy your celebs blindly. Hope the above list has given you enough and more proof of it. Now let me apologize for ruining your day by showing you these traumatic outfits.