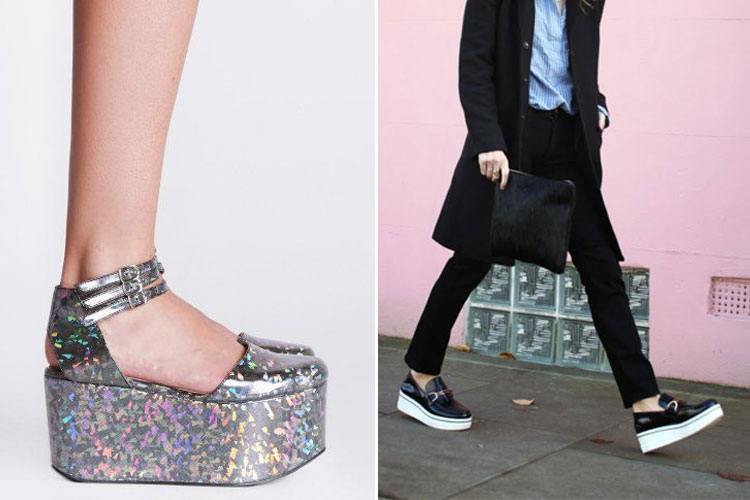 If wedges and flat sandals had a baby, then the result would be the flatform. The flatform is a footwear that has been the subject of much debate. It is a love or hate relationship when it comes to flatforms. You either absolutely love it or you so totally hate it, there is no neutral feelings when it comes to this footwear trend. If you love flatforms then you're going to love reading this article. And if you hate flatforms, then let us try to convince you with some compelling reasons as to why you should invest in a pair.
[Also Read: How to Walk in Different Heels]
1. They Are Extremely Comfortable
If you love wearing heels but hate the fact that they make your feet ache, then flatforms are the way to go for you. Flatforms bring you the best of both worlds. They provide you height just as heels do, but without arching your feet and making them hurt. Instead they are as comfortable as flat sandals, cushioning your feet.
2. They Help You Reach Great Heights
Sure you can wear six inch heels to achieve a taller frame, but walking on six inch heels can put a lot of pressure on your foot, not to mention the health complications that come with wearing heels. But with flatforms, you can reach great heights without making your feet suffer for it. So if you've been restricting yourself to kitten heels while secretly wishing you could wear taller heels and gain a couple of more inches in height, then flatforms are your saviour.
3. They Are Unique
Flatforms are not so generic as heels and sandals. Flatforms are quirky and unique and are guaranteed to grab attention. So if you love shoes and are always on the lookout for footwear that are different, then you need to one a pair of flatforms. They give a cute little twist to any outfit and will make a great addition to your shoe collection.
[Also Read: Most Expensive Shoes in the World]
Now that we've listed the reasons for owning a pair of flatforms, here are some quick tips on buying, wearing and walking in flatforms.
[sc:mediad]
When you buy flatforms, make sure the shoes have a slight curve at the front towards the toe region. Completely flat flatforms can restrict movement, making you feel like you are walking on stilts. So always buy flatforms that have a slight curve that enables you to walk more naturally.
This is what you need. Notice the slight curve at the tip?
Stay away from flatforms like these. They are not easy to walk in and you will feel like you are lifting weights with your feet every time you take a step.
When walking, make sure you distribute the weight evenly through your feet. Avoid putting weight on your toes as this can lead to aches and pain later on. While walking, always put your heel down first and then move to your toes. Landing with your toes can lead to you tripping. Check out the picture to get a better idea on how to walk wearing flatforms.
[Also Read: Louboutins We Are Currently Setting Our Heart Upon]
Always wear the right size. When it comes to flatforms, it is especially important to ensure that you are wearing the right size. If the footwear is even slightly big, it could hamper your walking. And if the shoes are a little small, then that will lead to your toes sticking out and subsequently aching. So always ensure that your flatforms are the right size.