What is amazing about our nation is that it is culturally diverse and very cosmopolitan. With that being said and with so many big fat Indian weddings happening all year round, across all religious domains too, the new-age Indian woman doesn't necessarily have to stick with one set tradition with regard to bridal wear and looks. Women from the north have adopted bridal nuances from the south, vice-versa too. Today we would like to share with you a glimpse of chic and peppy hair accessories that brides across the nation go gaga over.
[Also Read: Stunning Stories Of Indian Bridal Jewellery]
Different Bridal Hair Accessories
Here are some of the best and different bridal hair accessories, worn by brides and bridesmaids alike and can be re-worn for special occasions too.
The Best Of Indian Bridal Hair Accessories
You could wear these cute an elegant Indian bridal hair accessories, for weddings, parties, as a bridesmaid or maybe even with indo-western wear when you are out with the girls for some dance and fun!
1. If you ever have to braid your hair into one long plait and wouldn't want to embellish it only with a string of flowers, you have plenty of choices such as the jada billau one to choose from.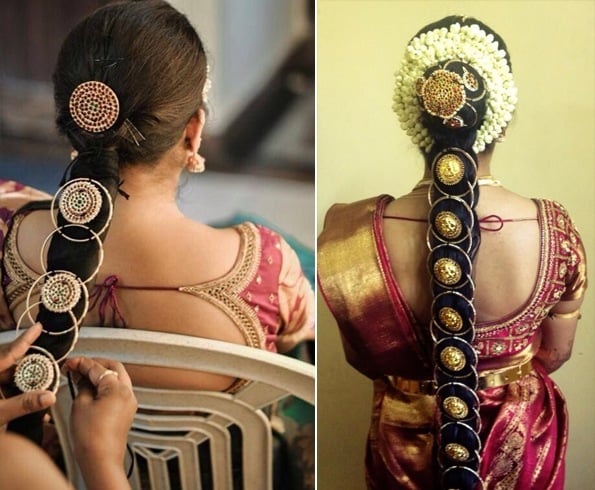 2. Amongst the different bridal hair accessories worn by brides down south, the white stone embellished maangtikka lace pattern seems to be a rage.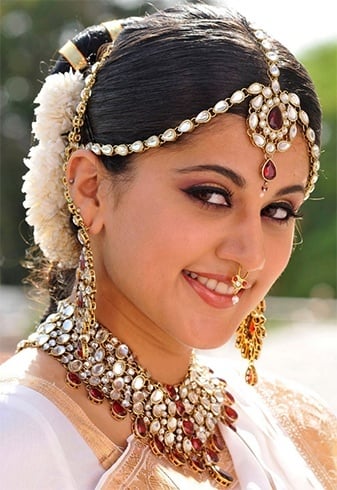 3. Mattha pattis are elegant, grand and regal and they come in various hues, shapes, designs and styles as well. Choose one in neutral shades which would match gloriously with whatever you choose to wear- color and design of the bridal couture on D-Day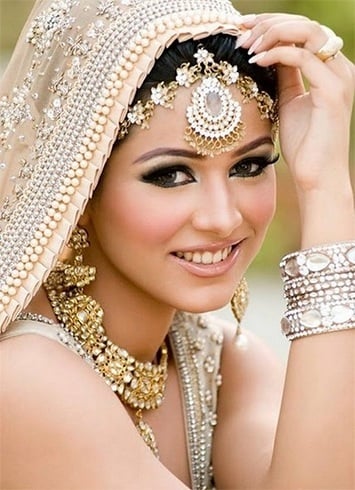 4. Christian brides too can look a billion bucks wearing hair accessories such as a V shaped headband made from pearls to match their lovely white wedding sarees or gowns!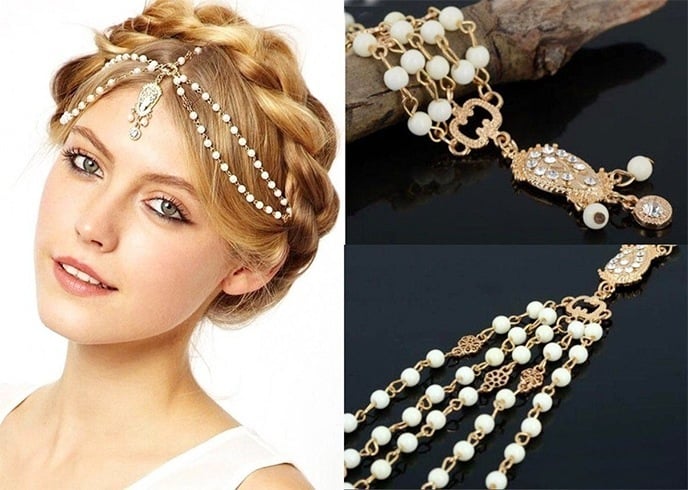 5. Our Bollywood divas become sources of inspiration showing us how to wear what and when to wear them too. As seen, Kalki, Deepika and Sonakshi look chic and bohemian in these beautiful head bands made from precious stones and pearls.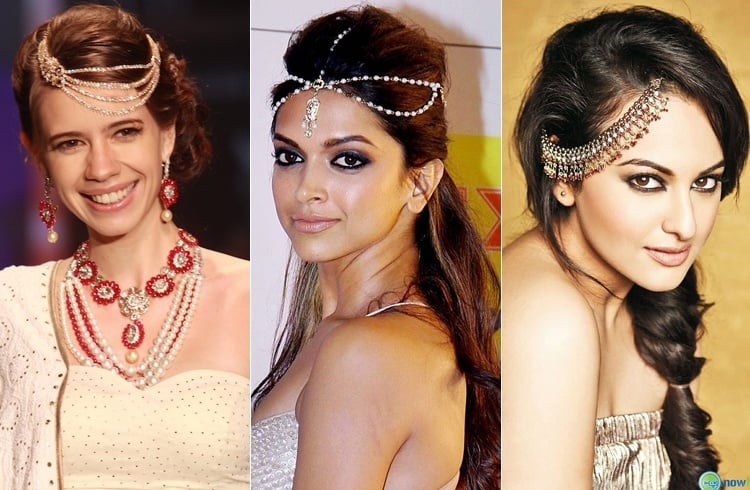 6. Planning to wear a low bun at your wedding? Instead of leaving it plain with the odhni or pallu for cover, you can flaunt your sassy self in a stringed bridal hair accessory. One of the best hair accessories for buns, so simple, chic and grand!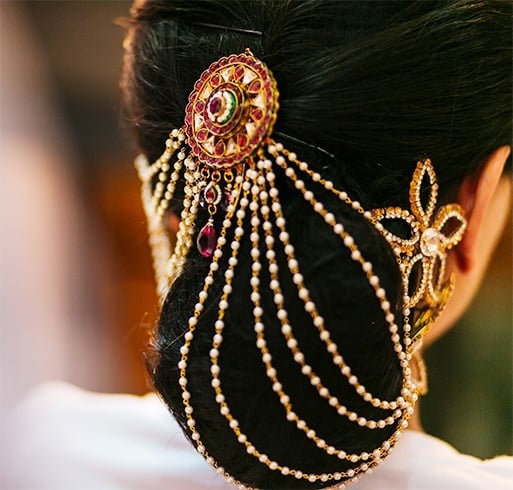 7. Keeping it minimal and chic, with a pop of color too, we have a strong of floral touches and a pop of colour to embrace weddings in spring with!
[sc:mediad]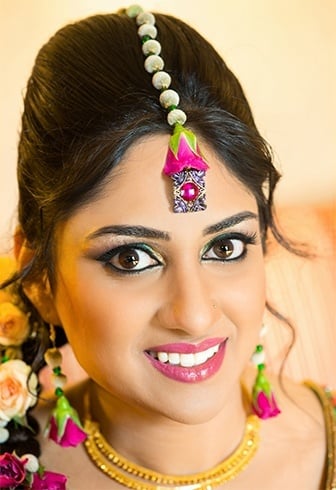 8. Mullapoo styled hair accessories for buns, why not? Elegant and rich, luxe and quite royal to look, touch and feel as well, these are hair accessories that are best worn with kanjeevaram sarees.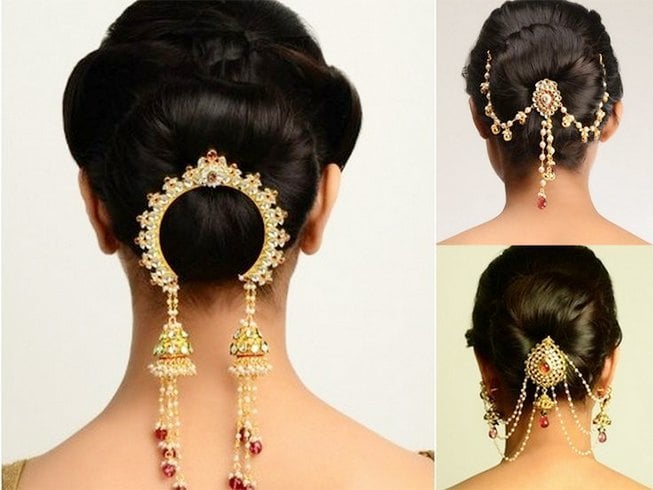 9. Need more inspiration on wearing your maangtikkas and jhumars, here is a way to doll up the hair as a bridesmaid.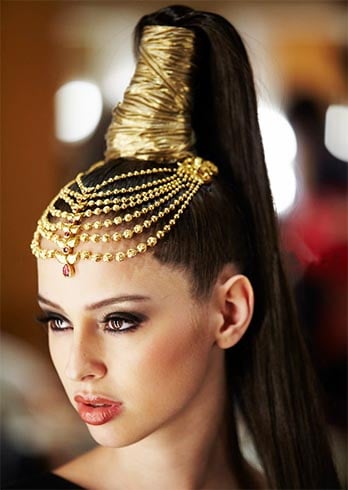 10. Match up the heavily embellished matta patti with a kundan set, and you are all ready for the vows and the saath pheras to take!
11. Last year we had noticed many brides at their wedding receptions opting for chic bridal combs to wear and flaunt with their haute bridal wear. The trend has caught on and is here to stay.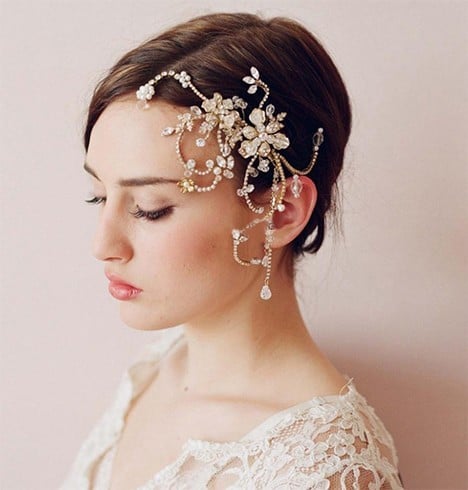 12.Wedding hair vines for the brides that wish to have hair accessories for long hair, seems to be in trend. Simple, cute, elegant and with a touch of glamour in its intricate styles, you cannot go wrong on this one.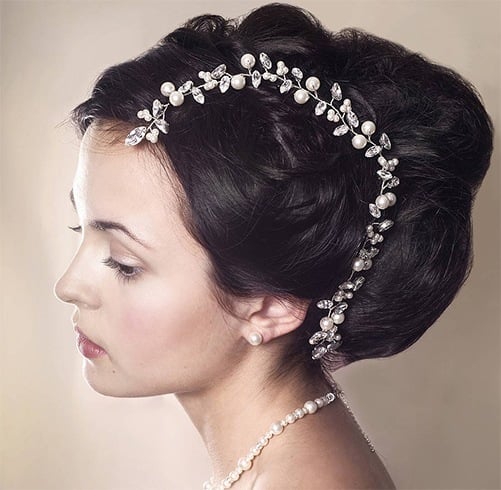 13. For the bohemian look to come through, should you be the bride or the bridesmaid, you could opt for floral wreaths made from cotton, silk and rayon.
[Also Read: Bohemian Bridal Fashion]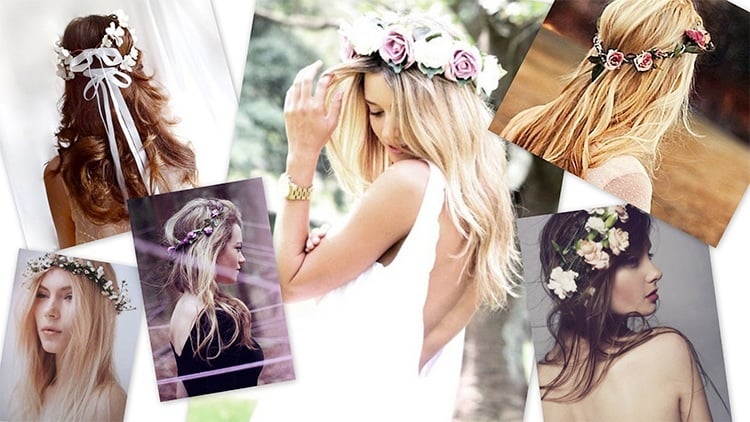 14. The kundan and pearl matta tikka and jhumar set are an elegant addition to the bridal solah shringar set.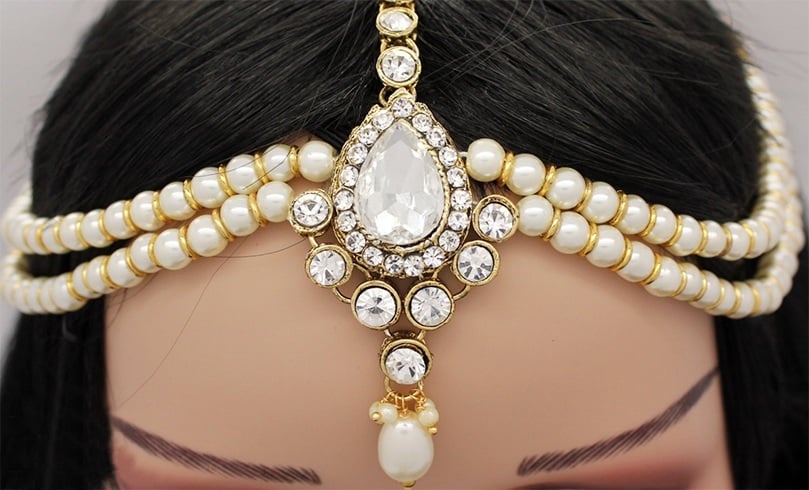 15. Adorably cute for any wedding, the little stars on the bridal headband add pizzazz and quirky cuteness to the bridal ensemble! Can be used as hair accessories for short hair or long!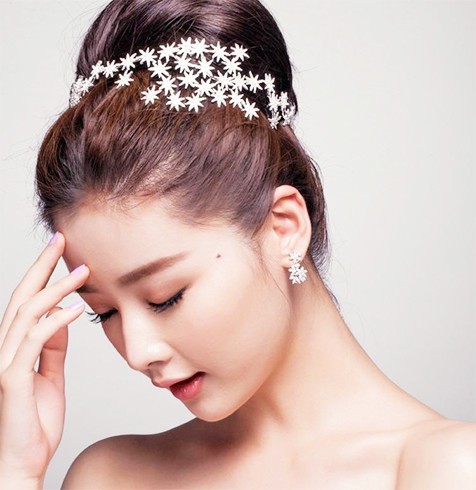 16. These studded and beaded hair clips enhance the look of any outfit with a simple radiance that can go a long way. These beaded clips come in various designs and shapes, such as butterflies, flowers, spirals, wings and can be used on unique hairdos such as puff, braids, ponytails etc.
17. Tiara is the most trendy accessory especially for girls between 20-32 years. It's the most sought after hair accessory due to its pretty outlook while concerts, functions etc. For brides who want to dwell in this tiara, vibrant and bright colours are an ideal choice.
18. These embellished jewellery headbands first came into fashion due to the ace fashion designer Sabyasachi Mukherjee. This headband avoid the hassle of fixing hair on a bad hair day, and give a glow to the hairdo.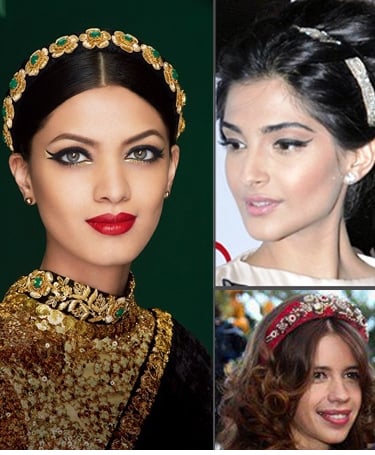 19. An absolute favourite for cocktail parties, engagements, pool parties and carpet awards. These jeweled pins are a muse for all the right reasons, and we couldn't agree more!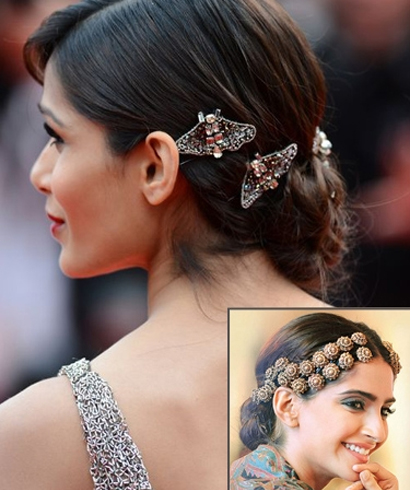 20. Which woman doesn't like flowers? Especially when it comes down to you being the bride or attending a wedding, flowers are a ritual, you like it or not. This sophisticated hair flower accessory comes in the form of pins, of course being an artificial flower, but gives the perfect ethnicity your theme requires.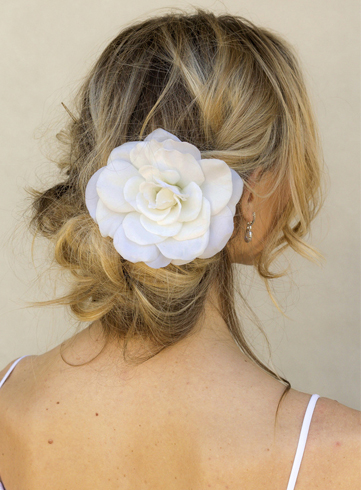 Did you like these hair accessories for Indian weddings? Do add a note below and let us know!
Images Source: pinterest.com