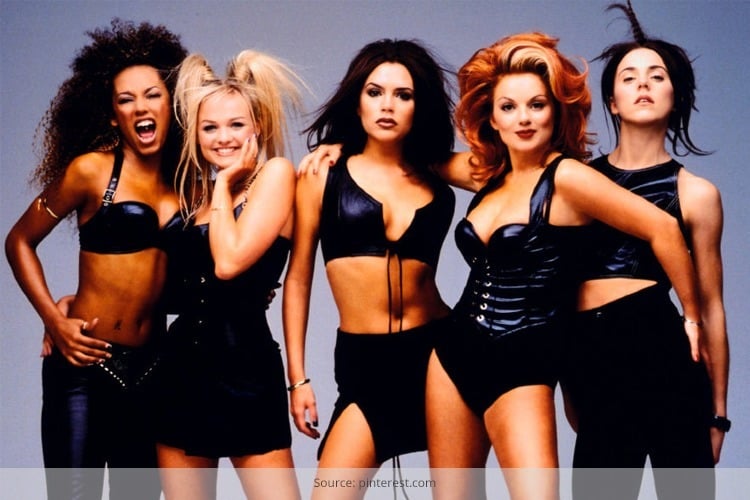 Nostalgia galore, the 90s was a time when women ruled the fashion scene in very nonchalant ways. Caring two hoots about the societal norms and way they wanted to wear their fashion, women went out in total glam, dolling up as they pleased.
[Also Read: Vintage Hairstyles that are Hot these Days]
From permed locks to flowing bangs, chic hairdos ruled the 90s Hairstyles and look. One such epitome of beauties or a bevy of them we must mention was the pop band founded in the UK, the SPICE GIRLS. Reminiscing the If You Want To Be My Lover number, are we? How can we forget the 90s Hairstyles sported by the Spice Girls back in the days when crop tops and baggies were the norm amongst PYTs. The Spice Girls have long quit the group that was so famous, God knows why! But if you are reading this dear hearts, we want you back on the scene and with more of the 90s Hairstyles and fashion statements to flaunt this time, please!
Hairstyles Of The 90s
As teens and now most of us in our 30s, we would remember how sad it was to hear about the Spice Girls split, don't we? And they came to India as well, dolling up in salwars, saris and indo-western numbers, performing across the metropolitan cities of the nation. The Spice Girls in their rocking hairstyles of the 90s, sure had the party scene going wild for us.
[Also Read: Red and Black Hairstyles]
Victoria Beckham
Ever since 1997, Posh Spice or Victoria Beckham, one of the singers with the group showed us how to play along with hairstyles.
She never stuck to one signature look as such, and sources say her wigs and extensions if sold could easily buy a home?
[Also Read: 90's Hairstyles]
From the blunt bob cuts to the quaint POBS and the number of times she sported the glam pixie touch, the list is unending we say.
She didn't stop at the short hair looks in the 90s, because there were times when she went rapunzel with hair extensions, soft curls, dark black long straight hair and more.
[Also Read: Jennifer Aniston's Hairstyle]
Victoria also sported loose waves, the frizzy look and more. Ahh the 90s Hairstyles for women, and Victoria did it the best!
Geri Halliwell
Also called Ginger Spice, her auburn, sunburnt reddish-blonde hair highlights stole many a scene out there.
Boy did she make a daring statement with the wild-yet-old-glam-world-bouffant hairdo back then in the 90s.
From shoulder length blonde touches to the light blonde looks now that she sports, Geri Halliwell or Ginger Spice always kept her hair yellow and screaming orange, straight and sometimes with loose waves too.
Effortless was her style, and yet the diva kept her curves to flaunt with ubiquitous tresses to doll up in!
[sc:mediad]
Baby Spice
"What took you so long Emma" or Baby Spice as she is known. Emma is now a woman, but back then she was the cutest of all the Spice Girls, with pigtails and ponies to flaunt.
What we loved about Emma was that she played with her blonde bunches like no one else could, and kept it minimal for the chic look too.
Time has passed and Emma still has the blonde look, but on a lighter note this time. 1997 was the year when her blonde hair was the shiniest and very loud, however, now she has decided to let it ruffle a bit and to keep the waves intact.
Messy and nonchalant in her hairstyle, Emma taught us more than just how to doll up using her sense of 90s Hairstyles for women.
Mel C
Also known as Sporty Spice, Melanie C or Mel C as she wanted to be addressed, made an edgy sporty look her signature style.
The no-nonsense singer back in the 90s was the epitome of woman power, strength and with a clarified mindset when it comes to fashion (of her own).
Straight long dark locks, sleek ponytails, short bob cuts at times, and 90s hairstyles on her that matched the elegant yet power packed look, was the forte of Mel C.
Mel B
Wonder why the media named her 'SCARY SPICE', she wasn't scary to look at, at all!
What we loved about the 90s womens hairstyles she sported was the long-dark hair, tight curls that fell over the nape of her neck and her shoulders, and highlights that brought about a glam touch to her ever so wild personality.
Boisterous as she was on screen, Mel B, was the reason why many PYTs with darker skin tones and curls, learnt the right way to flaunt their beauty!
Come back oh dear hearts, we need more of the 90s womens hairstyles and lessons to learn from you PYTs.