Sonam Kapoor is inarguably a global fashionista Bollywood has produced. From her designer ensembles to the flawless makeup, Anil Kapoor's baby girl has given us enough and more reasons to look up to her for style tips. The girl is always excited to experiment with styles and sets her own trends. If Tommy Hilfiger speaks of her as most stylish Indian celebrity, there is a solid reason for it. But it's not only the pricey clothes that bring variations to Sonam's looks. She has tried numerous patterns on her manes too.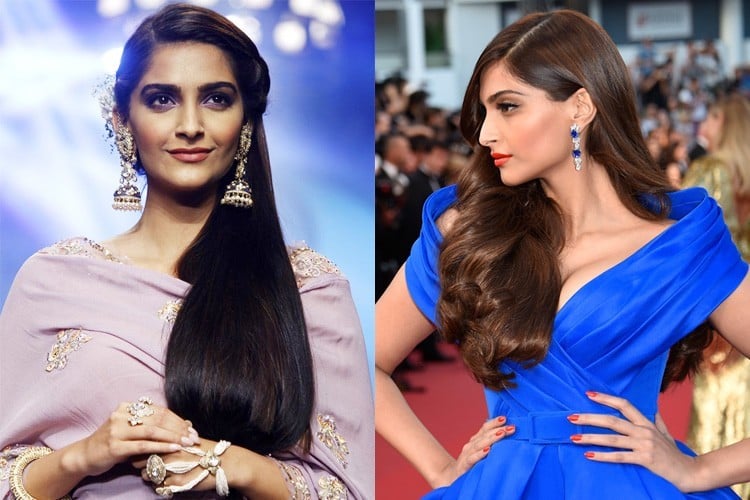 [Also Read: Anne Hathaway Hairstyles]
Sonam Kapoor Haircut Name:
Here are the best of Sonam Kapoor HairStyles and Sonam Kapoor haircut names which will leave you incited.
1. Love For Curls:
Curls are not only for mermaids. Curls are for human divas like Sonam Kapoor. Sonam has put the curling iron to work quite occasionally. The long silky locks are left down in curls or at times limited in a ponytail. And every time she has marveled us.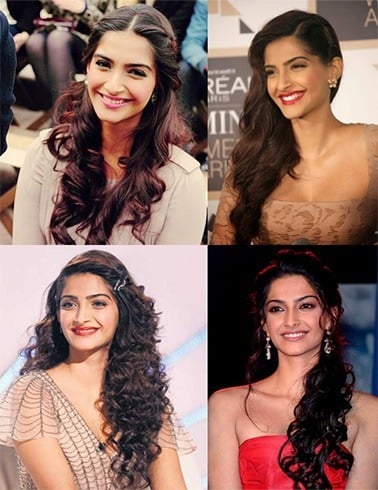 2. Faux Bob:
The "Neerja" actress slayed with her performance, and has risen above just a fashionista. But with her fan base it is impossible not to leave an impression in the style zone. Apparently the bob do that Sonam rocked throughout the movie is picking up among girls who worship the actress as their fashion Goddess. Many of them have already chopped off their hair into a bob to emulate the actress. After the success of Neerja, this is the new Sonam Kapoor hair cut popular in the parlors. But this wasn't the first time Sonam rocked this hair do. She was seen in a faux bob in the 2014 Cannes red carpet. Yes, Sonam Kapoor in short hair is as gorgeous as her is in long hair.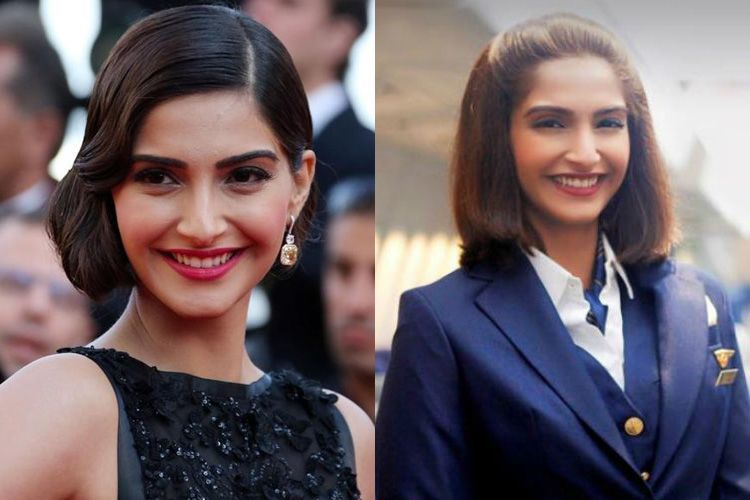 3. Straight And Gorgeous:
Straight hair is one of the top 5 hairstyle choices for many due to the ease and simplicity in maintenance. But honestly, it can look a little too plain if you fail to style it accurately. Apparently, our girl hasn't learnt to fail when it comes to looks. Sonam has worn her hair poker straight many a times and a star that she is, she has done it like a poker straight hair expert.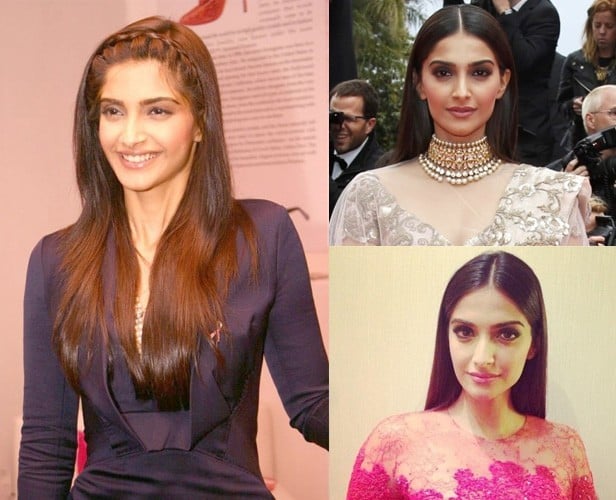 4. Hair Bun:
Sonam Kapoor's has a fetish for bun and we all are aware of it. But she have never forwent her innate style sense while limiting her hair into a bun. She every time she has chosen to walk in a bun, she made sure it wasn't worn by her before. All her buns are distinctively different from each other. Her hair stylist deserves a bow for coming up with new patterns to lock those locks, some times in a low bun and sometimes in a high., the hair bun is one of the chosen of all of Sonam Kapoor's Hair styles, that has escorted her to press conferences, red carpets and high profile photoshoots.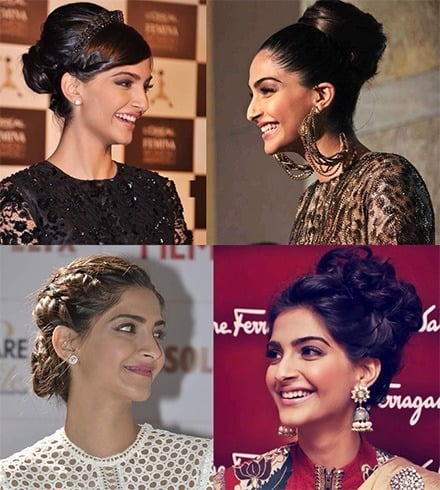 5. Pony Tails:
The Hair styles of Sonam Kapoor are not always the time consuming ones. She is a star, a celeb, an actress and it all boils down to the accepted fact that she has a super busy life. So there are scenarios when she is running out of time and might not be able to allow her stylist to work the magic on her hair. These are the times when she routes back to the quintessential pony tail. Not sure if she does it by herself or has a panel of professionals to tie her pony up, but our girl rocks it like no one else did.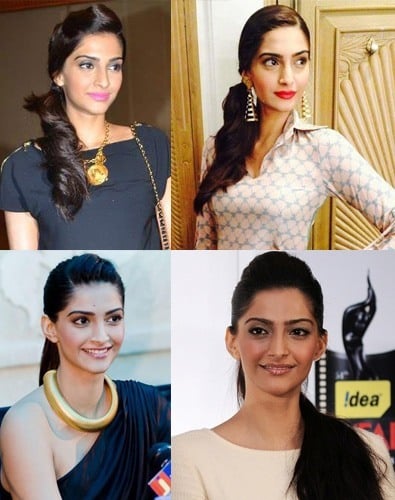 [sc:mediad]
6. Hair Bands:
Sonam's hair style involves not only twisting and turning the hair stands but the stunning actress has also been seen sporting a good amount of hair bands. Against accepted norm Sonam wears well matched head bands even with traditional attires and makes it a thing in trend. She dresses up a plain top with a sleek hair band and manages to look like a million bucks, and then she sets her foot in a jazzed up filmy event and rocks an embellished head gear with a bright red gown making all heads turn.
[Also Read: Headbands for Short Hair]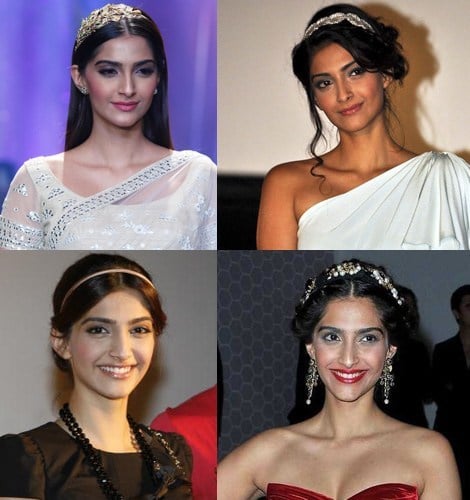 Sonam is naturally blessed with long hair and it is fun to see her trying out different hairstyles. One Sonam Kapoor hairstyle that we love is her braided hairstyle. It instantly transforms her personality and she comes across as a very fun and chilled out person. Take a look below at some of her braided hairstyles.
7. Fishtail Braid:
For a promotional event, she styled her hair into a fishtail braid. This hairstyle looked ideal for Sonam Kapoor's long hair.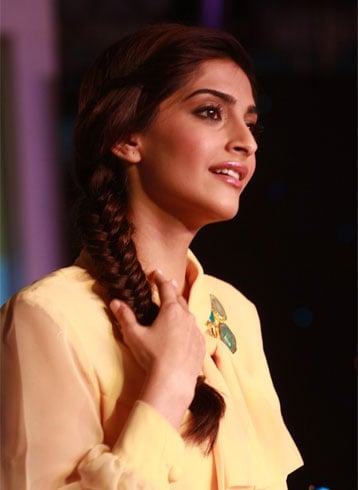 8. Side Messy Braid:
Another braided look that she tried out was the side messy braided look.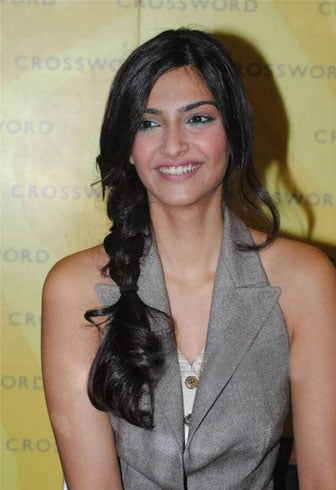 9. French Braid:
Here is a Sonam Kapoor hairstyle which we think looks the best on her. The French braid hairstyle looks super elegant and classy.
Braids and buns in themselves are great but when you style them together, you raise the oomph factor a notch up. Take some inspiration from the stylish Sonam Kapoor as she shows us how a braided bun can light up an outfit. A perfect hairstyle which compliments both your western as well as Indian outfits.
10. Updo:
Take a look at the below Sonam Kapoor hair updo which she sported for an event in Mumbai.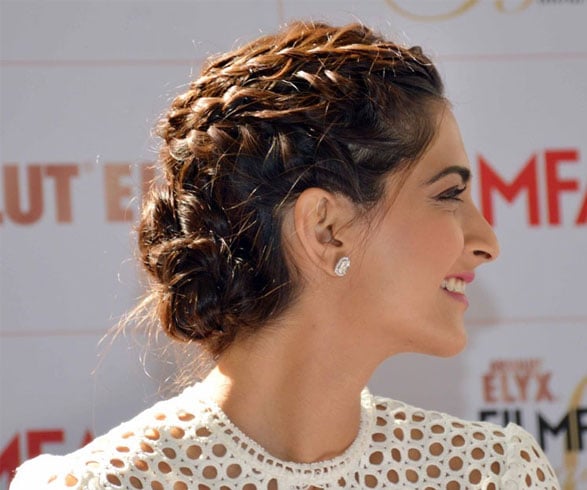 11. Curled Updo With Low Bun:
Everybody is familiar with Sonam Kapoor's fashion sense but just like her fashion sense, her hairstyles have also become a talking point. Check out this curled updo with low bun.
[sc:mediad]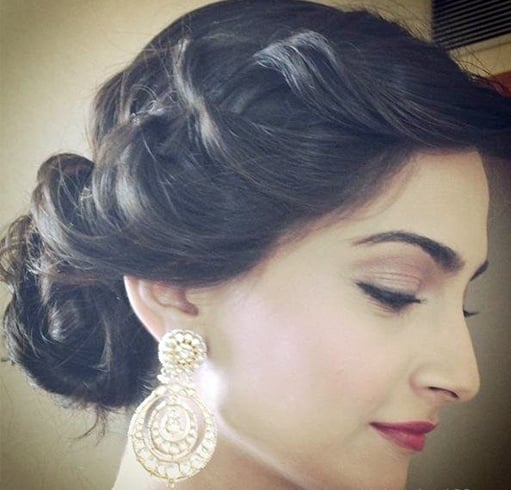 12. Bun:
Though the below Sonam Kapoor hair bun takes a lot of time, the end result is worth the wait. A perfect hairstyle for your next wedding look.
[Also Read: How to style long hair short]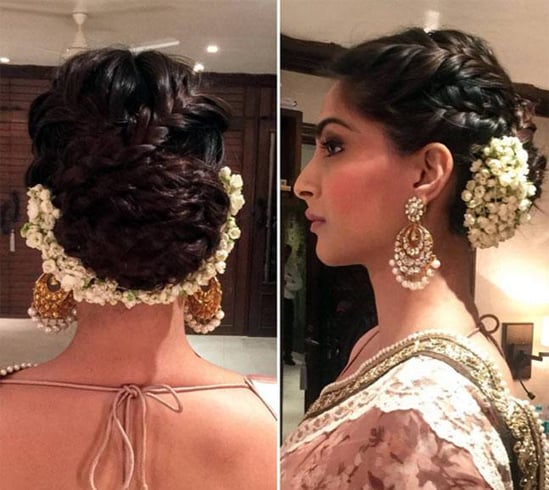 13. Braided Bun:
At the red carpet event for Filmfare, Sonam wowed everyone with her braided bun hairstyle.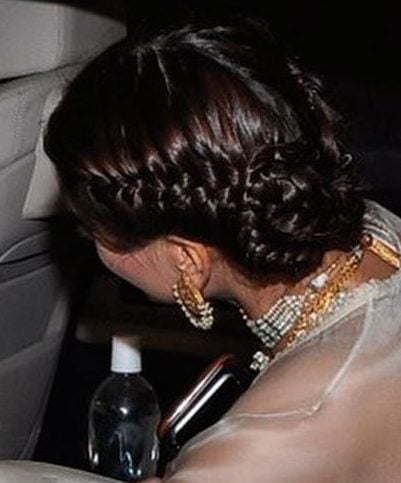 Being the brand ambassador of L'Oreal Paris, it is no wonder that Sonam Kapoor's hair color is always on point. Let's take a look at some of the hairstyles that she rocked in various movies.
14. Side Low Bun:
Sonam Kapoor Hairstyle In Aisha, We all loved seeing her grooving to the song Gal Mitti Mitti Bol and her side low bun hairstyle with gajra became an instant hit.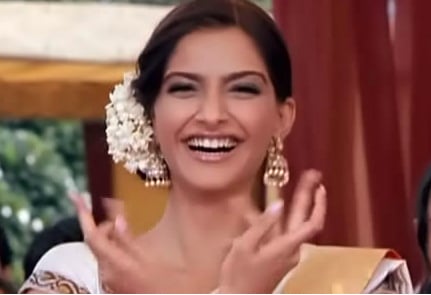 15. Middle Parting:
Go au naturale like Sonam Kapoor the next time you wear a lehenga by leaving your tresses open with a middle parting.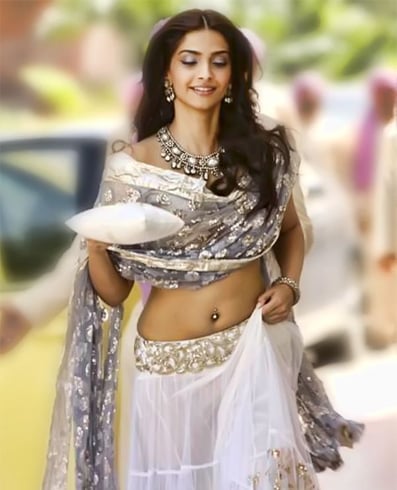 16. Ponytail With A Slight Twist:
Sonam Kapoor Hairstyle In Khoobsurat rocked a funky pontail during the promotions of Khoobsurat in Jalandhar. She jazzed up the simple ponytail with a slight twist.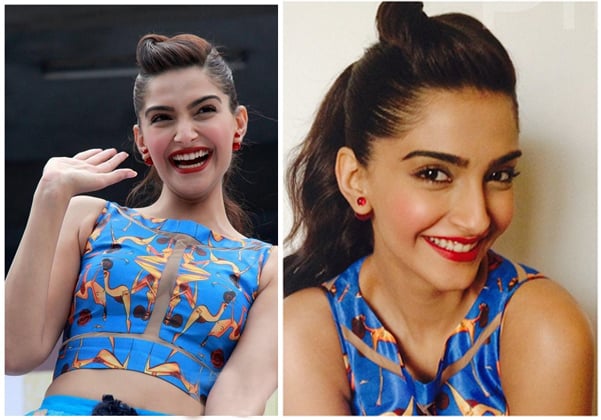 17. In Braids:
Sonam showed off her love for braided looks yet again at a promotional event in Ahmedabad.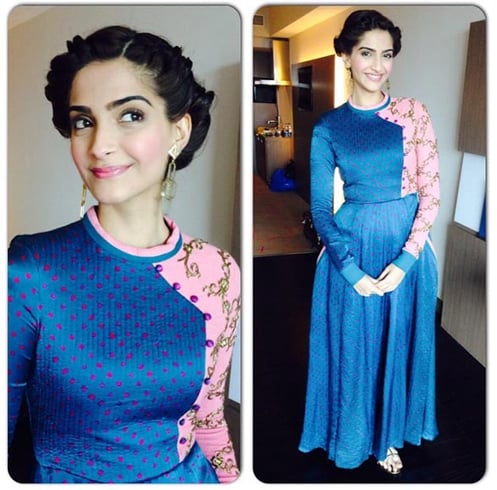 18. Waterfall Braided:
Sonam Kapoor Hairstyle In Dheere Dheere, The pairing of Sonam Kapoor and Hrithik Roshan for the song Dheere Dheere was definitely a surprise for us. But what was not surprising were her amazing hairstyles.
Sonam looked gorgeous in this waterfall braided hairstyle.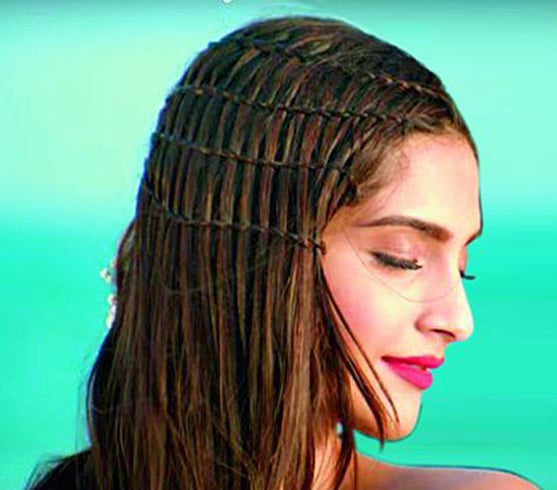 A lot of styles she has tried were something that only she had the nerve to brave with confidence. She has left her silk strands open and allowed them to breath, the very next moment she has twisted them into the most complicated of all the hair styles, but every time she has put a bet on her hair, she has won it like a champ. No surprise that L'Oréal picked her to endorse their hair color. Her fans are promised that Sonam Kapoor's Hair Color has no ammonia. Are you trying any of her ammonia free hair colors?
Images Source: pinterest.com