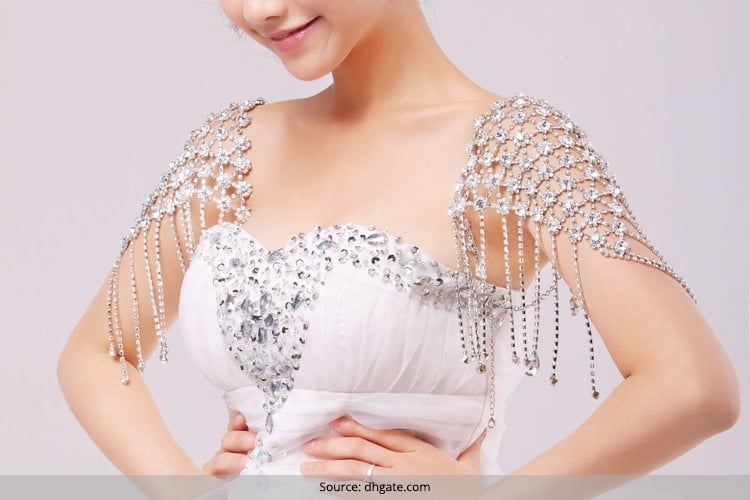 You can't get away by shrugging your shoulders. Not now. After all, you have to carry a lovely burden on your shoulders this time – of elegance, class and jaw-dropping shoulder jewelry.
Bridal gowns can look stunning than ever when there is jewelry for your shoulders to indulge in. In fact, the joy trebles when there are pearls and Swarovski crystals hanging beautifully from your narrow shoulder bone. Being feminine is so romantic and gorgeous, particularly when it comes to weddings!
The veil and train might look the same from one bride to another but what surprises the guests is when the bride wears a sparkly necklace over her shoulders.
Scroll down to find out how you can get some of the most seductive and sophisticated bridal looks with this unique concept of shoulder jewelry.
Let's look at bridal shoulder chain
The bridal shoulder necklace redefines the traditional necklace to amazing new heights. The versatile look it gives befits the modern day contemporary bride by adding a lustrous glittery touch to even a simple outfit.
[Also Read: Heart Shaped Jewelry Gifts On Valentine's Day]
Rhinestones and silver metal in wedding shoulder jewelry add that perfect glamour to any simple wedding gown.
Now take for instance this silver shoulder necklace that has rhinestone and crystal brooches. It makes a simple bride and her attire look so-very-elegant.
[Also Read: The Full Finger Fashion Rings]
As an accessory item, shoulder jewelry has been the emerging trend published in magazines. Even celebs such as Natalie Portman and Beyoncé in Lady Gaga's Telephone music video have been spotted wearing this hottest item.
The jewelry for your shoulders can be worn over peacoats, shirts, blazers and even on a strapless gown to give you that dramatic look.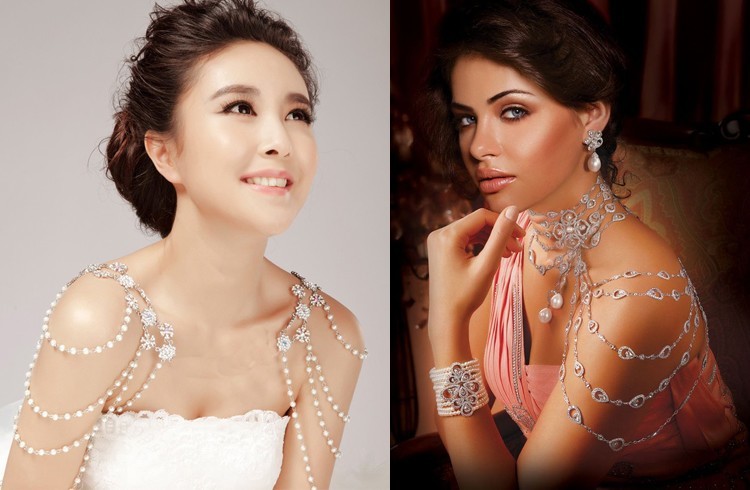 How To Make Shoulder Jewelry
It's a nice feeling doing things oneself, whether it is making a pie or the lovely shoulder jewelry. Only thing you need is an eye for detail and the hunger to satisfy your creative instincts (read jewelry instincts). So, let's attempt at knowing how to master the technique of bridal shoulder necklace and bridal shoulder chain.
Materials Needed:
White Glass Pearl Beads of 4mm
Glass Pearl Beads of 8 mm
Tiger Wire of 0.3 mm
Glass Drop Beads
Plastic Sticks
Needle Nose Plier
Jewelry Tools
Lighter
[Also Read: Knuckle Rings Are The Latest Trend]
Stepwise Instructions
1. Make a Pearl strand
In order to do that, you need to string about say 20 pieces of 4 mm white pearl beads on a tiger wire.
Now add an iron bead tip on one side of the tiger wire as shown in the picture. Once done, cut the left tiger wire and add another iron bead tip on the other side.
2. Hang a Pendant in the middle of the Pearl Strand
First string together a glass drop bead, one 4mm white pearl bead and one 8mm white pearl bead on an iron headpin.
After cutting the left headpin, make a loop using a needle nose plier. Then hang the finished pendant on the middle of the basic pearl strand. Repeat this process while making another pearl strand having white pearl beads of 4 mm.
[sc:mediad]
3. Hang the four pearl strands on the basic strand
In order to do that, follow the same pattern mentioned above i.e. string together a glass drop bead, 4mm and 8mm white pearl bead on an iron headpin.
Now cut the left headpin and make a loop. Hang the pendant in the middle of the pearl strand. Make yet another pearl strand that should have 20 pieces of 4mm white pearl beads.
4. Hang two brooches on the two sides of the basic strand
[Also Read: Thigh and Arm Chains]
5. This is how jewelry for your shoulders looks. Isn't it beautiful?
Now get on to the trip of making wedding shoulder jewelry in the comfort of your home in your free time. You would not only love the process of making it, but wearing it too.
Here's hoping you loved knowing about the jewelry for your shoulders.