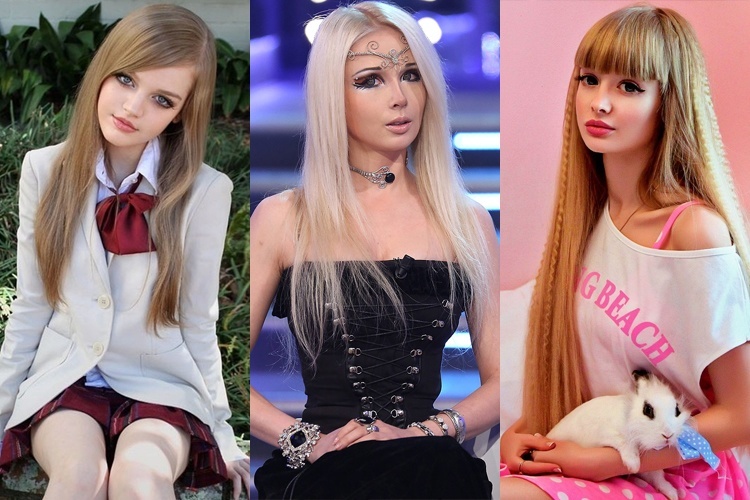 Playing with the dolls in childhood, has the thought of transforming yourself into a human Barbie doll ever crossed your mind? While most of us put the Barbie love way behind us as we enter adolescence, few girls step into their youth with the dream of becoming a doll themselves. Here are a few pictures of such human Barbies' who have taken the 'Barbie Love' into a whole new level.
LET'S GET STARTED WITH THE REAL LIFE BARBIE DOLL
1. Valeria Lukyanova
Ukrainian beauty, Valeria Valeryevna Lukyanova is a model and an entertainer, and she is much notable for her stark resemblance to the Barbie doll. Val certainly enjoys this comparison to the fullest. In fact, she does everything in her power to enhance this effect. Although she is born with natural green eyes, she uses loads of makeup to perfect her Barbie-ness. She admits to breast implants but claims the rest of her slender body is a result of strict diet and work out regime. Here is an image of the human Barbie doll for your eyes.
2. Alina Kovalevskaya
22 year old Alina Kovalevskaya claims that she has never had any surgery and her looks are unambiguously natural. With long blonde hair and wide eyed make up, she just wears the contact lenses to alter herself into the Barbie model. To complete the look, she dresses up in vibrant costumes, and styles her golden locks as per the looks demand. The obsession of being a real life Barbie doll seems to be too much in Ukraine and this living version of the doll comes from the country as well.
[Also Read: Perfecting The Makeup Like A Barbie Doll]
3. Lolita Richi
The youngest of all human Barbie dolls in the world known so far, Lolita is the youngest. She is just 17 years of age, and has already earned quite a bit of fame for herself as the go-to Barbie look alike. With wide doe-eyes, a tiny waist of 20 inches and 32 F size bra, she completes the look of Barbie with a few strong strokes of the make-up brush. To fail both the Human Barbies above, Lolita maintains that she hasn't been under the knife ever nor does she resort to dieting or Photoshop. Guess what? She is from Ukraine too! What is with the Ukrainian women and the obsession with the Barbie.
4. Angelica Kenova
26 years old Angelica Kenova hails from Moscow, Russia. She lives with her hyper-controlling parents who have never allowed to have a boyfriend. What's more, every piece of her clothing is picked by her parents. Looks like this doll is not that happy with her stature. She resents that since birth her parents have dressed her like a doll and it still continues. Angelica also assumes that she is unfit for real life as she has never had a normal life for herself.
[Also Read: World's Most Expensive Barbie Doll]
5. Dakota Koti
Dakota is a Japanese Barbie Doll, if I can put it that way. With her light brown hair, bright colored eyes, and pale skin, she has every physical attribute that Asian girls strive for. Second comes her appearance like the famous Barbie doll that has gotten some healthy amount of fame in her country and the cyber world. Dakota has graced many TV shows in her country and has been interviewed multiple times. The real and photo shopped pictures of this Japanese beauty are a little different though, in a whole she is quite a beauty to look at.
[sc:mediad]
6. Venus Angelic
Venus Isabelle Palermo is a Swiss born YouTube personality, celebrated mainly because of her Barbie-esque looks. She credits her fame to a vid that she uploaded called "How to Look Like a Doll" that amassed more than 12,000,000 views. This led to her meteoric fame and bagged her several international interviews. Her videos on YouTube have over 150 million views. She now lives in Netherlands and is homeschooled. Check her out in the Barbie Avatar.
[Also Read: The Russian Muscle Barbie]
Not sure if this is at all a healthy way of living. Most of us girls are motivated to look beautiful, but living as a doll for the entire life is taking the obsession to a whole new level. Would you want to take your penchant for makeup and fashion to these extremes or take a chance in transforming yourself into a human Barbie doll?