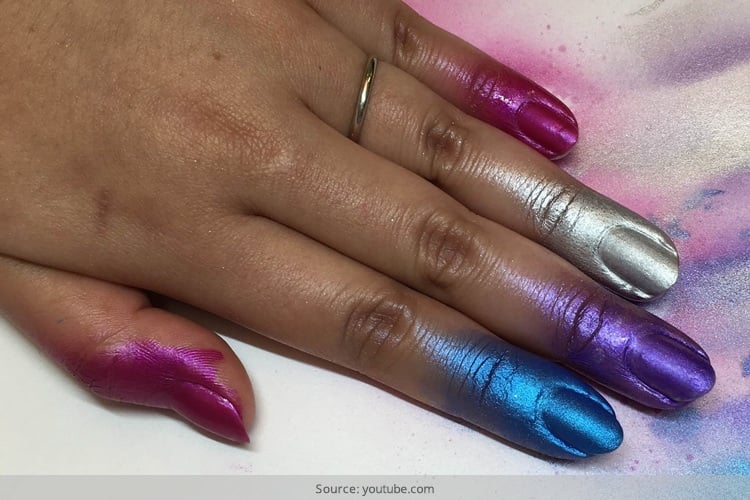 Are you longing for an easy to apply nail polish? Do you have a shaky unsteady hand while handling a nail polish brush? Don't worry, we have a solution just for you. The Metallic spray nail paint can be your savior. It can help you achieve perfectly polished nails in a jiffy.
[Also Read: Spoil Yourself Well With Nail Art Trends 2016]
Though, the idea may sound messy and complicated, the spray nail paints allow you to apply nail polish evenly and effectively. You don't even need to have a steady hand while applying it. What more would you want to ask for?
Steps To Get Started
Initially apply a base coat, which is compatible with your metallic nail polish using a traditional nail paint brush. Allow it to dry, before spraying a coat of Metallic Spray Polish. Next, spray generous amount of polishing spray on your nails. Keep Calm and allow it to dry. Layer it up with some durable top coat. Wash off the excess paint with water and soap (if required). Voila, you will have ready-to-go nails.
Must Follow Metallic Spray Polish Trends
Do you think having a single color on nails is too mainstream? Do you wish to experiment and come up with your own legendary design? If yes, below are a few techniques that you must try.
[Also Read: Spray On Nail Polish]
1. Battle Of Shades
Try spraying two different colored spray polish cans one after the other or on top of each other or in any way that you may like. You might want to pick up a piece of cardboard to shield the former from the latter shade.
Tip: Try infusing shades of silver and bronze to achieve a royal sparkling look or a shade of neon pink and shimmery silver for a funkier look.
2. Cutout Nail Art
Remember the art and craft classes you attended in school? Or the tiny glittery star and fish cut outs wrapped around your favorite cup? Yes, it is time to put on your crafty cap. For best results, cut out a few tiny stars, diamonds or any other patterns that you may like out of a self-adhesive sheet (or cello tape) and paste it on top of the base coat. Spray the nail color, allow it to dry. Next, peel off the cut outs and smoothen out with a top coat. There you have your very own nail art at home.
3. Etched Nail Art
Are you in for making something more elegant and intricate? If yes, try the etched nail art technique. First apply a base coat. Next spray a basic shade of metallic nail polish over your nails, allow it to dry. Follow it up with a slightly darker nail polish. Later, take a toothpick, needle (or any pointed object) to scrape out your very own piece of marvel. Put on a top coat, take off the excessive paint and boom, you'd be wearing your very own piece of art.
[sc:mediad]
4. Nail Art With Add-ons
If you have a few tiny beads, threads or add-ons ready, try this nail art technique. Use spray nail paint as a flawless base to add grace to your nail embellishments. Just stick the shiny add-ons using nail glue and apply a top coat.
Tip: Don't have nail glue? Fret not; we have a cheat code to offer. You may use a clear nail-polish to glue the embellishments to your nails.
5. Splatter Nail Art
For a splatter nail art, apply a generous base coat over your cuticles. Next, spray on tiny beads of metallic spray polish over your nails. Follow it up with other colors. BAM! You have your very own splatter painted nails ready.
Tip: Allow each coat of nail paint to dry before spraying on another; this would prevent them from smudging into one another.
Simple Guidelines To Remember
Remember to cover your surroundings with newspaper or any piece of cloth because you would not want to smear your favorite nail paint all over your laptop, dresser, carpet or even desk.
Hold the spray cans about 6 inches away from the nails to get a smooth and effortless coat of nail polish. Try to apply even pressure on the nozzle to avoid getting an uneven tone.
Apply the top coat as soon as possible and wash the metallic spray paint polish off at the earliest. This would not allow the mist-on polish to harden on your skin.
Keep calm and allow the coats of nail polish to dry off before applying another one on top of it.
Be gentle with your nails. Avoid scrubbing off the residual polish forcibly as aggressive rubbing may spoil the final finish of the nail polish.
Don't be afraid to play with colors.
Spray nail paints might sound intimidating at first, but once you try it, nothing seems more convenient!