Ostrich an exotic, stylish, and comfortable leather is commonly associated with the rich. With this type of cowboy boots, you have a shoe that is soft, durable, and trendy. According to its lovers, ostrich cowboy boots can fit perfectly and flexes with the foot just like socks.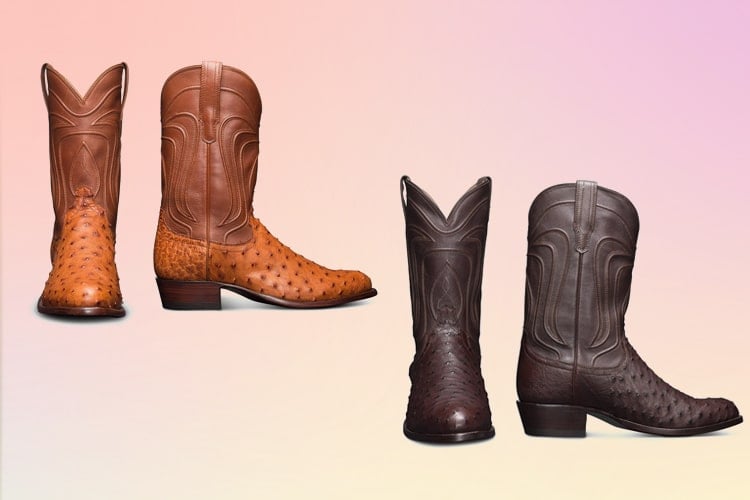 Most ostrich boots have been limited to feature timid colors schemes. Plus, most people reserved them for special occasions which is why they are considered to be the best for your money. The best part; they come in an array of colors and can be worn by virtually everybody. From back to brown ostrich leather cowboy boots will lift your style and make you feel classy. The good thing is that they are becoming affordable thanks to the competition on the market today.
Do you want to go exotic every day? Well, don't worry. You can do it with ostrich leather boots. You don't have to lock them up for that once-a-year occasion. With simple tips, you can go exotic with ostrich leather shoes and still have them serve you for years to come. Ready to swim into the ostrich leather cowboy boot care ocean? Well, below are simple tips on how to care about your boots especially when it comes to cleaning them properly.
Ostrich Boot Care:
Don't leave any loose dirt on the boots. Remove it. Use a clean cloth to your ostrich boots. Alternatively, you can use a soft brush to remove any dirt. Use a lanolin leather conditioner to clean your boots thoroughly. Then apply a coast of crème on them (ensure it's a thin coating). The next step involves buffing or rubbing them using a soft cloth. Do this till you obtain a luster. If you want them to shine brightly, get a paste polish and apply it on the dark colors. Then buff your boots to get a luster.
Types of Ostrich Boots:
There are 3 major types of ostrich boots. They include:
Full Quill:
The full Quill features distinct bumps alongside pores. These ostrich cowboy boots look like a plucked bird. These boots also feature a thick skin and an ostrich in the foot.
Smooth Ostrich:
The smooth Ostrich comes with very small, flat quills. Just like the Full Quill, the boot has the same bird. However, it's the cut that differentiates it from the Full Quill. So, if you are a fan of texture as well as breathability that is commonly found in an ostrich skin( but you don't want the bumps) then you have a solution in the Smooth Ostrich.
Cleansing:
Don't wet your ostrich leather boots. Ensure to clean it using a damp cloth and not a wet one. Clean if carefully ensuring that you remove all superficial dirt on the leather. Remember, you are handling an expensive boot. So, be careful.
Restoration:
Wearing your boots frequently can make them lose color and brightness. However, you can still handle them with care and let them shine for years. Remember, all boots are handmade as well as hand-painted. So, they can wear and lose color or brightness. If your boots lose color, they can be restored. Of course, you can do it by yourself. But it's advisable to take them to a specialist. An expert knows the best restorative creams to use and breathe fresh life into your boots.
Here is how to go about it
Take a small amount of cream. Spread it on the sponge
Don't apply it on the boot before removing the excess cream. This can be done by rubbing it on a wood or cardboard.
After removing the excess restorative cream, proceed by rubbing the sponge (albeit using circular movements).
Do this until you notice a color change.
Put your boots in the air and allow them to dry.
The next step involves polishing the boots using either a clean brush/ soft cloth.
Warning:
Don't use detergents and chemicals when cleaning your leather boots it can make them crack or stain. Don't apply a conditioner on your leather ostrich boots without testing it on a small area. Also, get a detergent that doesn't fade, damage, or bleed your boots' dye.
Don't direct your boot to heat sources. Remember, heat tends to make them dry faster and can lead to excessive discoloration. Be sure to store your boots under a shade and not directly to the sunlight.
Conditioning:
Want your ostrich leather shoes to shine for years? Well, it's not all about cleaning them. It also involves conditioning them. With proper conditioning, your boots will shine and last for long. Ensure the conditioner doesn't decolor your boots. Also, get a genuine conditioner from a reputable supplier. Ensure you style the conditioner evenly through the boots. Don't forget to let them completely dry.
After absorbing the conditioner which usually takes about 15 minutes use a clean cloth to buff it off.
Things You Need:
Here are a few things you should have:
You will need clean water. You will also need to have lint-free based textured microfiber cloths. Also, get an ostrich leather boots approved conditioner. Buy one from a reputable supplier. Plus, you can alternatively get an approved shoe cream and talcum powder.
Tip:
Don't leave a spill on your boots. Wipe it as soon as possible. The strain area should be blotted using a damp piece of cloth. For an oil stain, get a talcum powder. Spray it on the stained area. Wait until the oil is absorbed preferably for 30 minutes. Use a soft, microfiber cloth to brush the talcum off the boots.
The Bottom-Line:
Are you a fan of Ostriches? Then extend your love to Ostrich leather cowboy boots. Usually exported from South Africa, Ostriches are beautiful animals and their skins are finding their way into Ostrich leather shoes. It's also important to note that, just like any other boots, Ostrich leather shoes must be maintained properly to last longer. The above tips are all you need when it comes to the maintenance and cleaning your ostrich leather cowboy boots.