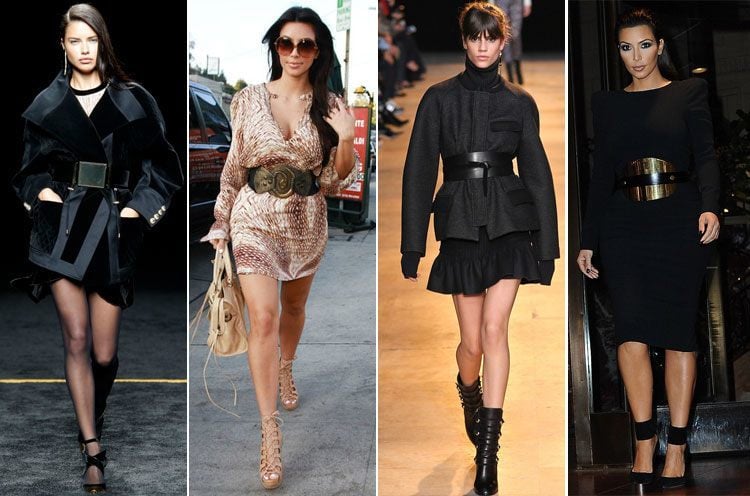 Of late, a lot of celebs have been rocking the oversized belt look. With the Paris fashion week, the belts were also aplenty on the runway. Thankfully enough, this is one of the trends that even we, the mortal humans, can wear.
Prepping up for fall is one of the major takeaways from this Paris Fashion Week. Small and tiny belts have almost disappeared and you can see everyone rocking the oversized belts like a pro! Let's see which of the designers have brought this over to the runway:
Balmain
The belts in this show teetered towards the sporty side and were all over the place in bright colours. Mostly teamed with bright jumpsuits, the belts did not disappoint us at all!
Rochas
This fashion house took cues from Dior's show in 1947 and introduced big belts which some retro flare. All types of cocktails dresses were paired with the belts.
Isabel Marant
Now this was something new. We saw Isabel Marant pairing oversized belts with something like onesies! A bold decision which nevertheless fared well with the audience!
Now that we have seen designers using them in plenty at the runway, let's see who been spotted wearing these belts in tinsel town.
1. Anna Kendrick
Anna was seen wearing an oversized belt with a shirt dress
Pro Tip: An oversized belt with laidback attire like a shirt dress makes it a little formal. So if you are running late for a party, you can very wear team your shirt dress with one of these belts and pair them with kitten heels. You would look just like you actually dressed up!
2. Queen Letizia of Spain
She is the queen of Spain and the queen of sass. She always has her game face on and best foot forward when it comes to fashion and style. She was recently seen sporting the oversized belt trend.
3. Jessica Biel
Her dress game is always on point! Ms. Biel never fails to disappoint. Even when she is doing her daily chores, she would be impeccable. Spotted on the streets with a casual dress and oversized belt.
[sc:mediad]
4. Diane Kruger
Diane Kruger has all her dresses sorted out. Even when she is cold, she would be pairing up some really nice dresses with oversized belts like a total pro. Seen here in a flannel dress, the oversized belt is just perfect for her look.
Pro Tip: Wearing a belt for a little boring piece can actually perk up your entire look. Make sure you don't go overboard with the style though!
5. Kim Kardashian
The queen of reality is a fashionista. Ever since her wedding took place with Kanye, she has given her wardrobe quite the boost. Kanye is very particular about what his wife wears and needless to say, Kim has put several trending outfits on our radar. So, whether it's her pink latex dress or her oversized belts, you can always take a cue from her to get all the fashion right.
Oversized belts that you can buy:
Here are some trendy pieces that you can splurge on. Make sure you buy them from a good quality store because this is something that you need to spend some money on. There is a lot when it comes to rocking a good belt. And you wouldn't want it falling off now, would you?
Acne Studios Woven Belt: For a little futuristic vibe
Emilio Pucci: When you are feeling a little hipster
So, what do you think, can you rock this trend?
Hope you enjoyed this post on oversized belts.