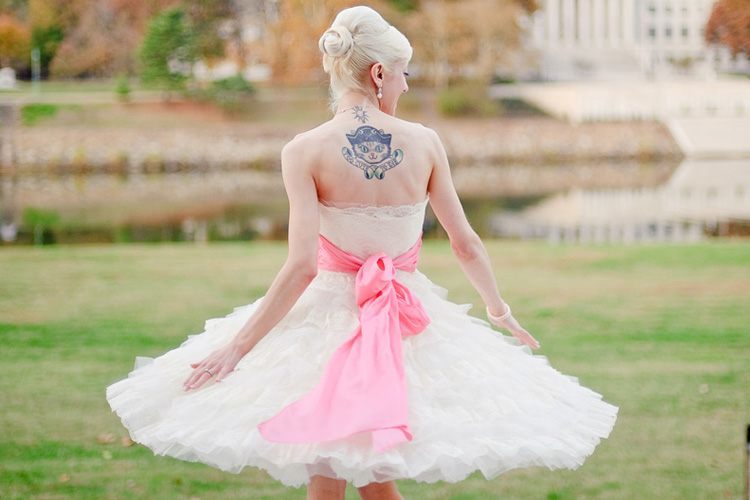 Do traditional weddings make you cringe instead of giving you a warm blush? Well, while most weddings are traditional, off beat, quirky, kitsch, unusual, fusion are the buzzwords this season for most brides. The want for bizarre, unusual, zingy, liberated, colourful, hippy happy, opulent, chic, avant garde and contemporary creations, to match the bride-to-be's fearless and fierce soul is in trend. And of course, the idea is to break the monotony! The new-age bride no longer wants to pick something from the standard designer's portfolio that is completely passé or history, rather she wants to be a fabulously different bride.
Taking inspiration from Hollywood celebrities and Bollywood divas who have gone the whole hog to opt the different route, you can also try out and add the quirk factor in your wedding.
Fashion trends are constantly changing, so the silhouettes, hues, prints, are primarily taking on different moulds. Here are some simple ways to become a quirk queen on your big day. Here's how!
Ways to add the unusual quirk quotient to your look:
1. Opt for coloured wedding shoes, choose from red, blue, neon, fuchsia which will look fabulous peeping out from below the traditional wedding attire. Go completely colour-blocked or wear ankle length boots if you dare!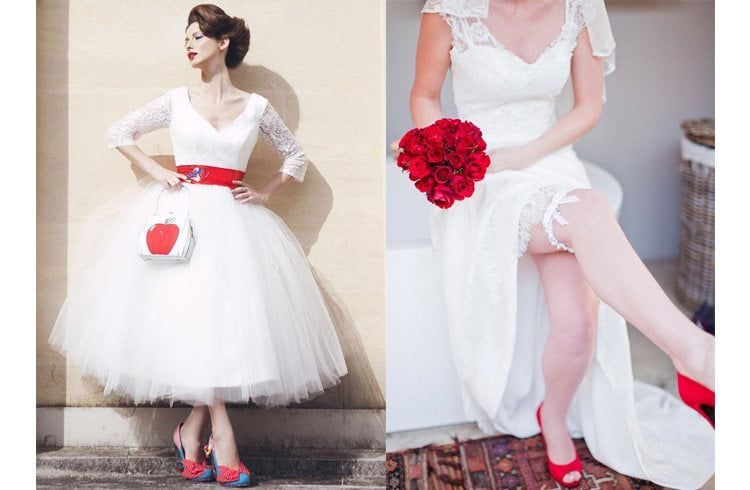 2. Opt for jackets with culottes, box cut blouses, colourful high waisted bottoms, knee breaches in fun shades, the jumpsuit gown or jodhpur pants. The wedding blouse can be teamed with monochrome or kitch prints, neon waist-coat or the long jacket style top can be paired over pants or flowy skirt.
3. You can match your bridesmaids' bouquets to their dress colours!
4. Give those safe colours a miss and opt for bold colours like neon blues, mint green, neon greens, pomegranate red, purple, orange, shocking pink, all bright pops of colour for the free spirited brides. Make way for polka dots, digital, retro, psychedelic prints.
5. You can add loud collars, accessories, head gears and hats.
Making jewellery in convertibles like a necklace can be separated and used as a choker, as a bracelet, a pendant, and as a necklace. Similarly a cuff can be used as a tiara also. Different parts of danglers can be dismantled and used on different occasions. You can get kitchy jewellery pieces like octopus earrings, scorpion, tree, axe, Chinese dragon character, hummingbird, Egyptian king, gold fish, etc in real gold, semi-precious setting or diamonds to suit the occasion. Adding a mang tikka or statement worthy vintage piece with a half sari or gown.
6. A neon or pop coloured clutch bag or purse and funky accessories will be a welcome addition to the look. Pairing up bright jewellery or a perfectly mismatched outfit can add that dash of missing quirk to a bride's wardrobe.
7. Colour your hair into shades of burgundy, blue, green and the works to get the quirky look in place. Dramatic eye makeup and coloured mascaras or bright nails can add to the look. Or simply get the crop, pixie look as a new bridal hairstyle!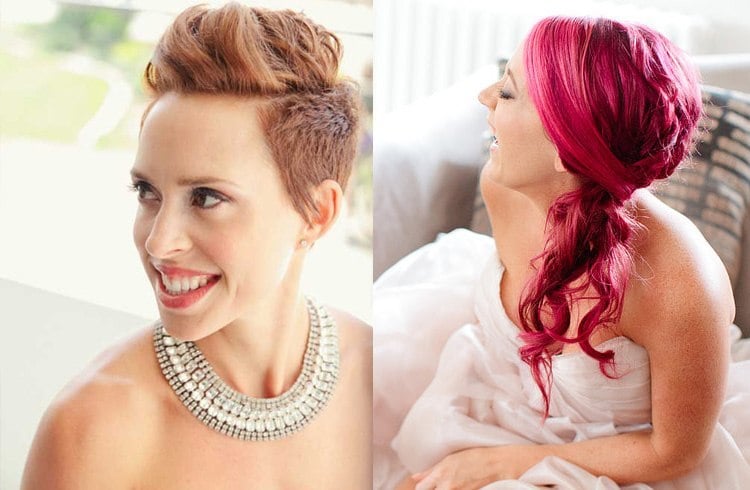 8. Add a coloured tattoo and make sure the gown or wedding dress shows off the ink in style.
[sc:mediad]
Colour Codes:
Light or pale skin: Darker neon's like hot pink and dark purple work best
Medium skin: Bright coral, orange or yellow
Olive skin: Electric red/orange, lavender and turquoise
Dark skin: Fuchsia, purple and neon blue.
Nikhil Thampi, famous fashion designer says,

Happy Quirking!