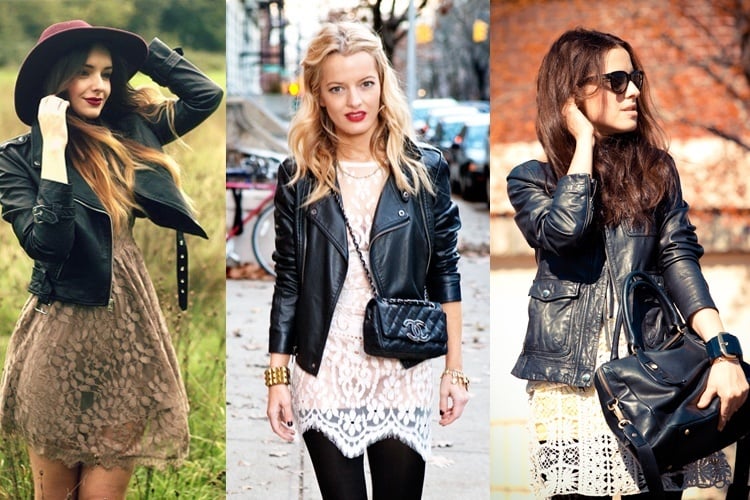 Just like how night and day, summer and winter, black and white are all considered to be opposites of each other so are leather and lace. Think of leather and the words it conjures up are tough, strong, long lasting; think of lace and you will associate it with words such as delicate, fragile, and pretty. With leather and lace being the polar opposites of one other, can we combine them to create some interesting ensembles? Well, hey, you know how they say ''Opposites attract''? It's never been more true than when it comes to leather and lace. As seemingly unusual a combination as they are, when leather and lace come together, it is plain magic. Don't trust us? Well maybe the pictures below can convince you.
Lace Dress with Leather Boots
If you've got a lace dress then this is a combination you just have to try. Pair your delicate lace dress with a pair of sexy leather boots. The combination does wonders as the lace and leather help to give your look a very sweet and sexy vibe. They complement each other, with the leather setting off the delicate lace and the lace in contrast making the leather look even more tough and sexy.
Lace Top with Leather Pants
We really don't need to convince you that this is a great combination. Just take a look at the picture and you'll know why we're in love with this look. It is OTT sexy and so hot that you'll be guaranteed to be in the spotlight with this look. Just make sure your leather pants fit you well. There is nothing worse than loose leather pants, ugh just no.
Lace Top with Leather Jacket
Step out of the safe zone and pair your girly lace top with a biker chick leather jacket. This look is rebellious and so out there that you will have people staring at you and your fashion statement. Sure you could pair your delicate lace top with an equally delicate and flimsy shrug or scarf, but really, where's the fun in that?
Leather Jacket with Frilly Skirt
This is the ultimate rock chick look. Pair your leather jacket with a poofy tulle skirt for a look that is so cool that you will for sure be a source of inspiration for your friends. This look is just so fun and laidback and is perfect for when you want to let your hair down and paaarty!
[sc:mediad]
Leather and Lace Dress
Of course the easiest way to wear the leather and lace combination is to wear a dress that incorporates and combines both the fabrics. Hollywood celebrities have been sporting dresses made of leather and lace. All we can say is that this look is definitely not for the faint hearted. If you have what it takes to carry off such a dress, with lots of attitude and style, then go on ahead and show the world just how to work it.
The leather and lace trends have ensured that there are more ways in which you can now wear leather pieces without it looking too OTT. It is all about experimenting and combining fabrics that at first glance look like they will not go well together. But fashion has always been unpredictable and has the potential to shock and take people by surprise. So embrace this quirky trend by stop playing it safe and taking a walk on the wild side with the leather and lace combination!