Want to wear your Mehndi in the royal manner of those yesteryear queens of the Mughal empire? How do their Mehndi designs differ from other Mehndi designs? Well, we are here to provide you the ultimate guide that you need in order to know everything that there is about Mughlai Mehndi designs.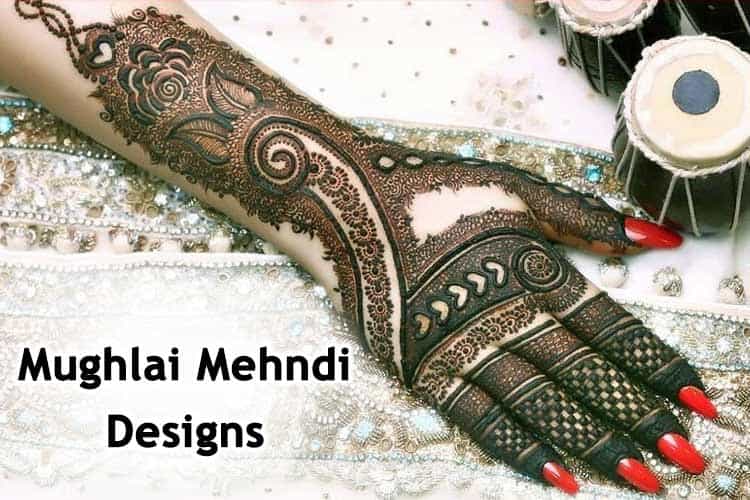 The demand for Mughlai Mehndi designs has seen a leap in number over the past couple of years, although they have been worn by women across the Indian subcontinent and middle east for centuries now. But as the beauty industry has slowly started recognising Mehndi as an integral form of body art, it is now shaping itself up as a whole other genre to study and research upon.
Origin of Mughlai Mehndi Designs:
When one thinks of the word 'Mughlai', probably some of the first things that usually comes to everyone's mind are the Mughal dynasty, the Mughal emperors, the Mughal architecture or the Mughlai cuisine. But, there is also another thing that the Mughals have passed over the centuries – the regal Mughlai Mehndi designs – that have been embraced by millions of women in countless traditional and auspicious occasions.
Be it the weddings or engagements or any other traditional occasions, Mehndi has seen itself being woven as an integral part of the Indian, Arabic and Pakistani cultures.  Steadily, it is also spreading its wings towards the west with much propitious success.
Apart from being an exquisite body art form, they also bring in good luck and favourable well-being for the occasion. So, without further ado, let us check some of the most sought-after Mughlai Mehndi designs that there is.
List of Mughlai Mehndi Designs:
The Mughlai Mehndi have an eclectic range of designs, which makes them unique from each other, while still being woven under a similar pattern of thoughts. Just like their jewellery and clothing, their Mehndi designs also resembles intricate and delicate patterns and is marked by attention to detail. The motifs used in them are some of the finest that you will ever lay your eyes on.
Here are some of the Moghlai Mehndi designs for you to try on.
1. The Mesmerizing Emirates:
These Mehndi designs resemble the architectural style that the Mughals used on their palaces and emirates. Having the motifs of tomb and shrines, they never fail to evoke the royal feeling when worn on prosperous occasions.
2. The Fascinating Floral:
As the name suggests, this type of design is marked by a prominent role of flowers, leaves and their adjacent stems. It is one of the most popular Indo Mughlai Mehndi designs of all time. From flowing lily petals to rosebuds, it is
inspired by some of the favourite flowers of their Mughal era.
3. The Mighty Peacock:
Since peacock in themselves signify royalty, they were an absolute favourite of the Mughals during their reign in the Indian subcontinent. Naturally, they have largely influenced a number of their Mehndi designs. From their long neck to their elegant heads to their majestic feathers, almost every feature of their beautiful body is replicated in these designs.
4. The Intricate Patterned:
Patterns also play a pivotal role in Mughal Mehndi designs. A recurring pattern drawn on the back and frontal portion of the hand is the most common example here. Within the same side, a repetition of one or several patterns is another trait of these designs.
5. The Gorgeously Webbed:
Inspired by the intricacies of a spider's web, this style of the Moghlai Mehndi design resembles a criss-cross pattern clubbed with dots, floral or other geometrical patterns. Although simple in appearance, they do involve a considerable amount of time to design.
6. The Enthralling Abstract:
The Mughlai artform was also heavily influenced by abstract thoughts and shapes, which is the base of this particular style of design. Be it in positioning or shapes, abstract designs are very frequently used in Mughlai Mehndi designs.
7. The Shades of Colour:
If you are into vibrancy and want to experiment with colours while incorporating a Mughal Mehndi design, then there a bunch of colours that you can work with. A combo of blue and green always works magically since they symbolise a peacock, which was one of the striking motifs of Mughal dynasty. Besides, crimson red, sunshine orange, bright yellow, among other, also look great with Mehndi.
8. The Glamorous Glitter:
For those of you who want to add a dash of bling to their regular Mughal Mehndi, this style of design is just for you. Using glitters and the usual henna or exclusively only glitter, you can draw and flaunt your Mughlai Mehndi design with the panache it deserves.
9. The Fancy Feet:
Mughlai Mehndi isn't just restricted to the palm of your hands. They also have amazing works styled exclusively for feet. From floral to abstract, from peacock to colour, all the designs mentioned above can be worked on feet to create a contrast between your hands and legs.
[sc:mediad]
10. The Exquisite Full Hands:
The Mughlai Mehndi designs can be stylised on the entire hands, which means, it can cover the palms as well as the wrists ending usually at the elbow. Just like we have mentioned in the above point, you can apply any style of design of the Mughal genre on your wrist. Just make sure that it compliments the design on the palm of your hands.
Mughlai Mehndi designs have a grandeur in them which is hardly matched by any other school or genre of Mehndi designing. Therefore, its demand is increasing day by day and millions of women and even men are opting for it. We hope our eclectic list of designs has helped you in having a better idea of what Mughlai Mehndi is based upon.
Before trying on these Mehndi designs, make sure you are not allergic to Heena in order to avoid skin burns or rashes. Also, try and use natural and fresh Heena products instead of the packaged one, since the richness of your Mehndi would depend on it. Don't forget to write to us to let us know which of these designs you found to be most interesting and which you can't wait to try. We woud love to hear back from you.