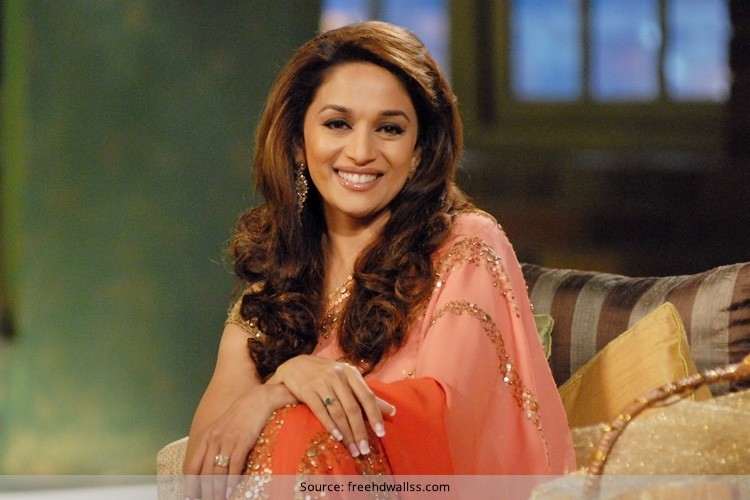 From dancing and gyrating to popular numbers, Ek Do Teen in Tezaab to being the seductive chanteuse and courtesan in Devdas, belting out heart wrenching scenes to making fashion statements and informing PYTs ever since the 90s about being comfortable in their body shapes and skin tones, Madhuri Dixit fashion has come a long way.
[Also Read: Madhuri Dixit Magazine Cover]
That gorgeous smile, the swan's grace and etiquette, the ubiquities in beauty she flaunts, and keeping it au naturale as always, launching her new label MADZ that caters to women and girls with real bodies and personalities, Madhuri Dixit Nene has once again wowed us all.
Madhuri Dixit Hairstyle, Fashion And Makeup
Here are ten times that showed us how darling Madhuri has stirred up fashion statements and broken all norms and stereotypes in chic Madhuri Dixit hairstyle, fashion and makeup which is why she now has made a name as a diva in our hearts and souls for herself.
1. The Marathi Mulgi In Sailaab Made Us Swoon
Sailaab was a movie which caught our eyes for one particular song- Humko Aajkal Hai Intezaar, where Madhuri was seen and styled as a Marathi mulgi gyrating to the tribal beats of the fisherman waiting for her lover. A vintage frilled styled cropped golden blouse and dark bottle green silk saree, draped over the actress with a chunky neckpiece made us go wow in the 90s.
2. Remember The Choli In Choli Ke Peeche
Orange and vibrant, embellished heavily and with a quirky naughty touch to it, Madhuri Dixit back then made waves in the controversial number of the 90s end. Choli ke peeche showed us the many styles in which one could wear a lehenga choli, short cropped to long and flowy, but the color scheme and the accessories so Rajasthani and tribal with it, kept us more hooked than anything else to the diva's fashionable ways.
3. Pyts Burnt Green In Envy When Anjaam Was Released
The movie Anjaam saw King Khan play a negative role opposite a femdom powered movie, the protagonist being Madhuri Dixit. Whilst the belle beauty back then shook her hips and legs to the song 'Atra baras ke kuwari khadi thi', one couldn't help but notice the green lehenga choli worn by the diva in the music video. Complete with the kundan set and dangling earrings, maangtikka and colorful glass bangles, Madhuri once again showed us how to dress for ethnic festivities and shaadis.
4. Beta And The Copper Sari
A very sensual number portrayed well and with elegance, Madhuri Dixit stunned us not only with her moves and thrusts, but by wearing her billowing hair gracefully falling across the burnt copper sari, made eyeballs literally pop out. Silk and plain was the saree, but the choli was a fashion statement in karigari and embellishments.
5. Saajan Loves Pinks
We simply went aww with Madhuri Dixit fashion statement made in pink, a colour worn much by her and which suits her olive to fair skin tone too. a chunky hair accessory in the lace pink evening gown worn by the diva strummed a few heart beats for sure, but also made the lady look elegant and haute.
[Also Read: Reason Why We Love Madhuri Dixit]
6. Hum Aapke Hai Kaun In Purples
'Ahaa', the emotive sound made by the Rajshri production clan wasn't enough, not much as what made it enough was the purple lehenga saree with floral embellishments on the pallu and the choli's sleeves worn by the diva, did. PYT's rushed to the stores and their karigars to emulate the look and the best of Madhuri Dixit hairstyle that was.
[sc:mediad]
7. Black In Aaja Nachle
Madhuri has come a long way- from frilly lace skirts and dresses to chic and luxe Indian and indo-western wear, even her makeup and hair has taken a change for the best. Where it was once loud and bold, the actress now plays it minimal and nude with hints of peach and blush. Remember the song, Aaja Nachle, where she wore black and silver, with almost nude makeup?
8. Vibrant Hues In Lajja
Lajja was a female oriented movie, where the diva played a theatre artist that underwent the saga of betrayal by her lover. The versatile look and face cut of the glamorous diva didn't need her to wear heavy makeup and an elaborate hair do; she was allowed to be very natural and vibrant, even with her clothing along with the hair and makeup!
[Also Read: Girl Power Movies Of 2016]
9. Sadhana Suits In Dil Toh Pagal Hai
Madhuri brought back the vintage salwar suits which were once worn by the yesteryear and late Bollywood siren, Sadhana. Self colors in sheer, silk and lace and cotton too; lightweight and with no embroidery on them flaunted the beauty of the actress in the movie. Talking about the Madhuri Dixit makeup, she kept it au natural again!
10. Devdas And The Courtesan Glam
The courtesan glam on the actress came by thoroughly with the red hot lips, tied braided hair, deep kohl rimmed eyes and stark flushed peach to pink cheeks. Madhuri sizzled onscreen and played the role with religious duty, making the character come alive which is what made us go bonkers too.
While we spoke about the evolution on the famed actress, we would next want to focus on the tips and Beauty Secrets of Madhuri Dixit soon! Watch this space for more!