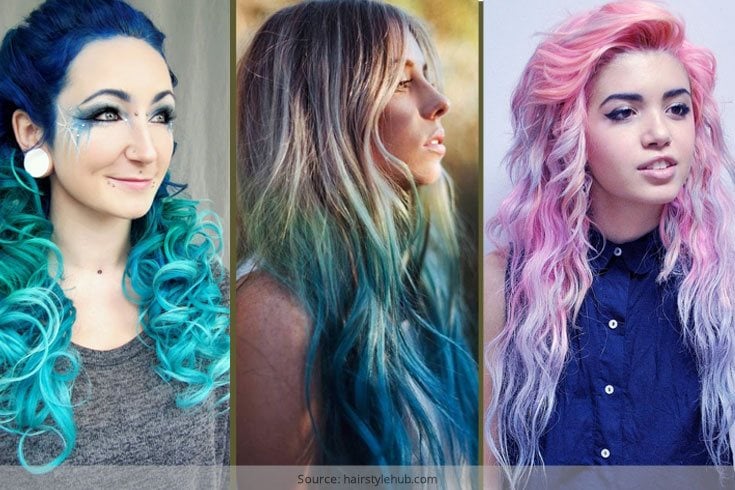 This season's hottest hair trend is no wonder the ombre trend. From celebs to supermodels to beauty bloggers – no one seems to have had enough of ombre hair color ideas. So what makes this ombre hair style so popular with everyone? We delved in deep to understand more about this hairstyle. Well, for starters, it is an amazing way to give your hair that glow without breaking your bank. Besides being ridiculously cheap, ombre hair color ideas are also very low maintenance. Additionally they can also be used to hide certain flaws in your hair – like split ends. You add that glow to your hair, you express yourself and you look great – that's ombre hair for you!
[Also Read: Emo Hairstyles]
In this article, we will give you a lowdown on ombre hair color ideas and also some tips on how to do ombre hair. Even though ombre hair DIY is pretty much a simple thing to do, we suggest that for your first ombre style, you visit a salon. They will be able to tell you which ombre hair style will suit you better and once you have gone through that (and you are brave enough), you can go ahead and try it out yourself! You can go natural, bold or even colorful with this trend (Which is refusing to slow down!)
Ombre Hair Style
Let's start with some bold ideas.
Would You Go For A Mermaid Ombre?
For all you water babies out there, this is the perfect hairstyle to flaunt your inner mermaid. Channel some aqua Zen with a light blue, or you can go with a color mix of blue and green. If you are brave enough and of course, willing to experiment – this hairstyle is YOU! Here are some inspirations:
What bold and beautiful curls these are!
Some wavy hair.
This simple indigo ombre hair style took out breath away!
Last, but not the least – if you would want some ombre ideas for dark hair, but aren't too comfortable with the idea of dyeing your hair to a shade like blue, then hair extensions can help you out. Take a look at this!
[Also Read: Black and White Hairstyles]
You are in the trend, but you aren't dyeing your hair either – what a win-win situation!
Purple Prowess
Made popular by Katy Perry, this hairstyle screams ROYAL and it's extremely easy to maintain. You don't have to bleach your hair to achieve this color, so it looks grand and glossy. What's more, you can go for a soft transition with these two colors. Check out some purple-black ombres.
Katy Perry's regal look.
This blue and purple ombre ideas for brown hair looks pretty great too.
[Also Read: Strawberry Blonde Hair Color ]
The Brown To Blonde
This is the most popular combination of them all. If you love blonde highlights, only to remember that those highlights are so out of fashion, then go for this blonde-ombre combination. Mix and match two gorgeous colors to get this combo.
Gina Rodriguez from Jane the Virgin perfectly combines her golden chestnut hair with some blonde ombre. Miss Perfecto!
[Also Read:Dyeing Your White Blonde]
Soft Brown Ombres
Not the most experimental one when it comes to you hair? Well, if you still want to rock the ombre trend, then go for soft brown ombres. Soft ombre is also known as "sombre," and includes those shades which make your hair look more dynamic but at the same time they are very subtle. Yes, you will need very less maintenance for this look. If you are keen on DIY, this one is also one of the easiest ways to get your ombre look on fleek.
Lucy Hale channels the sombre look.
So, there you go – our top picks to start off with your ombre obsession. Choose your stylist carefully before getting the ombre look of your dreams!