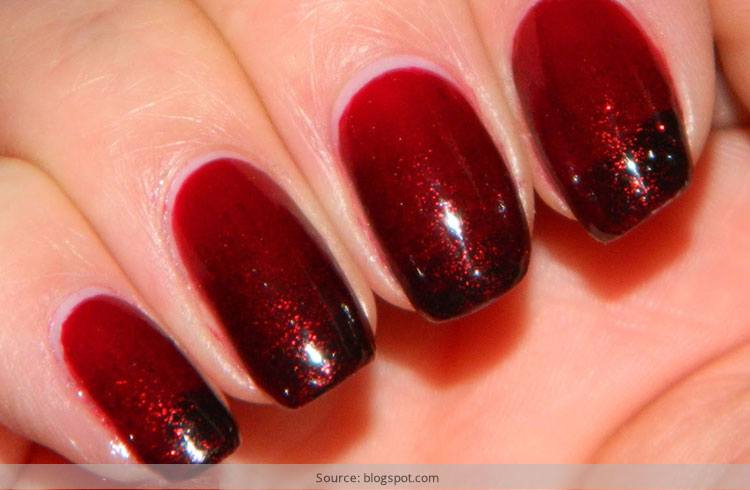 There's something so sexy about red nails that you can't help but admire girls with red nail art. Red is a really hot color and combined with some really nice red nail designs; your talons would look nothing short of magic!
When it comes to nail art, we have no dearth of options, especially because nail art is now so abundantly available on the internet. Search red nail art and Google will throw you a host of amazing nail art on red nails. We decided to make your work a little easier. So we curated some red nail design ideas and put it all in one place. Read this article and get some red nails which will look amazing!
Red Nail Designs To Get Inspired From
Go Plain Red
We can all agree that red is an amazing color. It's the color of love and roses and it looks gorgeous on nails. You can use red nail polish without using any nail art. Remember to use some high definition nail color like OPI for that mirror finish and glazed look.
Red Glitter Nail Art
Another easiest way to get a little snazzy with your nails is to add some glitter. Glitter is the most versatile item you can use on your nails. There are tons of options available for adding glitter to your nails. Here are some ideas:
1. Glittery French Manicure: Just add some glitter on your tips. Like this:
2. Glitter-ify one nail: Easy and simple, just paint one of your nails with glitter. Like this:
3. Paint glitter on top: Another way to add glitter is to coat your red nails with a thin glitter coat. Classy and shimmery, just like this:
4. What about some floral motifs? If you are good with nail art, you can even use a small brush to paint glitter floral motifs on your red nails. Check out this pretty one: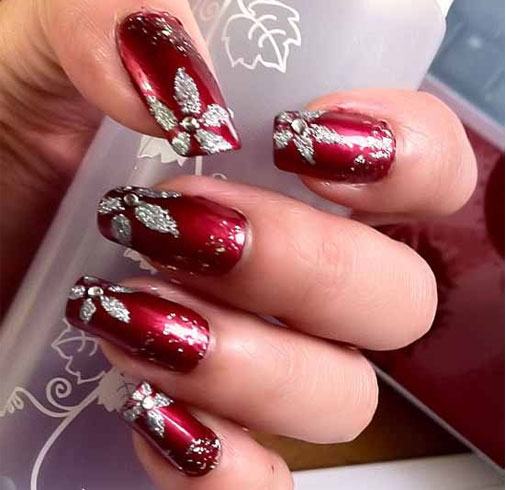 Red Nail Art With Polka Dots
Polka dots are again a versatile way to dress your nails. One of the most popular combinations is adding white polka dots on your red nails. And the design looks pretty vintage too! We love this combination and judging from the looks of it, a lot of beauty bloggers love this look. Take inspiration from these:
[sc:mediad]
Or you can also go with some polka dots and glitter combination:
Or a combination of white and black dots! (Possibilities are endless you know!):
Red Nail Art With Floral Designs
Floral motifs go equally well with red nail art. So if you love floral designs, you need to invest in a thin brush which can be used to trace out flowers on your nails. Here too there are hundreds of designs that you can replicate. From white floral silhouettes to a full-fledged floral design (just like your secret garden!) you can do tons of creative things on your nails.
[ Also Read: Nail Art To Showcase Your Personality ]
A simple hibiscus design:
Or you can color them with some yellow flowers: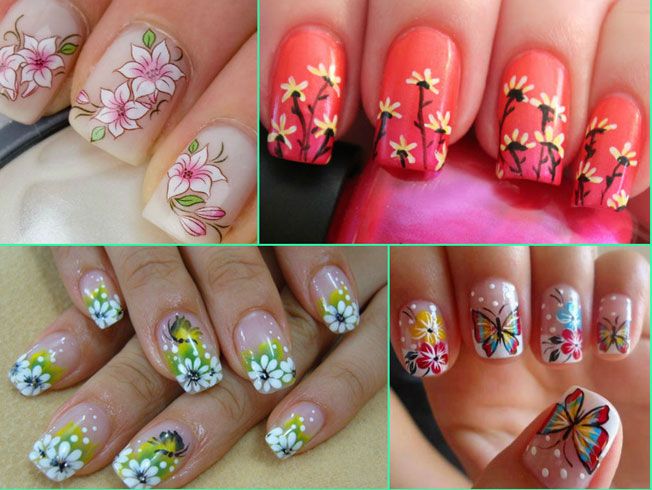 What about red on red? You will have to select different shades of red for this design and did we mention – you have to have a steady hand too. This design requires some patience as well as dexterity of your hands.
An Apple A Day
If you love apples then this design is for you! This apple mani would not of course keep a doctor away. It's cute and easy to replicate. So get your brushes out and you have an amazing design on your tips!
So here are our best picks for the best red nail art designs. We have picked up some really easy ones so that even amateur nail art enthusiasts can pick up these designs. Happy painting!