When people talk about Indian outfits anywhere in the world, a sari is the first thing that comes in mind. One of the prettiest and classy looking outfits, it is no surprise that saris became so popular among the masses over the years. Also, every region of India has its own interpretation of the outfit. This meant, many more amazing sari styles to choose from. To make the deal even sweeter, many prominent online shopping sites house an expansive range of saris, covering designs and styles from almost all Indian regions. But, whenever there has been too much of a variety observed in sari collections, there is an equal amount of confusion witnessed among the customers.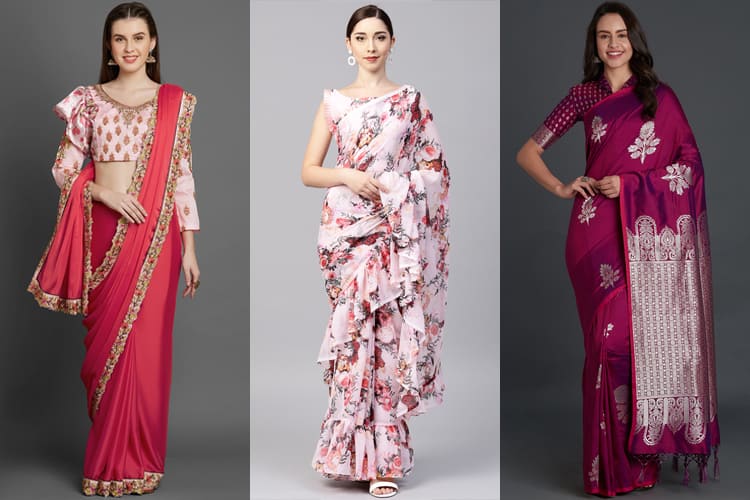 Hence, we shall be taking you through some easy tips that can be of great help as you indulge in some sari online shopping in India.
1. Always Buy From Prominent Online Stores Only:
The internet is a bubbling pot of numerous online shopping sites. Many, especially ones we have not heard of, feature saris at 'unheard of' prices. In many cases, the prices are too good to be true as such websites of ill-repute serving sub-standard or even fraudulent outfits. Hence, it is recommended to always stick to well-known online stores, as they hold the promise of good quality and efficient customer service.
2. Keep An Eye On Popular Products Filter:
Once you have picked the site and landed on the sari page, set the page filter on 'popular products'. These sites would have hundreds or even thousands of saris in store. By taking the aforementioned measure, you can cut to the chase by glancing through saris most people like on the site. This measure is a must for those who are always in a time-crunch for online shopping.
3. Shop As Per Your Body Type:
Every body type has its own needs when it comes to fashion. For example, saris worn by Vidya Balan would be way different from the sari worn by Deepika Padukone. So, take a cue from the celebs and embrace fabrics suit your body the best. For e.g. Chiffon and georgette work best for those with a pear-shaped body, whereas sarees with embroidery look great on an apple-shaped body.
4. Keep Your Personal Style In Mind:
Experiments in personal fashion are always recommended on a regular basis. However, everyone has their own limits and preferences in this regard. So, if you spot a sari that looks great on that model, you might want to try it too. But the sari is a bit too adventurous for your taste. When faced with such a dilemma, always keep your personal comfort and style in mind. If you can imagine yourself wearing that sari at this point, only then go ahead and purchase it. Otherwise, the purchase would be up as a futile exercise in fashion experimentation.
5. Get Acquainted With The Returns/Exchange Policy:
Whether it is one of the reasons mentioned above or some other reasoning, you will want to return or exchange the sari to get hold of a better one. However, different websites have different guidelines in place regarding the returns and exchange policy. Hence, it is recommended that you study the website's returns and exchange policy thoroughly to make the most of it.