Come December and our wardrobes go through a big transformation. Gone are the tank tops and breezy summer dresses, instead, we solemnly take out our winter wear to welcome the colder months.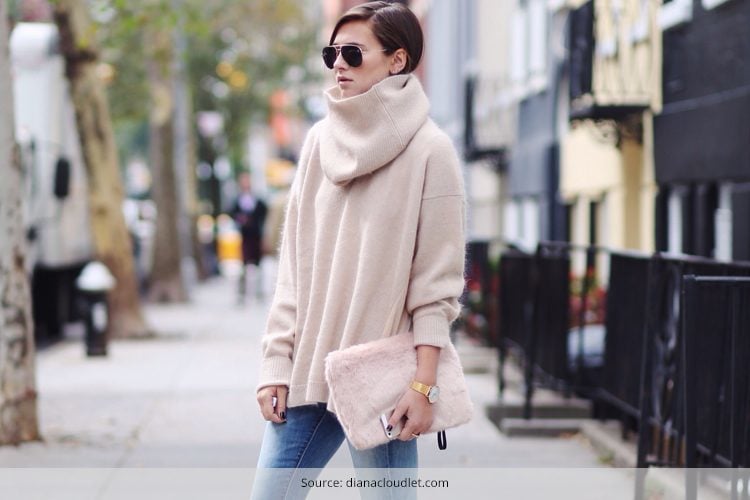 This can be a particularly gloomy time for those of you who love to dress up. After all, there is not much you could do with sweaters, right? A sweater is a sweater no matter how much you try to make it look good, right? Uh huh, not really. We've got some happy news for you! You don't have to be stuck wearing boring sweaters that make you look like you've time travelled from the early 80's. Sweaters have come a long way since then.
[Also Read: Sweaters To Wear With Leggings]
No longer are sweaters considered a winter wardrobe essential that keeps you warm but lacks style. These days, sweaters come in such attractive patterns and styles that it actually makes us look forward to the cold winter months with anticipation.
Different Types Of Sweaters For Women:
Here's a look at all the different types of sweaters that you can rock this winter season.
Off-Shoulder Sweater:
An Off-shoulder sweater is a stylish way to greet the winter season. It has a very chic and trendy look to it and can give your winter wardrobe that much needed edge. If you do not own an off-shoulder sweater, then we suggest that you get one ASAP.
Cowl Neck Sweater
We like to think of a cowl neck sweater as a sweater with a built-in scarf around the neck. A cowl neck sweater is the perfect work wear winter item. It goes fabulously well with formal trousers as well as skirts. And the best part? It works just as well, if not better, with a pair of jeans.
[Also Read: How To Wear A Sweater Dress]
Crop Sweaters
Sure oversized sweaters for girls are cute, but you know what's cuter? Crop sweaters! For those of you who don't have the heart to leave behind your summer favorite – crop tops, the crop sweaters are right up your alley. Pair them with high-waist pants or skirts for a super cool winter look.
Bat-Wing Sleeves Sweater
This is a winter wardrobe must-have. The bat-wing sleeves sweater looks adorable and effortlessly stylish. You really don't need much to finish the look. Just some leggings and maybe a pair of stylish winter boots and voila! You'll score major points as far as the winter style quotient is concerned.
[sc:mediad]
Backless Sweater
Ever considered looking sexy in a sweater? While you can look cute and stylish wearing a sweater, looking sexy in a sweater might seem like an almost impossible feat to achieve. But what if we told you it is possible? Oh yeah, it is! With one of these hot backless sweaters. You might look demure and cute from the front but let them catch a peek at your back and your outfit goes from cute to sexy in an instant. We like!
[Also Read: Style Skirts And Sweaters During Winter]
Asymmetric Sweater
While on the topic of types of sweaters for ladies, let's take a quick look at one of our favorites – the asymmetric sweater. As the name suggests, these are sweaters with asymmetric ends. These sweaters are fun, edgy and just what the fashion police ordered for women who love to explore their fashion choices and discover new styles.
Back Button Sweater
This is what we are lusting after this winter season: back button sweaters. They are oh-so-totally-adorable in a very quirky way. And if they come with elbow patches? Man, we are so hopelessly in love!
[Also Read: 11 Different Ways to Style Sweaters this Winter]
With so many different sweaters types to choose from as far as styles, colors, and cuts are concerned, it is no wonder that sweaters fashion has become quite the rage these days.