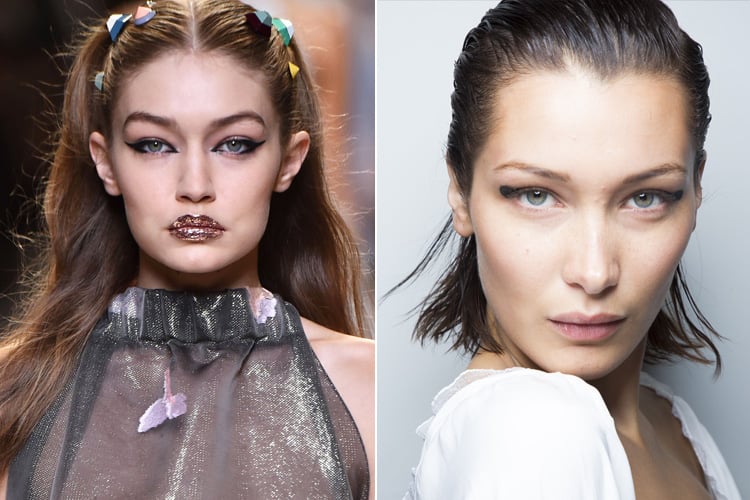 If you thought fashion and beauty trends were for clothes, shoes and accessories alone, then you may be wrong. With every aspect of the beauty world turning the wheel each year, beauty trends are evolving at high speeds too. What may have worked like magic or turned heads around in 2017, may or may not help in 2018 and for many years to come. Who's to say what the major influences for such trends are? Id it a celebrity? or a brand? or maybe the commoner? We can never ascertain the rules as such.
However, as consumers of the big beautiful world of cosmetics and all things beautiful, here is a mini guide on beauty trends 2018. Go right ahead and check them out.
What's hot and what's not!
We begin with a note on Meghan Markle. In all her royalty, the world of beauty and beauticians are talking high about one of the hottest beauty trends 2018 would see, and that is Meghan's eyebrows.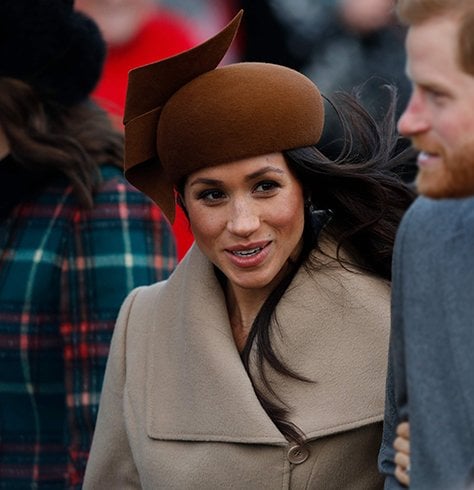 Sculpted Eyebrows
It seems that the world cannot get enough of Meghan Markle, and not just because of her link with the handsome Prince Harry. The US actor, Meghan has been a source of inspiration for fashionistas across the world, ever since her photos flashed across popular tabloids and sites. She is said to be an inspiration for her eyebrows, when it comes to one of the major beauty trends 2018 would witness. Customers worldwide are now asking skin aestheticians to microblade their eyebrows to that of Meghan's, and if that is not a trend, we do not know what is.
Meghan's eyebrows have created a spark and it is a fiery snowball on the roll, a popular choice to say amongst the many beauty trends we would witness ahead. This is because of the instant structure and the sharp eyebrows she has, thanks to the microblading she's gotten done for herself. Her face in its wholeness now has a new definition, and adding to that, with the natural makeup look she flaunts, she sure is sending out a message to the world.
With such eyebrows, which have been microbladed to perfection, the maintenance needed would be bare minimal, and it takes just an hour and a half to sculpt them too. And now that we showed you what the royals are doing to amp up beauty trends 2018, it is time to check out the other trends in the world of beauty.
While we showed you what Meghan Markle has stirred up as one of the many upcoming Beauty trends 2018, we shall now take a look at the world view on what the latest trends are.
One For The Bullet Lipsticks
Liquid lipsticks ruled most of last and this year, but in 2018, we would see the reign of bullet lipsticks. Kylie's Cosmetic lipstick bullets are creamy and hydrating for the lips, and they were sold out in seconds like hot cakes from an oven. Other brands are catching up soon, which reminds us of the good old 80s and the early 90s when bullet lipsticks were in vogue like crazy- up until the liquidish glossy formulas came along.
Give It Up For j-Beauty
So what is "J-BEAUTY" all about? If you, like many of us, have been following the trends of 2017, since December 2016, you would have then heard of the Korean beauty trend- K BEAUTY. Also known as 'Korean beauty products'; the concept of K-Beauty was a cult that formed this year amongst the masses. And most of it was based on hydration and health for glowing and perfect skin. But that was 2017, and K BEAUTY now is bidding goodbye and making way for J-BEAUTY.
J- BEAUTY is taking over the world in the skincare division, and the beauty gurus from Paris too have approved of it. Shiseido as a Japanese brand from Tokyo has ruled the skin care market since the late 1800s, and has come up with this beauty trend which they say will rule 2018.
Don't Give Up On Glitter Yet
From eye makeup to lipsticks to rouges and more, glitter was all over the beauty scene in the past months and more. But do not give it up yet. Come 2018, and one of the major makeup trends 2018 will see will be the supersizing of glitter in many makeup products, and in more ways than one. The makeup gurus decking up our fashion models on the runways across the world have spoken. What to expect? Gems and rhinestones for sure, and even sequins too. Everything would sparkle in 2018 for sure. Even the eyelash glue would be a sparkly lot to choose from, and this is a statement that would bring more joy to makeup lovers!
There Would Be a Mask On Every Face, Almost!
Not just DIY masks, but beauty masks that would rock the scene in skin aesthetics 2018. And if that is not all, you would have minimal time masks for face, hands, legs, and various other body parts too. Thanks to the many companies and beauty industries focussing on making our skin softer, suppler and healthier for the next year.
[sc:mediad]
The Midas Touch
Planning to be the GOLDEN GIRL in his eyes? Here is your chance. We really do not know who the real inventor of golden makeup was. It was certainly not Rihanna, but the gold highlighter is her invention. We cannot thank her enough for that, because for the next twelve months or even more, you would see many of us flaunting the golden girl look. If you would like the same, look for TROPHY WIFE from Rihanna's beauty line FENTY. What we love about this highlighter is the yellowish-gold metallic tone it embosses the skin with. Your face will glow and shine healthily and not look made up! So yes, apart from looking for the eye makeup, lipstick trends, eyeshadow trends, of 2018, the GOLDEN GIRL TOUCH is a must.
It Is a Polluted World Out There
Our skin takes a beating each time we leave home and head on to work. Big brands and DIY products have helped us fight signs of ageing, dryness of skin, oily skin and pollution related issues of the skin too. 2017 was full of such trends. Turmeric based creams, lotions and potions or DIY methods made it to the top. However, we shall now look forward for a formula to fight pollution that rests in our skin. A UK based company, NPD has done a lot of research on anti pollution skincare and the products that come out for the same. The experts estimate that with regard to beauty trends 2018, it would be a $5.2 million market in the first half of 2018 with such products coming out. So beating the pollution on your skin in 2018 is easier than ever!
Simplified Beauty Regimes
The Korean influence when it comes to skincare, would never die down. There are newer beauty categories on offer by the Koreans each passing year, and we are not going to complain. From overnighters to ampoules, essences to sheets and more, 2018 will witness a beauty movement of sorts and everything is simplified for us to use. The multi step beauty and skin care regimes we saw in 2016 and 2017 would be brought down to the minimal, making it one step to use for varied multipurpose skin care products- how cool is that! Formulations would change, and there would be advanced and technologically enhanced beauty polymaths rolled out, 3-in-1s too, universal emulsions – including day creams and night creams, etc, all in one. Every range of many korean skin care and beauty products would be a compacted bunch, and an exciting one for us to try.
The Rise Of Ultra-Highlighted Skin
Well, we think 2018 is going to be a magical and a sparkly one, because we asked you not to give up on glitter and sparkles yet. Now talking about sparkles and glitter, we have to look at versions of eye makeup, lipstick trends, eyeshadow trends, cosmetic trends in 2018 and what magical touches they would give. Well the glow getter glitter version of highlights and contouring would surely be in, so would the glue lash, the eyeliners, eye makeup and more. Are you not excited already? And the best part is, they are being made to be worn for the day too. Who says we cannot have a little jazz and snazz at work during the day? A brand that is already making waves in this area is COLORPOP. Did you try that yet?
With Black, There Is No Turning Back
Eyeliners, and that too black, will rule 2018. It would be a super dramatic turn with the black eyeliner being the showstopper in 2018, on almost every eyelid across the globe. Yay for us in INDIA, because the black eyeliner has always been our epitome of beauty. Across most fashion and runway shows, the black eyeliner was seen to be applied as thick. And not just for the upper lashes, but both lashes. The dramatic winged effect was in for sure, but women will experiment with other eyeliner styles, with the graphic liner being the sassiest of them all.
Rounded Up Well
2018 wants us to round up things it seems, and this time with the eyeliner. We spoke about eye makeup, lipstick trends, eyeshadow trends, cosmetic trends so far that are an epitome of innovation and breaking away from the conventions or bringing back some, but now we want to round up the eyeliner style too. The cat-eye flick is what we noticed would be a trending look for 2018, according to fashion and runway experts. The ultra sharp wing would be bygone and very passe by the time January ends, and the rounded off edge in eyeliners would take the world by storm. From the Jason Wu show to Tom Ford and more, we have seen the rise of the rounded off eyeliner look.
Latest Makeup Trends
Not just the eyes or the lips, the flush blush or the contouring anymore; we are talking about an all-inclusive makeup trend. Yes, you read that right. Fenty beauty line by Rihanna may have stirred 2017, but what garnered her more praise was for the all-inclusive line she brought- forty different shades for every skin tone- the Pro Filt'r foundation and its extensive shade range of 40 colours will rule 2018, say makeup gurus.
Metallica Will Rule 2018
We are not talking about the rock band, but the makeup trend. Metallic love is what we would see in abundance when 2018 hits. Talk about the shades, the tone, the tint and more, you would have metallic finishes to bathe in when 2018 rings in. Somewhat like the 90s, but not so loud. The metallica touch would be subtle and swiped up, and for those that still want or prefer a gloss finish, a blending of the two would do justice. Keeping it enhanced, a touch of holographic shimmer with glossy lips and metallic endings would be 2018's latest makeup trends and with an unusual shade to die for.
Clean Beauty In, Natural Beauty Out
Before you say "Whatever happened to natural beauty", we would say, it has gone for a bath. Jokes apart, natural beauty as a concept ruled most of 2016 and all of 2017. Flushed cheeks, nude lips and light eye makeup made it to the top this year. 2017 is going away in a few days and 2018 is coming along with a new beauty trend, and the latest makeup trends according to experts and makeup gurus would be the CLEAN BEAUTY LOOK. This means, cosmetics and makeup products that would rock 2018 in sales and consumption would be those that are 100 percent organic, paraben and chemical free, and with no traces of sulfates and silicones whatsoever in them. So gather up what you have and douse them in the fire, because commercially and chemically induced makeup would be a no-go for 2018.
Retro And Thick
We are talking about eyelashes here, and not just about eye makeup, which is a trend that 2018 will be noticing everywhere and around the globe. The famous Christian Dior spring 2018 show helped us understand the coming back of the thick lashes. Twiggy lashes were very passe, which is why the clumpy retro look is swinging back into its position. We agree that the drama on the eyes would be lesser than before, however, if you know how to place your lashes well and apply enough of mascara layer with the right eye makeup to go with, who knows what magic you can create.
With Makeup Trends, We Have a Prettier 2018
Talking about eye makeup and lipstick trends, eyeshadow trends or just about 2018's cosmetic trends, you are in for a hearty surprise. Cat eyes with a bubbly touch would be the in thing for 2018, as seen on the Tom Fords fashion shows this year and it is going to rule most of Spring 2018, say makeup gurus. This is incentive enough for you to start amping up the cat eye into bubbly cat eyes from now!
You would see more of the white eyeliners making a comeback too, and just for the lower lash lines this time. A brand by the name ULLA JOHNSON is inspiring everyone across the globe to follow suit, and it looks great on dusky, tan to ebony skin tones. Why don't we just indulge in a little quirky eye makeup then?
Tory Burch's fashion shows showed us smudgy eyeliners in browns and nudes would be for those who do not wish to play with the whiteness with eyeliner styles. You can rim the smudgy brown liner across the lash lines and around the eyes, and pair them with lipsticks that are nude. Perfect for the office or the corporate look and a fashionable one too!
The Spring collection by Tadashi Shoji took us backstage and we noticed how models' eyes were being dolled up in mixtures of blue and teal. The eyeliner thus emulated the heavenly celestial bodies and motifs in the Spring 2018 collection!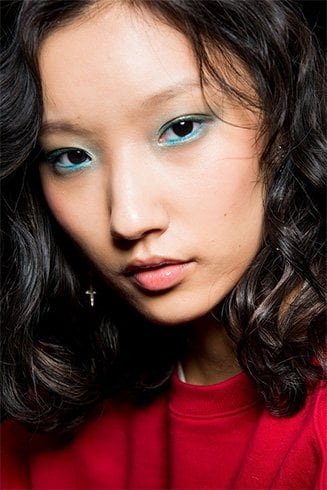 For women with dark to dusky and ebony skin tones, there is plenty of good news for you. Not just the all inclusive FENTY LINE by Rihanna, but there are others that want you to glow like a queen too. At Pamella Roland, we saw the mix of soft gray eye shadows and naturally flushed glowing skin!
Bored of the same routine with eyeliners? Here is one to die for in 2018. We saw this at the NYFW and the eyeliner looked usual but trendy. Do try out the half-baked graphic cat-eye seen at Jill Stuart show.
The famous BROCK COLLECTION showed us what a rosy touch to the eyelids can do. It would be a spring 2018 saga to die for, and that would be a wonderful fashion statement to make for valentines day 2018, what say?
If you want to keep it minimal and yet daring or bold, your mom would say you cannot bake the cake and eat it too. Well, we say you can. One of the trends for 2018 with lips and eye makeup would be the minimalistic yet bold affair. Either the lips or the eyes would have a matte shade of makeup applied, and the rest of the face left as it is!
We have to give it to fashionista and former Spice Girl, Victoria Beckham for the new concealer makeup and matte makeup trend that she would bring into 2018. at one of her shows, Victoria showed us what SPA SKIN looks like. This means, your skin with all that makeup would look fresh and dewy, positively all day long. Victoria focusses more on concealer makeup and matte makeup trends for the same, and the products do not have to be over the top, but you need to have the right eyeshadow and plenty of highlighter to get the look!
Once again, when we talk about concealer makeup and matte makeup, we look at Michael Kors for inspiration. His shows have shown us models that were bare faced. So does that mean, according to the designer, 2018 wont have much makeup to play with? NO! The models may look bare faced, but it was the magic of concealer makeup and matte makeup that made them look so. Thanks to eminent makeup gurus such as DICKPAGE, the concealer makeup and matte makeup came through!
We could honestly write a bible about the new makeup, skin, hair and other beauty trends for you, but that is not the point here. The reason we talk about such trends is for you to understand how the world of beauty and fashion is evolving every year. Some styles are coming back from the past, while the rage style of 2017 are being shown the door. Now let's take a look at some of the new makeup and hair trends or beauty and skin trends too, apart from the ones we have already discussed!
Focus on the inner eyes for 2018, because that is where the whole concept is taking shape! We for sure would love to deck up every part of our eyes and eyelids, however, 2018 would see more of the punched pigments being used on the inner corner of the eyes. What it does is to instantly brighten up the eyes, and shades that would rule through 2018 would be whites, champagnes and golds. Remember, we spoke of sparkle and glitter right! But you can also experiment with baby blues and pinks, orange and yellows too. Celebrities sporting it already are Joan Smalls and Shay Mitchell.
We thus have come to an end on many of the trends for 2018- new makeup, new beauty trends, latest makeup trends, eye makeup, lipstick trends, eyeshadow trends, cosmetic trends, concealer makeup, matte makeup, new makeup, new beauty trends and more. Should you wish to learn and practice the same, keep following us with love as you did all these years and we will bring in more such posts as well. Lots of magical love and glittery happiness to one and all!