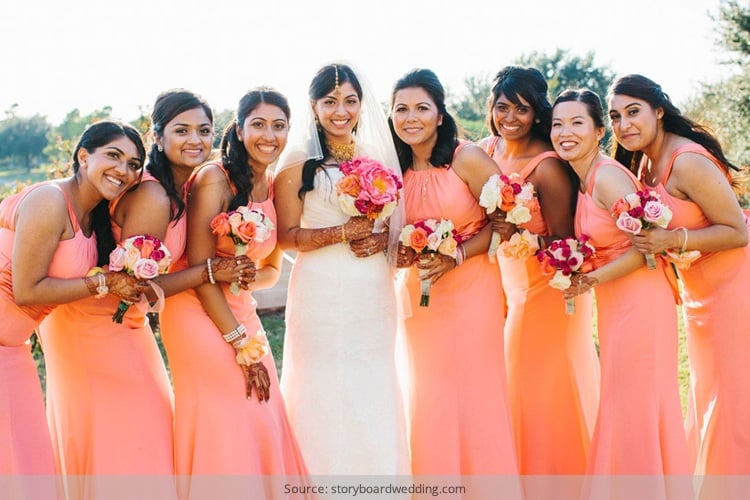 The big fat Indian wedding is one of the most talked about soirees we Indians deliver to the world. With that being said, brides take it very seriously to get every aspect for their wedding right. From the clothing to the makeup, the photography to the food and just about everything in between, nouveau wedding fashion trends is followed.
[Also Read: Top Bollywood Actress In Bridal Wear]
But What Makes These Nouveau Wedding Fashion Trends So Famous?
The fact that brides are of the new-age and a demanding lot, is reason enough that the nouveau wedding fashion trends are making waves. An example in case to sight would be brides that don't want to wear red anymore at their weddings- a change of color is in the air, which is why you'd see many more shades doing the rounds, other than reds.
Also About Textiles
The scorching summers are apt to show off the new fusion styled textiles made of indo-western fusion themed ethnic and semi-ethnic wears.
Wear a fusion gown for your haldi and a floor sweeping anarkali on mehendi night. A neon bright ghaghra paired with a embroidered silk choli be fit for sangeet ceremony. Pair an intricately embroidered jacket with a silk saree or a lahenga with a big choli for your big night and a straight cut suit with palazzos during reception.
Keep in mind that the fabric be light, crispy yet firm and embellished and embroidered. Use faux georgette or crepe or chiffon or net-weaves for the matter.
When It Comes To Jewellery
A traditional Indian wedding should have heavy jewellery as an accompanier. The Indian bride is asked to try out these new trendy ideas for her big day this summer.
Crown styled maangtikka fashioned from the long necklaces; an extra chunky necklace to grab extra attention; asymmetric necklace like a peacock sculpted; those royal double stranded necklaces & funky ear rings like the new age jhumkas, bhoras or Gatsby-esquel tassels.
A Splash Of The Best Perfume
Nothing spices up a person's taste like a classic perfume does. So here are a few tips about that for the lucky bride:
La Colle Noir: A floral spicy wooden fragrance for her haldi from the house of Dior
Citrus Mojito: A tangy citrus flavored sweet perfume for the sunny day event from the house of Terry the Gucci.
Purple Haze for the sangeet night from Vihelm Parfumarie.
Atclier Cologne: A woman can sport cologne better than a man any day. This cologne can suit a wedding like any other perfume.
In the end, a super sexy fragrance from Love Show called Ex Niholo for the reception
We Have To Mention About Shoes
Shoes, the shoes compliment a dress just as much as any accessory and probably a very important one.
Statement shoes like Smoke metallic embroidered Ambri sandals from Oscar de la Renta & Olgaena La Garconne T-strap pump from Barneys.
Midheels like Noah la high heel strapped sandal from Vincela Mundo
Flats like Embellished Leather T-bone sandal from Bogotta Veneta
You Have Got To Have The Right Handbag Too
For most Indian Weddings, all the heavy dresses and statement temple jewelry and other accessories can only be complimented by a small handbag or – Anushka Shankar or high end designers like Ritu Kumar or Anamika Khanna.
Makeup And Hair
Not too loud and not too sleek, and for sure the nouveau wedding dress ideas you read about everywhere would show you brides with very natural makeup, a healthy blush to cheeks and sultry eyes. Most don't even wish to have very glossy lips for the wedding too. It seems that a very western touch to the Indian bridal look is the new-age in thing doing the rounds these days. And when it comes to hair, the look isn't very sleek either. Hair buns and chignons, plaits and braids alike, the makeup and hair stories for most Indian brides are a messy updo'ish lot! It's the new-age right!
And at last a fashionable groom, we shall leave that to sometime else on how to make him follow the latest trends and get him ready for that too. However, do let us know what you thought about the nouveau wedding dress ideas we have mentioned? If you have chic nouveau wedding dress ideas of your own to share, do write in, because we are always hearing you out and listening to you as well.