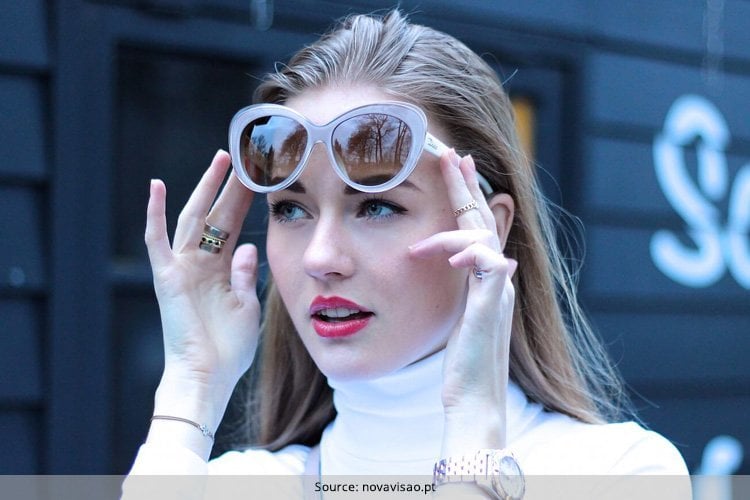 A good pair of sunglasses is jack-of-all-trades. After a night of binge watching Supernatural, after you have had too much of margaritas, or simply when looking great at a brunch tops the agenda.
[Also Read: Mercury Sunglasses]
But let me tell you, selecting a pair of sunglasses perfect for your face shape is no easy feat. In fact, picking sunglasses for your face shape can get really stressful with the sheer number of choices over there. Sunglasses are an as important part of a look as shoes or bags. A plain outfit can instantly look oh-so-glamorous just by donning a perfect pair of sunglasses.
Jackie Kennedy is forever itched in our memory for her timeless styling and oversized sunglasses, so much, so that a pair of oversized sunglasses is known by her name. Such is the power of a good pair of sunglasses.
While there is no definite formula to find out which sunglasses would really suit your face. But knowing shape and symmetry of your face can definitely ease this stressful game.
An oval face is the most versatile face out there. Those with oval face are blessed with a perfectly proportional face. Some of your celebrity face shape doppelgangers include Jessica Alba, Jude Law, and Charlize Theron.
[Also Read: Get Sexy With Sunglasses]
Selecting sunglasses for oval face is easy; any sunglasses would really suit your face. With your perfect facial symmetry, you have enviable options to choose from which matches your style. But make sure the glasses you choose is not too small or too big for your face. A sunglass for oval shape in Softer shapes goes well with large or petite features, but if you are looking to accentuate your cheekbones go for the sunglasses in angular shape. Here is our list of sunglasses for oval face female curated to match your perfect A-line separates, flared jeans or culottes.
HERE, HAVE A LOOK AT TYPES OF SUNGLASSES FOR OVAL FACES
A Classic Pair Of Aviators' Sunglasses For Oval Faces Female
There is nothing like a pair of classic aviators to sail you through a brunch date with friends or a casual day at work. You can pair your aviators in natural hues with sartorial trend of 2016-flares. Team up your classic aviators with culottes and a tank top. Those with more adventures streak in them can go for reflectors too.
[Also Read: Round Face Sunglasses Style]
Those with oval faces should not shy away from experimenting with different colors and patterns. Thick frames and bold details suits Indian skin the best. While those on paler side, can go for pastel hues with polished silver or gold frames.
Butterfly Sunglasses
Channel the inner Jackie O in you by sporting this oversized butterfly sunglasses for oval face. Once popularized by Jackie Kennedy, these sunglasses can differ in details such as temple width and height. These oversized cover most of your face so they are perfect to worn on a bright sunny afternoon or after a night of binge drinking. Take some style inspiration from style diva Jackie O and pair these with a simple sheath dress or with a button down shirt and 80's inspired wide legged pants.
Wrap Sunglasses
[Also Read: Retro Sunglasses For Round Face]
Show your outdoorsy sides in these wrap sunglasses. These sunglasses consist of single lens that follows the contours of the face. These wrap sunglasses features frames that provides excellent support against UV rays, and are great to be worn for activities like volley ball or cycling. Its lightweight frames make you feel that you are wearing no sunglasses at all!
Pair these with your favorite jogging pants and sneakers to show your sporty side.
[sc:mediad]
Wayfarer Sunglasses
This timeless and classic pair of sunglasses has been worn since the 50s by some iconic names out there. Think Audrey Hepburn, think John F Kennedy. A best thing about wayfarers is that it looks good on almost every face shape. A wayfarer is a perfect pair of sunglasses for oval face.
Wear these with a pair of blue jeans and white shirt, and we are sure there is not a better classic combination than that.
[Also Read: Sunglasses and Lipstick Ideas]
So, what would be your pick?