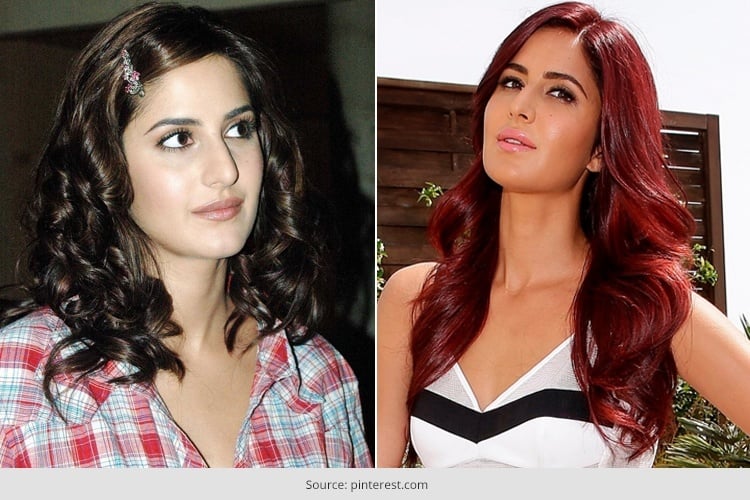 Enough said and written about the many affairs of Katrina Kaif. If you thought she was going to marry Salman in the first place, I blame you – don't you know Salman's dating history? And if you thought she was going to settle down with Ranbir Kapoor, I blame you again – don't you know Ranbir's dating history as well? Now let's take a break from her changing relationship status and concentrate of the many hairstyles of Katrina Kaif.
[Also Read: Anne Hathaway Hair]
The Barbie Look
There was a lot of speculation as to which Indian celebrity would be emulated into a Barbie. The fight was between Aishwarya Rai and her, and though I wanted an Aishwarya Barbie, Kartina Kaif didn't upset me either. To walk the runway as the doll she was made into, the actress chose a multicolored layered ensemble and looked adorable in her sleek straight pony tail. She also accessorized with a little tiara on the crown of her head and those fringes she added were cute enough for me to forgive her replacing Mrs. Bachchan.
Red Head At The Red Carpet
I was a little shocked to see the "Kamli" girl wearing a red head of hair at the Cannes this year. If we ignore a few mishaps like Amisha Patel turning an all blonde many years ago, Indian actress don't generally go for a full head of colored hair. But Katrina Kaif's Hair Color at the 2015 Cannes was a statement. And now that Fitoor has hit the theatres we have connected the dots and the end result is gorgeous.
Cute Hair Bands For Cute A Love Story
The kind of face Katrina has, she can turn into a sexy siren or an innocent pup at her sweet discretion. One of the cutest hair styles Katrina ever wore was the straight hair, parted at the side, secured by a slim hair band. Throughout the length of Ajab Prem ki Gazab Kahani Katrina showed us her innocent avatar in this school-girl like hair do, and we can't help going all awwww.
[Also Read: 90's Hairstyles]
Striking In New York
Fitoor wasn't the first time Katrina tried the red on her head. The girl is known for changing looks to suit the need to the character she portrays. One of the best hairstyles of Kartina Kaif in this context would be the strikes she wore in the movie New York. Well, not for the entire duration, but while she was the college student, she matched up the spirited student's fashion sense by adding a few colored extensions to those waves. They look perfect we say.
[Also Read: Penelope Cruz Hair]
Mid-length Curls
Check out these mesmerizing curls she adopted for Namastey London. The brat she was in the movie, a little bit of craziness going on the hair department wouldn't have fallen out of place. But she didn't really overdo on the crazy. On the contrary she looked every inch of the stunner she is with her hair cut mid length and then rolled up into loose curls. The kind of fan of curls I am, I would try this Katrina Kaif hair cut any day.
[sc:mediad]
Katrina's Subtle Hairstyle For Rajneeti
Continuing with the trend of dressing for the role, Katrina chose to go subtle and simple for Rajneeti. Her character went through a lot of transitions and so did her makeup. Katrina's hairstyle was also changes as per the phase and mindset of the character. From straight and simple hair let loose at the mercy of wind, a deglamorized low pony, to the simplest bun to have ever locked a diva's hair, Rajneeti had seen it all.
Full On Glamour For A Photo Shoot
Finally into her real skin, the actress is comfortable posing for the cameras. She loves to play with fringes and we see her in them a lot of times. Keeping up with the trend of side swept braids, she hangs a loose braid over her shoulder. The crystal tiara adds some bling and goes perfect into the mood of the picture.
[Also Read: Jennifer Lopez Hair]
Yours Truly, Katrina
When not shooting for a movie, or getting all dolled up for a photo shoot, in her true self Katrina lets her blow dried hair down. The texture is mainly in waves. The girl prefers side partition over middle partition any time of the day. The distinguishing fact about her hair is the health of it. Despite the amount of heat and styling products those manes are exposed to, they never fail to shine with all the strength. I ponder over Katrina Kaif's Hair Secrets that keep the damage out.
[Also Read: Kim Kardashian Hair]
She looks pretty even when she employs a dozen stylists to work on her hair, and even when she walks out of the shower. Now you know why she has both the most eligible bachelor's in Bollywood losing their sleeps to her?