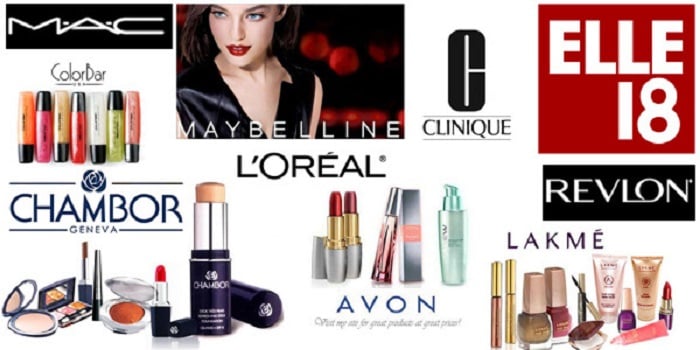 I have already talked about world's top 10 beauty brands in length from their strengths and weaknesses to price range and world ranking. Click here to read more. I am back once again to cover top 10 makeup brands in India.
Since skin is the most exposed part of our body and it is a very sensitive organ, you should be extremely careful in choosing your cosmetic brand. Before that you should be well aware of your skin type, whether it's dry, oily, normal or sensitive.
[Also Read: Top Makeup Brands]
Choosing the right skin care products are extremely important as face is that part of the body that is seen first and using the wrong kind of products may spoil the skin. Make sure you use products that not only suit your skin type, but also protect the texture of the skin.
Apart from the basic moisturizers and toners, next thing to keep in mind while buying for cosmetics and makeup products are the makeup brands. Always test the makeup to see if it sit's well on the skin and make sure it does not look patchy. Neither should the makeup wear off in a few minutes after wearing.
Eyes are the windows to your soul, hence use a good kajal or a great iconic dual kajal cum eyeliner that expresses your moods. You can try different ways of wearing your eyeliner based on the event you wish to attend. Luxola, who have recently launched in India, have a great eyeliner for you to try.
Choosing the appropriate brand is tricky, as you have to pick one from the pool of names – all sugar coated with marketing gimmicks. Do have a read to find out the leading beauty companies in India!
[Also Read: Eyebrow Tattoo Trend ]
1. Lakme
A product of Unilever Brand, Lakme is probably the most trusted makeup brand over generations. It is also the first makeup brand to launch an array of skin and face products for women in India and arguably the first name that pops up when it comes to cosmetic brand in India. No matter how many other brands get launched in the market and no matter how much they've been influential in the global font; Lakme India still rules the Indian market. And it continues to innovate new items adhering to every taste and expectations.
Their latest launch includes The Lakme Absolute Range which offers products starting from baked chromatic duo-tone eye shadows to Absolute lip range and Lakme eye conic range. It's skin care products have also shown impressive effects on Indian skin. Even their eyeconic kajal has been a huge hit lately. Starting from Lakme' moisturizers to sunscreens and face washes, they have been widely adopted across the country and overseas into daily skin care routines by many. Lakme is sure one of the best makeup brands for women.
2. Revlon
Another brand amongst the best makeup brands in India is Revlon.
One of the first international brands to set its foot in India, Revlon offers a wide range of lipsticks, nail paints, eye shadow, liners, mascaras and face cosmetics. It's wide array of nail paints especially are a huge craze among makeup lovers in India. Just like Lakme, this brand is also appreciated by all. Even though Revlon is expensive as compared to Lakme, it is still counted among the top 5 best selling cosmetic brands in India. It's liners and lip colors are also a huge hit among woman of all ages in India as well as abroad.
3. L'Oreal
L'Oreal also ranks third in Indian market. While the hair dye of this glamorous brand is among the most sought after items across the world, the craze is same in India. Besides their high end hair products, they also offer luxe cosmetics for face and skin. It's marketed worldwide and endorsed by the most well-known faces from Bollywood in India, like Aishwarya Rai Bachchan and Sonam Kapoor, and Hollywood celebs like Penelope Cruz, Demi Moore etc. endorse it globally.
[Also Read: Best Eyeliner Brands]
4. Amway
Probably this is the only brand in India which has a love-hate relationship with its consumers in India. As old as 50 years, this brand has been slowly gripping the Indian market over 2 decades now. This makeup brand offers a wide range of skin, makeup and health care products.
[sc:mediad]
Unlike other brands that are available at the retail stores, this brand is rather availed through their executives and this is the only reason, it's not directly competing with the mainstream market. Plus, the consumers not only buy its products at a discounted rate but are eligible to sell the items gaining some scoring points.
Recently, Amway launched a woman's exclusive skin care range called Attitude which is being widely advertised on the television these days. There is another offshoot of the Amway range .That is called Artistry. This offers exclusive colour cosmetics products.
5. Maybelline
Maybelline New York is considered among the luxury cosmetic brands next to L'Oreal and Avon. The best thing about this brand is that it has never come up with a range that hasn't been an instant hit be it locally or globally.
Their products have always been awesome! Right from their diamond shine and high end water shine lipsticks to their fabulous range of eye tattoos that has been recently launched; there is no match to their items. Their colossal kajal and volume express mascara have also created a huge craze in the market recently and are strong contenders of Lakme Eyeconic Kajal.
6. Color Bar
It is another great brand that has been a favorite among the beauty professionals and makeup artists. The brand offers a huge range of great coverage and long staying foundations and great range of lip colours. It's a hot favourite among woman of all ages who prefer lasting formulation for skin cosmetics or like mixing choices of foundations for achieving a desired tone of colour.
7. Avon
Avon products include fragrances, skin care products, personal care, hair care, cosmetics and more. Recently, Maria Sharapova has been named the face of Avon.
Avon was started when David H. McChnnel felt that women were sitting idle when their husbands went off to work. That's when he realised that hiring female representatives would help in sales and growing the network as they have a better way of selling the products that they would love.
This has become of the loved makeup brands in India.
8. Elle 18
This brand is one of the most affordable ones in Indian market and a huge hit among the teens especially. Right from their eye liner to nail paints and lip colors; this lively brand has always come up with something innovative to suit the likeness and style of the younger generation. It recently launched Color bomb products that have a wide range of lip colours too. Their adorable lip colors come with unique centre moisturizing stick of cocoa butter.
9. Chambor
Chambor products have been marketed in India now for quite some time. Its growing popularity as an international brand is to be reckoned with. Its face products are a huge craze among makeup lovers. Its nail paints are also lovely though slightly on the expensive side.
10. M.A.C.
This is undoubtedly the most famous luxury international cosmetic brand in the world. Looking at the strong marketing opportunities, M.A.C stepped into Indian market and became an overnight success irrespective of its high end prices. It is now widely marketed and loved in India as well.
This is especially loved by most backstage makeup artists including those from fashion shows since its quality and stay on power is the maximum in most cases. It offers a wide range of face products with lasting coverage. Its brushes are also a hot favourite among celebrity makeup artists.
Hope you enjoyed this post on best makeup brands. Happy reading!!
[Also Read: Expensive Handbags In The World ]