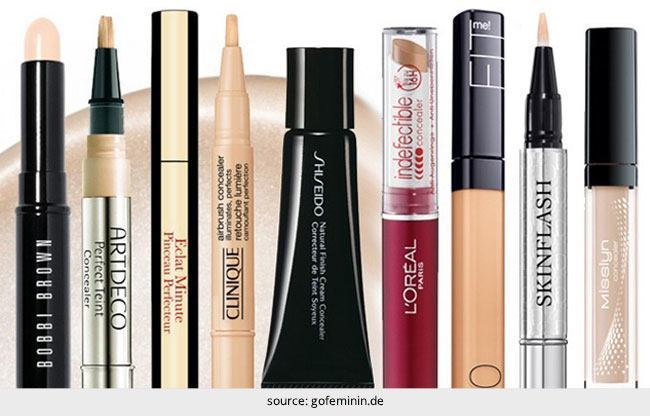 In order to make your makeup a success, concealer is a must that helps your foundation to enable you with flawless skin. A top-notch concealer is key to achieving glamorous look; therefore markets today are flooded with this beauty must-have. With such a myriad of options to choose from, to make your job easier I offer you 5 best concealers available in the market for Indian skintone. Do have a read!
The best concealers available today are formulated with high end ingredients that include talc, macadamia oil, ground mica, titanium dioxide and shea butter. These ingredients help in working with discoloration, removing blemishes and hiding under eye dark circles. The concealer also helps in lightening skin tone and offering an even makeup.
Following are the 5 best concealers available in the market for Indian skintone –
1. Maybelline Instant Age Rewind Eraser Dark Circles Concealer + Treatment
Maybelline refer their cutting edge concealer as Active Formula and Micro-Corrector Applicator that is designed to remove under eye dark circles, treat puffiness and fine lines instantly. Their active formula comes with Haloxyl that works on puffiness, whilst fading the under-eye circles. So here is a one stop solution for all of your beauty ailments that were creating hurdles in your makeup session.
2. L'Oréal Visible Lift CC Eye Concealer Light
Here is another fabulous concealer offered by L'Oréal that is specially designed to work on under eye dark circles. This innovative roller ball concealer also works on fatigue correction, thereby lightening up the sensitive under-eye area. Their caffeine and citrus limon fruit extract formula also helps in working on puffiness, and fine lines, whilst giving a soothing treatment. You can gently roll this concealer and pat lightly to blend well before applying foundation.
3. NYX Cosmetics Wonder Pencil
Wonder Woman meets the Wonder Pencil.
[sc:mediad]
NYX claim that this wonder concealer pencil is capable of solving all your beauty problems. This essential makeup pencil has everything covered right from covering flaws and brightening skin tone to preventing lipstick bleeding. This all-purpose concealer can save you a lot of money with creamy precision.
This high end concealer illuminates your look, whilst saving you from makeup faux pass. All you need to do is to simply apply the pencil on the flaw areas and then blend it swiftly with a brush or with your fingers. And to prevent lipstick bleeding, you can use it as lip liner outside your pouts.
4. Revlon PhotoReady™ Concealer
Just as the name suggests, this photo ready concealer by Revlon enables you with a picture-perfect look. Apart from camouflaging under eye dark circles, it also works on imperfections. It is further formulated with high end pigments that can photo-chromatically bend, diffuse and reflect light, thereby adding glow to the look. And you are all set to confidently take your selfies.
5. Cover Girl TruBlend Fixstick Concealer
The brand claims to offer an instant quick-fix only with the use of this stick. This is also an excellent addition to the list of top 5 concealers to choose from. This stick is formulated to cover up imperfections, especially when you are in a rush and no time for blending and dabbing.
[Also Read: Concealer For Different Skin Types]
So those were the 5 best concealers available in the market for Indian skintone that you can count upon. Hope this helps!