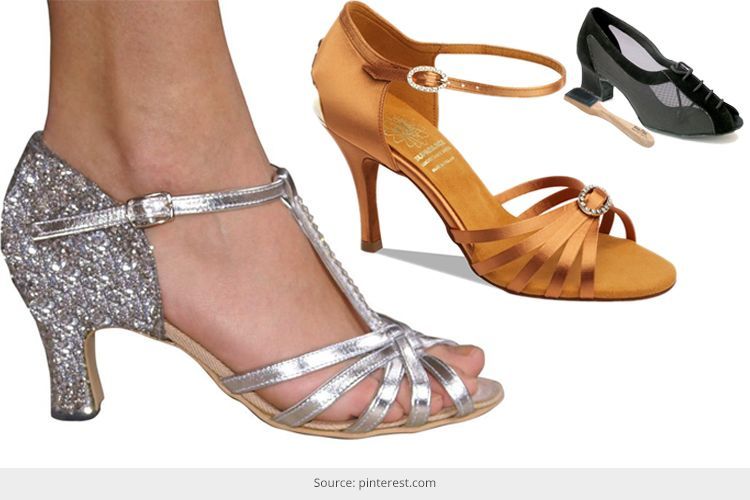 Dance transcends all limits and man-made boundaries. It is an art that speaks of the human touch, of bonding and of connections that cannot be expressed in a few words. And when we speak of the elegant ballroom dances, of castles and charming ladies, an event so formal and chic, of men in all their chivalry and poise- girl you have got to get those shoes right!
[Also Read: Most Expensive Shoes in the World]
Learn The Difference
If only Cinderella's step-sisters knew the difference between the classy ballroom dance shoes and the regular ones they taught were chic, the prince who looked for his mysterious princess would have been one of theirs! So ladies, learn the difference and put your best foot forward now!
Soles made from suede and quite thin to touch and feel, ballroom shoes are made in such a manner to allow the feet to glide as you dance on the floor, and with perfect grip too. The shoes are flexible enough for the smooth moves to follow, and for you to flaunt your elegant dance skills too. The best shoes worn for many competitions and parties are those made from neutral shades, tan or flesh- colours that help extend and enhance the look of the feet and that of the legs, sans the unwanted attention down there.
A Varied Choice To Choose From
Yes, the new-age dancer has come a long way and she demands a little more than the conventional offerings on display.
[Also Read: Shoes Hacks That'll Keep Your Feet Happy]
When talking about dance shoes for the ballroom saga this evening, there are three types to choose from, namely-
Latin
Standard, and
Practice
Aesthetic And Functional Too
Ballroom shoes aren't for fashion and style only, but for functional reasons too. They should provide style for sure, but not without enough of comfort, support and loads of help when performance wise, when you are on the floor. The pair you choose should be easy to wear and protectors of the feet too. There are some of us who choose to wear close-toes when dancing, just in case someone steps on our feet- OUCH, or if our nails hit our partner's shoes- double OUCH!
Tips
Buying a pair of reputed insoles would help in doubling the dance fun and the number of times you'd want to jig on the floor tonight. They add more comfort and grace to the moves, and picking insoles meant for running shoes would be your best bet. Stay away from the squishy nature of gel insoles, because they do not provide that amount of comfort and style you would need when being on the floor!
The Latin Ballroom Dance Shoe
Open-toed sandals mostly
From one inch to three inches in height
[sc:mediad]
Heel height would be two and a half inches in standardised form
Arch supports to keep the heels happy
Latin sandals are the best
The Standard Ballroom Dance Shoe
Classic closed-toed pumps mostly
Heels are found just below the foot
Helps with backward dance movements the most
[Also Read: Winter Party Wear Shoes]
The Practice Ballroom Dance Shoe
Optionally used, but for beginners learning the dance form, they are the best
Moderate heels and mostly made from suede
Styles To Choose From
And now that we've given you the download on ballroom dance shoes and the etiquette of wearing them, here are some chunky styles and options for you to choose from.
[Also Read: Jewel Studded Shoe-Stoppers]
Teal & Stones
Love your chunky bling touch? The number from Teal & Stones for your feet would make heads turn. J'adore ce vert émeraude and you cannot but heart these puppies!
Rhinestone Touches In Silver
One day you'd be burning the dance floor, and those moves need a touch of all things silver and chunky for the night!
[Also Read: Types Of Shoes For Women]
Crystallized Latin Ballroom Dance Shoes
The crystallized Latin ballroom dance shoes, so pure and chic, who wouldn't want to wear them not only for the ballroom saga but for any dance event one has been invited to!
A Touch Of Royalty On The Floor
Imagine wearing these babies, a touch of all things Swarovski on the floor when flaunting those moves? Swarovski dance shoes we heart!
Loved them all, dint you?