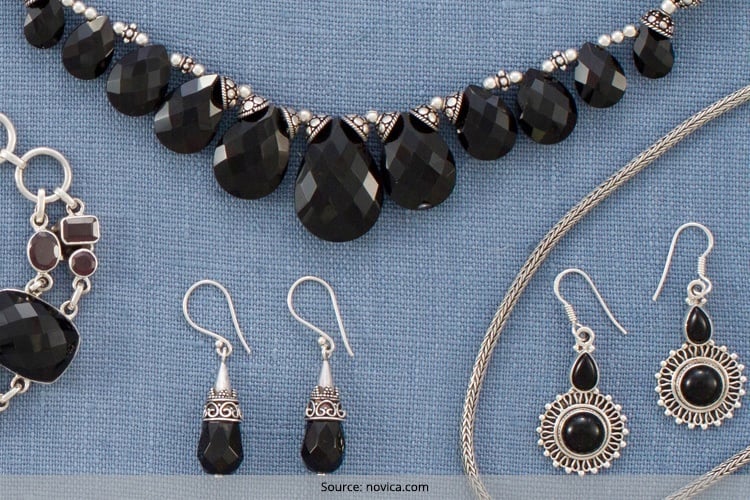 Black is one colour that has stunned many, whether it is in fashion labels or luxury names.
Black is also the color of night, of elegance. So whether it's that little black dress (fondly called LBD) that looks perfect for evening occasions, or onyx jewelry that goes with everything, cross your heart as you just can't go wrong with black onyx jewelry.
[Also Read: Ivory Jewellery – Everything You Must Know]
Black Onyx Jewelry
Black onyx also happens to be the birthstone of December. And so a black onyx jewelry, be it a ring or pendant makes a perfect birthday gift. That is why, onyx is a form of black gemstone jewellery that is beginning to look fabulous in social circles and daily wear.
Black is also associated with confidence and protection, and can be used to absorb negative energy emanating from certain others.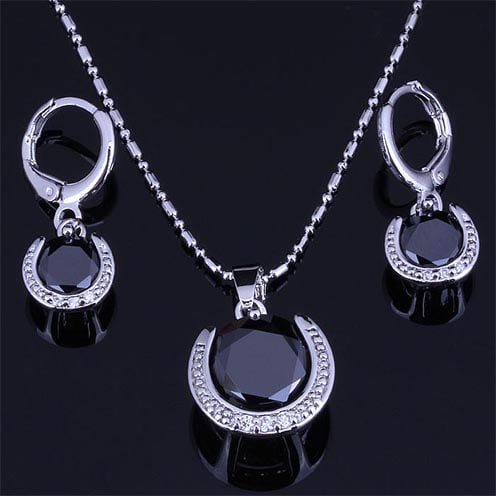 Historical Significance Of Onyx
Onyx is a form of quartz called 'chalcedony'. Chalcedony is a name which hails from Calcedon or Calchedon, an ancient port on the Sea of Marmara in Asia Minor. It was at this very place where stone trading came to be popular and ornamental materials were once mined.
[Also Read: Heart Shaped Jewelry Gifts On Valentine's Day]
Black onyx has been extensively used in the past as base for gold items and stone inlay work. In fact, onyx seals have been popular with the Romans too, who used the onyx for a variety of marble items.
It would be interesting to know that onyx is a Greek word for claw or finger nail. That's because the veins look like the colors of a finger nail.
Onyx is a type of quartz that can be cut into several items of jewelry. The black onyx jewelry can be made into necklace beads, teardrops or geometric shapes as far as earrings are concerned and even bold cabochons for purpose of rings.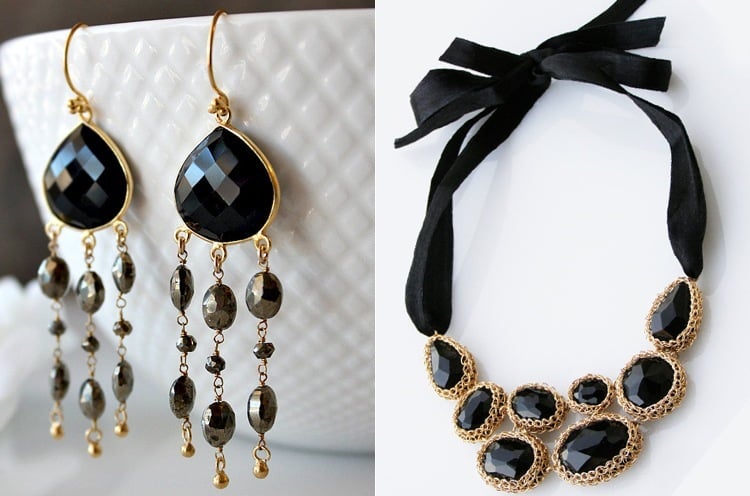 When it comes to dyeing onyx, you need to boil the onyx stone in a sugar solution. After this, you need to let it steep in sulphuric acid. As soon as the acid hits the sugar, black carbon gets created which seeps into the stone. In fact, this technique is immensely used because there is a huge demand going for black onyx.
[Also Read: Wooden Jewellery – Love Wood, Wear Wood]
Onyx Ring Ornaments
Two heart shaped black onyx jewelry gemstones that glisten with a message of love. Surrounded by eight shimmering diamonds, they give a contemporary look that is sentimental.
There is nothing more spectacular and beautiful than flowers in this world. This pretty onyx jewelry rings crafted in 14K yellow gold reminds us of the beauty of nature.
[sc:mediad]
Onyx Earring
This classy pair of oval cut lever back earrings takes onyx jewelry to a new level. So very sophisticated, these earrings are perfect for everyday wear and even for special social occasions.
[Also Read: Glass Bead Jewellery]
Majestic and ostentatious representation of black onyx jewelry, these halo pear dangle earrings have a total of 32 dazzling diamonds and four pear shaped onyxes.
Onyx Pendant Ornaments
This time, the butterfly moves right from a garden to your slim neckline. This sweet looking black onyx pendant has all it takes to love and express nature.
Simple and versatile, this diamond solitaire pendant with oval cut black onyx and a dazzling diamond on top looks superb. Set into a 14K gold loop shape which holds the chain, this is stiff competition to onyx antique jewelry.
Cleaning Onyx Ornaments
It goes without saying that you need to clean onyx antique jewelry occasionally and not rarely. Keep in mind that constant contact with skin and chemicals can discolour the stone.
Things Required:
Baking soda
Soft piece of cloth
Dish soap
Cleaning Instructions
First clean the black onyx jewelry with a soft cloth. Use few drops of water to assist you in cleaning up the dirt that might have accumulated on the stone.
Now add a small amount of dish soap to the water to help you clean difficult stains.
If onyx ornaments are in a setting then you need to clean the setting first using a paste made of baking soda (1 tbsp) and water (3 oz).
Let this paste sit on the silver for about 5 minutes and then wipe it off with a clean piece of cloth.
Since Christmas and New Years is round the corner, why not celebrate it with the finest onyx jewelry on you. Makes terrific sense! In the meantime, let us know how you found this writing piece.