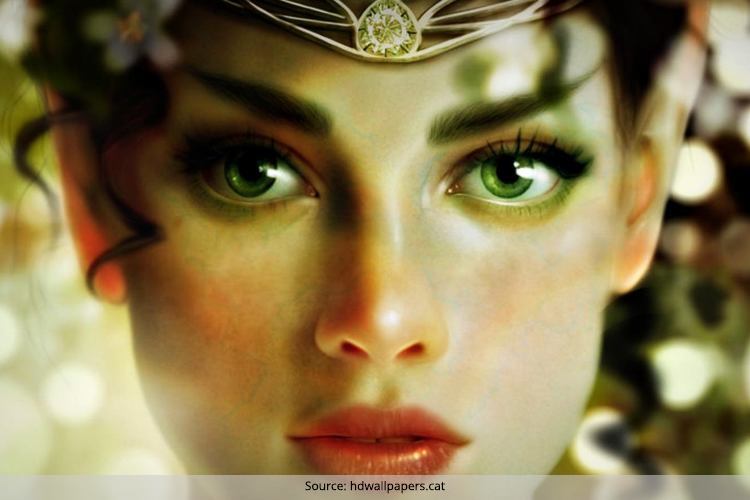 Those green eyes are the envy of many, and since you have a shade that compliments most tones and hues, here is a tutorial on makeup for green eyes that can be versatile to wear almost every day and for every occasion too.
MAKEUP TIPS FOR GREEN EYES
The Eyeliner Does It All
Have you ever noticed how an eyeliner can define the look of your eyes, and with green eyes to flaunt on Indian skin, the upper and lower lash lines sing a different tune when all dolled up. From dark eyeliners in black to rich caramel brows and red wines too, purples and mauve for the whacky PYTs as well, your eyes would look stunning and garner accolades like never before, when dolled up right! Here was the first tip on makeup for green eyes.
[Also Read: Eye shadow Colors For Different Eye Colors]
Play Retro This Diwali
For the retro vibe to come through, think of using a white pencil for the lower lash line as well, which helps bring about a brighter glow to the eyes, back to the 70s look! The focus here should be your eyes, hence the blush and bronzer palette should be neutral, and never wear too dark a shade of lip gloss too; apricots, peaches and nude pinks are best to wear with green eyes! And this was a tip on makeup tips for green eyes to flaunt a retro look!
[Also Read: How to Wear White Kajal Like a Pro]
Let's Talk More On Ways To Do Makeup For Green Eyes On Indian Skin
With bold and very vivid eye makeup tones and hues in the palette of shades to play with, green eyed damsels should play around a little more with vibrant hues like purples, pinks, mauve etc.
To make the eyes stand out a little more, an eye shadow that has plenty of complimentary effects to the Indian skin tone and the green eyes should be chosen. This is why nude hues and taupes for the eye makeup go best.
There isn't a hard and fast rule as such when it comes to adhering to learning about how to do makeup for green eyes per se, but you need to focus on the upper lids a little more here. Focus more on the upper lids and the brow bones with lighter tones, while the crease can have darker shades. Blue should be avoided at all costs, since it clashes with the shades of green!
[sc:mediad]
For The Lips
Quite often and with such bestowed beautiful looks we tend to pick the wrong lip shades; those that DO NOT COMPLIMENT green eyes on Indian skin tones. Your eyes need to be the focal point, which is why toning down a little with the lipstick, lip stain or lip gloss you choose would be the best thing to do. But yes, do pick a shade with a little shimmer and sparkle, frosty hues etc.
Colours that would work best for your lips are berry reds, pinks, peaches, nude and neutral tones, poppy and golds too.
Kohl For Green Eyes
The Indian eye makeup looks for green eyes is best done with loose kohl powder, or if you are comfortable with liquid based eyeliner, go right ahead with the same. Not more than two shades for the upper lash and one for the lower or leaving it black on top and white below, should be the norm!
[Also Read: Liquid Eyeliners for a Dramatic Look]
What About Mascara?
In most cases, black mascara would be the norm for most Indian women and one that matches their skin tone very well, however, if you are ready to explore and be a little adventurous, you could add a touch of exotica with colored mascara too. Mascara helps define the upper and lower lash lines, and one can use cake mascara to define the eyes to the max as well.
The Final Touch
For a glowing complexion to gain, once the eyes, the lips and the overall face is done, only one very light stroke of blush should be used to create a magical glow! Use a large brush for the same, and strike across the cheeks to the temple and back, that's it! You may of course touch the nose too, for that shine and sheen! And that was how to very well use the Best Makeup for Green Eyes and flutter them too.
Hope this post on makeup for green eyes is helpful.