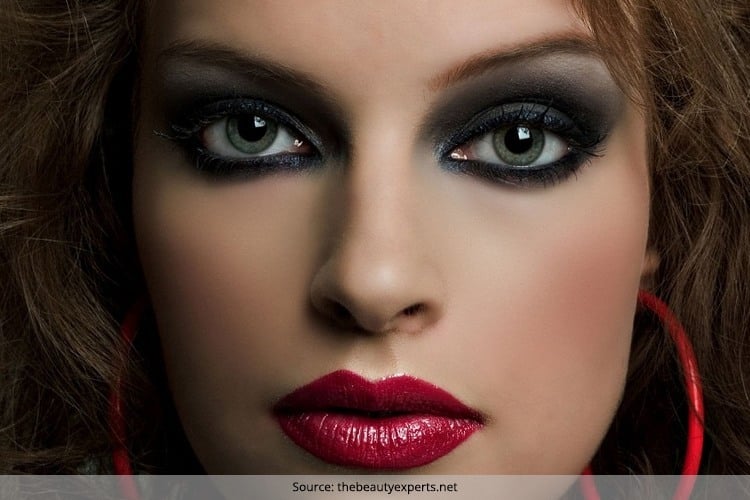 Dark eye makeup is a great look, which looks especially smoldering on our dusky Indian skin tone. It is the go-to look for many celebrities and it just really helps to bring out their eye color and give them that I'm-too-sexy-for-my-own-good look.
[Also Read: Smokey Eye Makeup Tutorials]
If you've always wanted to try out the look but have been scared that you'll get it wrong, or if you just want some tips and pointers on how to nail the dark eye makeup look, then read on.
How To Do Dark Eye Makeup?
Okay, so when it comes to how to do dark eye makeup, there are two ways to do it. You can either take the elaborate route, which involves a lot of blending and use of many different eye shadows to create the final look, or you can take the cheat's way to a quick dark eye look.
The Elaborate Method
If you opt for the elaborate look, then start off with creating a border for your look. Using a black eyeshadow, outline your crease line and outer corner. Then go in with a lighter shade of your choice and fill in the blank space within the black outline, stopping three-fourth way in. Then take an even lighter shade and fill in the remaining blank space, blending into the inner corner and tear duct region. Finish off with blending the shades together for a seamless transition and complete the look with mascara and eyeliner.
[Also Read: Eye Makeup For Big Eyes]
The Quick Method
If that method is too complicated for you or if you are looking for a quicker version, then this one will help. All you need is a black eye shadow and an eye pencil. Start off by applying the black eye shadow to along your crease and to three-fourth of your eye lid. Work it in well to create a soft smudge. Then use the eye pencil to draw a thick line on your upper and lower lash line. Smudge it with your fingers to get rid of any harsh lines and to blend it in to form a smudgy dark eye look.
The Dos and Don'ts of Dark Eye Makeup
There are some dos and don'ts that you need to keep in mind if you want to achieve the best dark eye look.
[sc:mediad]
Dos
Make sure your makeup products are of very good quality. While we do intentionally smudge out the makeup to create a smokey look, it is never okay for the makeup to further smudge and crease once we are done applying it. If you want your dark eye makeup to look professional and not like you just got out of bed with last night's makeup still on, then do use good quality products.
[Also Read: Mod Makeup]
Blend it well. Blending is the key to achieving a great dark eye makeup look. Blending gets rid of any harsh lines and ensures that your final look is smooth and flawless. So be patient and never rush through blending, it is the crucial factor that makes or breaks a look.
Use an eye primer. When dealing with dark colors, it is always a good idea to ensure that you makeup stays put in place. Eye primers help you achieve that by acting as a strong base for your eye makeup.
[Also Read: Smokey Brow Trend]
Carry some makeup wipes with you to deal with any unforeseen emergencies. You never know when they'll come in handy and avert any possible disasters that could occur with regard to your dark eye makeup.
Don'ts
Skip concealer. There is nothing worse than a dark eye makeup look paired with dark circles! So always use a concealer to conceal and brighten up the eye area.
Pair your dark eye makeup look with bright lips. Dark eye makeup with bright red lips can be quite a gaudy combination. Although it can work in some instances, the combination does tend to look tacky in photographs. So if you are opting for the dark eye look then stick to nude or pale shades for your lips.
Use colors that don't work on your skin tone. Shades such as grey and green are tricky to work with as they can easily end up looking ashy and unappealing. So always make sure the shades you work with suit your skin tone. As a general rule, browns and blacks work well on dusky skin tone while greys and blues work well with fairer skin tones.
Now that you know pretty much all there is to know about achieving the perfect dark eye makeup look, why not give it a try?