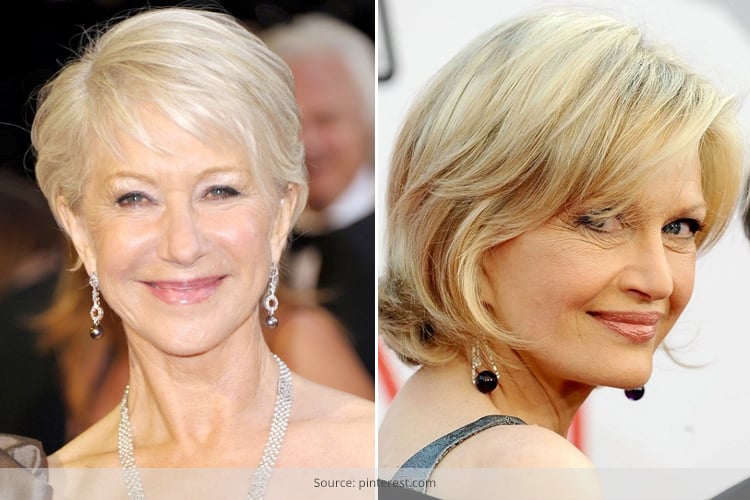 This isn't a post on just how to get a new haircut when you are above 50 years of age, but the secret to how you could doll up your hair, with new hairstyles for older women, giving the PYTs a run for their money.
Here Are Some Haircuts for Women in Their 60s
[Also Read: Hairstyles For Frizzy Hair]
Get A Great Haircut
A haircut and a great haircut – there is a difference. While the former just gives you a look, the latter can work on taking decades off your face. From hiding those lines, defining the sexy jawline and playing with the accentuation of your cheekbones et al; haircuts for women in their 60s must be done right. It can do wonders when done by the hands of a thorough professional that knows your lifestyle in and out. What you need is a cut that would frame your face, making it feminine and soft, young and with hair that bounces with glee too, at the party and for everyday wear!
Focus On The Volume
We don't mean using tons of hairspray, but yes, hair would lose its volume as we age. This is why a reputed hairstylist would always insist on giving you a look or a hair cut that adds more volume to the tresses. You may add a few touches of spray or maybe mousse as well, blow it upside down too, or simply back comb and get the desired shags you want – volume is a must, but keeping it moderate is the key!
[Also Read: Easy Updo Hairstyles]
Play With Layers
Lots of them would bring in the ideal look you desire, hence never hesitate asking for layers. Layers help frame and soften the facial structure, which is why going all blunt is not very advisable hairstyles for women over 50. Blunt hair cuts make the wrinkles look deep and doesn't bring in the volume you need!
[sc:mediad]
Keep In Mind These Two
The shape of your head and the length of your hair! Face-framing is important, especially when creating hairstyles for women over 60. Hence, only a stylist with immense experience would know one face from the next, age wise to doll up. Some prefer their clients wearing collar bone skims that help flatter the neckline and make them look younger, while others look at wedges for the face to be soft and round.
Manage Your Hair
Split ends and dry hair makes the face look older and dead, which is why managing your hair and keeping it healthy at all times is a must. While the razor brings in the right style, the hair could turn the frizzy way when left unkempt. Such hair turns brittle over time and gets damaged or breaks from the roots too. Reverse shampooing is the key to long-lasting shine and healthy hair!
[Also Read: Reverse Hair Washing]
Bang Them Up
Bangs are back and they are hot too. They make you look young, and are associated with PYT trends, so what! Get those bangs and be a little naughty with your persona and style while rocking the shorter hairstyles for older women. Bangs are very stylish and they hide those wrinkles and lines too. Soft bangs please and not the severe blunt ones should be your forte!
[Also Read: Christmas Hairstyles]
Choose The Right Color
Should you want to ditch the salt and pepper look, think of global hair colours or streaks. Lighter hair colours add elegance and grace, much more than darker hair colours on women above 50. They look especially classy on ladies who want to sport long hairstyles as older women! The youthful vibe comes across as appealing, and you would be flooded with compliments too.
So, here were our tips on how to think of the new great haircut you desire to have. We have also mentioned what to do and what not to, and of course, with ideas for hairstyles for women over 40 and in their 50s too! Enjoy your party *wink* says Betty!